---
USA/Germany. 2015.
Crew
Director – Uli Edel, Screenplay – Dan Kay, Based on the Novella by Tim Lebbon, Producers – Nicolas Chartier, Craig J. Flores, Ian Levy & Patrick Newall, Photography – Sharone Meir, Music – Joseph LoDuca, Visual Effects Supervisor – Eric Robinson, Visual Effects – Mr. X, Special Effects Supervisor – Warren Appleby, Makeup Effects/Prosthetics – Paul Jones Effects Studio Inc. (Supervisor – Paul Jones), Production Design – Rupert Lazarus. Production Company – Voltage Films/Midnight Kitchen/Rodkos Productions/Interpol+ Studios.
Cast
Nicolas Cage (Mike Lawford), Sarah Wayne Callies (Kristen Lawford), Veronica Ferres (Hannah), Lyriq Bent (Detective Jordan), Jack Fulton (Charlie Lawford), Stephen McHattie (Blind Man), Caroline Gillis (Priestess), Susannah Hoffman (Jane), Lauren Beatty (Annie Sawquin), Janet Lo (Jai Wen)
---
Plot
Mike Lawford, an English literature professor in New York City, takes his son Charlie out into the street to see the Halloween parade. However, as Mike stops to buy them an ice cream, he turns around and Charlie has vanished. Mike searches but is unable to find Charlie. One year later, it is nearing Halloween again. Charlie has still not been found and Mike is in an obsessed state, which has caused a rift with his wife Kristen. Mike then begins to see visions of Charlie and believes he hears him calling. Kristen is disbelieving until she starts to see things too. Together they investigate the supernatural forces behind Charlie's disappearance. They come to believe he has been snatched by Annie Sawquin, a woman who was burned at the stake as a witch along with her three children when New York was a barely established colony and died promising to claim the souls of children every Halloween.
---
Nicolas Cage is an actor that can always command an A-list payslip. The horror genre however has never one that has suited him – aside from the passable Drive Angry (2011), remember The Wicker Man (2006) or Season of the Witch (2011) and his wholly demented performance in Vampire's Kiss (1988). Pay the Ghost is one effort that gives all the impression it has been designed for the bargain rate dvd bins or filler cable channel fare and it seems odd to see someone of Cage's headlining it. It was theatrically released, although I can find no record to how many theatres, only that it earned a pitiful $2 million in total worldwide. Wherever it was seen, it only received bad reviews.
Pay the Ghost has essentially been conceived as a supernatural version of Taken (2008) with Nicolas Cage battling supernatural forces to get his abducted child back. Actually, that makes the film seem far more interesting than it is. Uli Edel approaches it as a horror film as opposed to action. This means that we get a watered down Nicolas Cage behind a pair of scholarly glasses and going crazy rather than the action movie Nic tearing his shirt off in inchoate rage as he settles things with his fists. Not to say that Uli Edel doesn't give us moments that have a mild eeriness – a child's scooter moving through the apartment of its own accord, flickers of tablets and camcorders coming to life – but nothing that sets one's pulse moving any higher anywhere throughout than that of a leisurely stroll to the mailbox.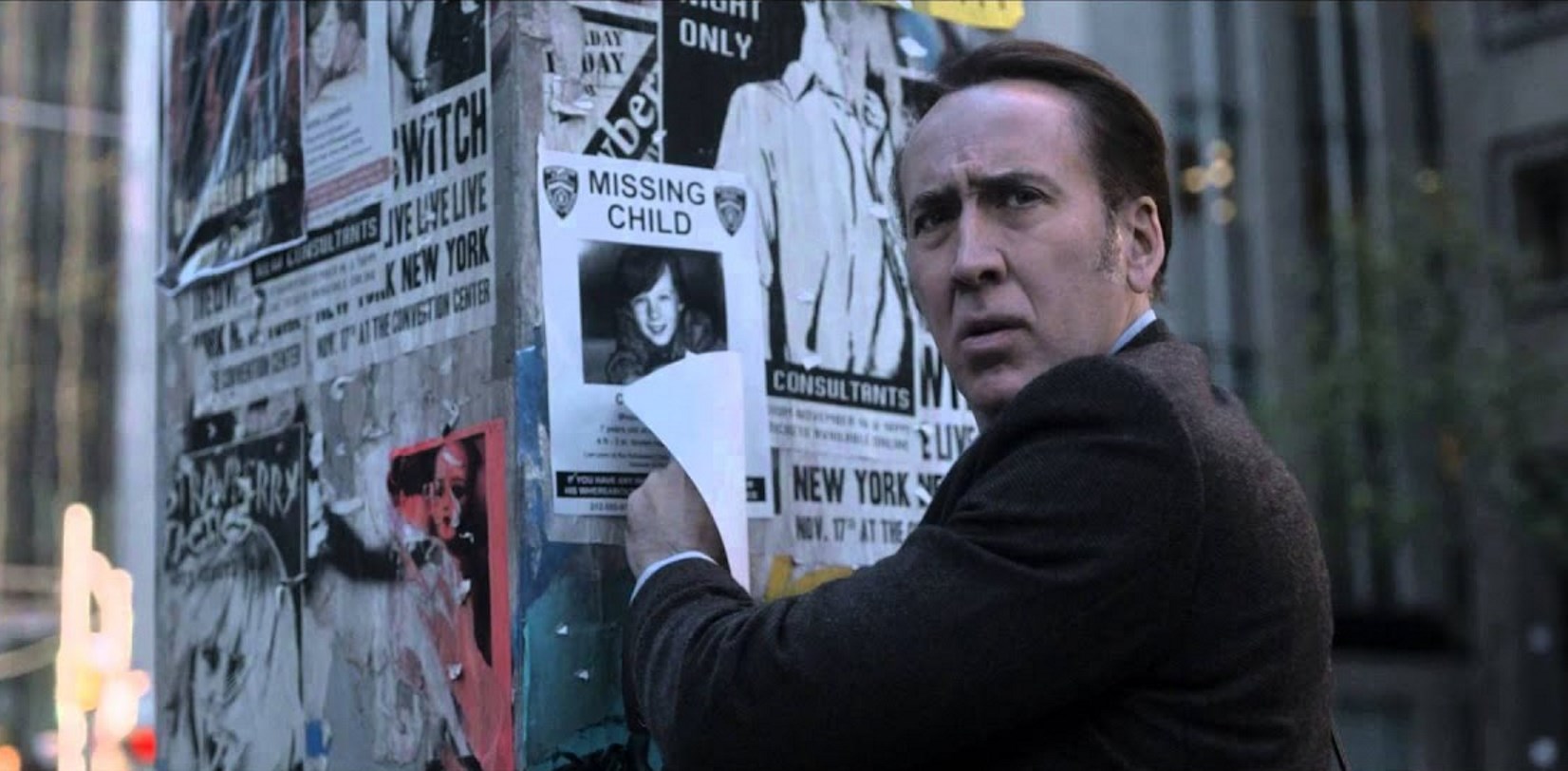 The film is based on a novella by British horror writer Tim Lebbon who also wrote the novel that was adapted into the subsequent The Silence (2019). I haven't read this but I see that it has some good customer reviews on Amazon (if that means anything). However, whatever interesting aspect might have caught the producers' eyes in the original story appears to have been ground down when it comes to the film version. The idea pans out to a dull and prosaic resolution – nothing more than the old standard of retribution from a witch burned at the stake.
The film also gives evidence of having been badly padded out with additional deaths of characters that have little bearing on the plot – Veronica Ferres as Nicolas Cage's co-worker, Susannah Hoffman as an exorcist. This is especially noticeable in terms of the post-credits coda where Veronica Ferres appears to still be alive, something that makes no real sense in terms of anything that has been established in the rest of the script.
German director Uli Edel appeared in the 1980s with the harrowing drug addiction drama Christiane F. (1981) and has since proven a versatile director who has made films that range all the way from the gritty Last Exit to Brooklyn (1989), the trashy Madonna sexual thriller Body of Evidence (1993) to children's films like The Little Vampire (2000) and the acclaimed arthouse hit The Baader Meinhof Complex (2008), as well as various tv movies and mini-series such as Rasputin (1996), The Mists of Avalon (2001), Julius Caesar (2002), Ring of the Niebelungs (2004) and Houdini (2014).
---
---