---
Crew
Director – Mark L. Lester, Screenplay – Randall Frakes, Based on the Novel by Mitchell Smith, Producers – Mark L. Lester & Dana Dubovsky, Photography – Bob Steadman, Music – Steve Edwards, Production Design – Peter Kanter. Production Company – American World Pictures/Lions Gates Films Inc.
Cast
Michael Madsen (Tyler Pierce), Jamie Luner (Naomi Cohen), Bokeem Woodbine (Agent Gottfried), Diane Farr (Karen Yeager), Michele Lintel (Agent Hildebrandt), Deborah Shelton (Margaret Sackett), Joshua Leonard (Jason), Wallace Merck (Sergeant George Burney), Tony Abetemarco (Phil Lombardi), Jordan Williams (Carl Sackett), Marco St John (Dr Salcedo), Gus Williams (Tomas Seguin)
---
Plot
Two FBI agents arrest Tyler Pierce for a bank robbery and he is sentenced to jail. Pierce is then informed that a serial killer has murdered his daughter Lisa. He contrives to escape while he is being transferred for trial and flees back to Sweetwater, Georgia, to find the serial killer. Teaming up with former prostitute Naomi Cohen, who is wanting to go straight on the $100,000 proceeds of the bank robbery that he has promised her, Pierce starts travelling into areas and using methods that the corrupt local law enforcement will not in order to track the killer down.
---
Sacrifice comes from Mark L. Lester, who has made previously made various action films like Commando (1985), Armed and Dangerous (1986) and Showdown in Little Tokyo (1991), as well as the notoriously violent revenge film Class of 1984 (1982). Lester has made several ventures into genre material with the Stephen King adaptation Firestarter (1984), the silly android schoolteachers film Class of 1999 (1990), the psycho-thriller The Ex (1997), the monster movie Pterodactyl (2005), Groupie (2010) about murders on a band's comeback tour, the monster movie Poseidon Rex (2013), the Arthurian adventure Dragons of Camelot (2014), and his crowning moment of glory, the hilarious psycho sperm donor film Misbegotten (1997). Interestingly, Sacrifice is the second of Mark L. Lester's films that taps into a horror of pregnancy and of women having nasty natal things done to them, following Misbegotten. Certainly of the two, Misbegotten is the better in all ways.
Sacrifice starts out as a promisingly interesting psycho-thriller. It stars Michael Madsen, someone that one has always regarded as a highly underrated actor. Madsen is capable of projecting an effortlessly tough and yet warmly engaging macho persona but has alas been stuck down at the direct-to-video end of the market (as here) for much of his career. Sacrifice has a more-than-interesting set-up – where Michael Madsen is cast as a bank robber who breaks out of jail to hunt down a serial killer who murdered his daughter, all the while being hunted by the FBI.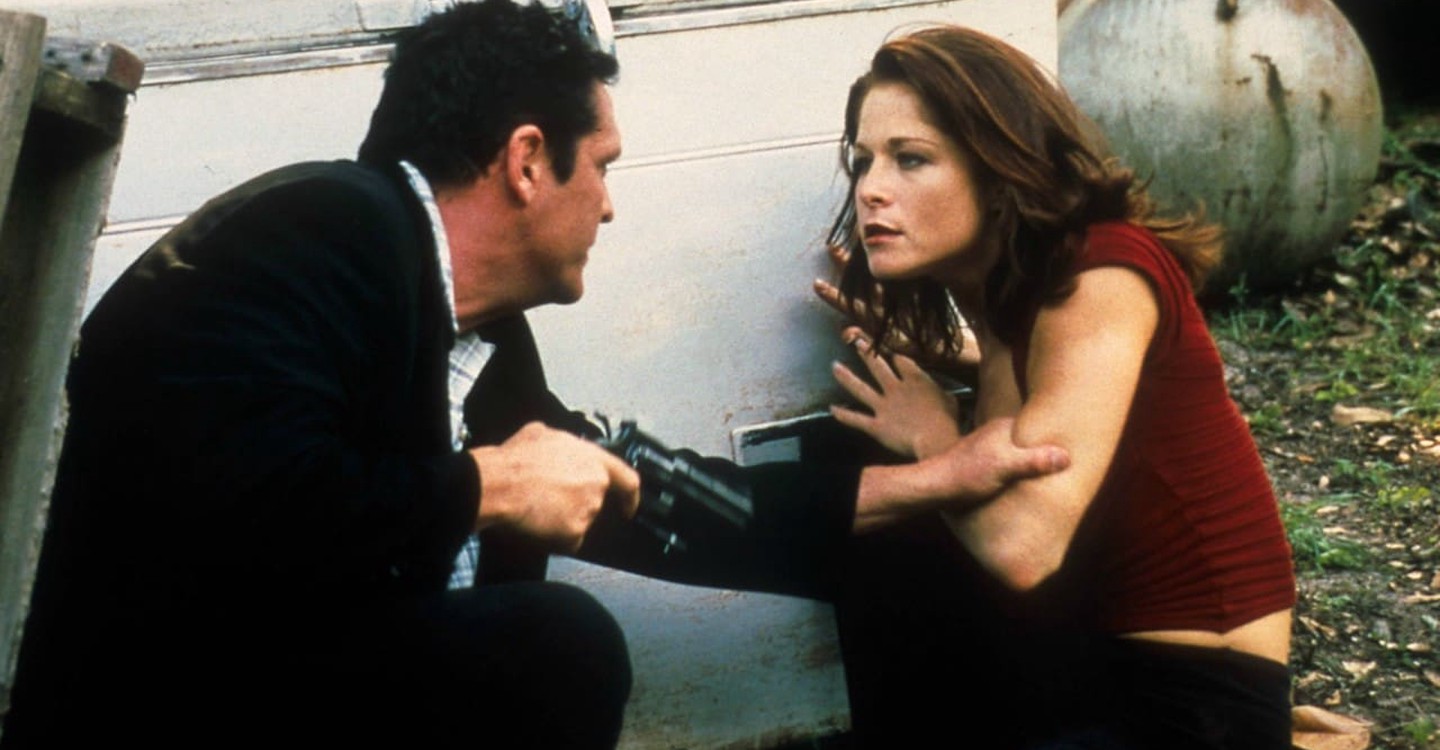 Sacrifice starts well. Michael Madsen's central character is unusually conceived as a hero goes and the film is tightly plotted, consistently keeping one's interest. Alas, Sacrifice fails to sustain such interest for its full length. Indeed, despite the unusualness of the central character and an interesting plot set-up, by about halfway point all of this has dissipated and Sacrifice has become merely a routine policier.
The plot twists are standard thriller turns and nothing remarkable, while Michael Madsen's violent anti-hero settles down to become a by-the-book action hero and all suggestion of the ice-cold killer he is initially described as being drops by the wayside. Even the pursuing FBI agents only become an intermittent menace. Mark L. Lester does mount a nastily tense scene towards the end where the killer has Jamie Luner tied up on an abortion table and is about to operate on her but the rest of the film is disappointingly routine.
Mark L. Lester has also produced the genre likes of Devil's Prey (2001), Instinct to Kill/The Perfect Husband (2001), Bad Karma/Hell's Gate (2002), The Wisher (2002), Wraiths of Roanoke (2007), Yeti: Curse of the Demon (2008), Beauty and the Beast (2009), Jabberwock (2011), Sinbad and the Minotaur (2011), Dragonwasps (2012), Jurassic Attack (2013) and Toxin (2015).
---
---