---
Crew
Director – L. Gustavo Cooper, Screenplay – Sharon Y. Cobb & L. Gustavo Cooper, Producers – L. Gustavo Cooper, James Fler, Jacquelyn Frisco, Gregor Habsburg, Andrew Thomas Hunt, Michael Paszt & Duane A. Sikes, Photography – Ryan Patrick Dean, Music – Juliette Beaven & Sean Beaven, Visual Effects Supervisor – D.J. Goller, Special Effects Supervisor – Joshua Mueller, Makeup Effects – Black Tie FX (Supervisor – Matthew Silva), Production Design – Mark Bankins. Production Company – Raven Banner/De Angeles Films.
Cast
Kennedy Brice (June), Victoria Pratt (Lily Anderson), Casper Van Dien (Dave Anderson), Eddie Jemison (Victor Emmanuel), Lance E. Nichols (Dr Wynstrom), Kevin Will (Tic Tac Tim), Cindy Hogan (Candy)
---
Plot
June is a foster child. Her case officer Victor Emmanuel decides she is not being properly looked after by the trailer park family she has been place amongst and relocates her with middle-class husband and wife Dave and Lily Anderson. They soon find June to be odd. She has an imaginary companion she calls Aer. As they soon find, June is taken over when she becomes upset and causes objects to be thrown about and people to come to harm. Lily struggles to be a good mother but cultists have a purpose in mind for June.
---
June was the second feature film for L. Gustavo Cooper who has been making short horror films since the 1990s. Cooper had previously made the diabolical pregnancy Found Footage film The Devil Incarnate/Copiii: The 1st Entry (2013).
June went to dvd without attracting much attention. Watching it, you can see why. It feels more like an assemblage of cliches from the occult genre than it ever is a film, least of all one that has been construed with a coherent rationale in mind. We have the standard Devil Child theme from The Omen (1976) through to Case 39 (2009).
Or perhaps one should say "maybe a Devil Child film" – one of the main problems is that the script never puts a finger on what is going on with June. She has an invisible companion she calls Aer who may have some relation to Celtic mythology, her eyes go black and she blasts the near area and causes people to die with apparent psychic powers whenever she gets upset.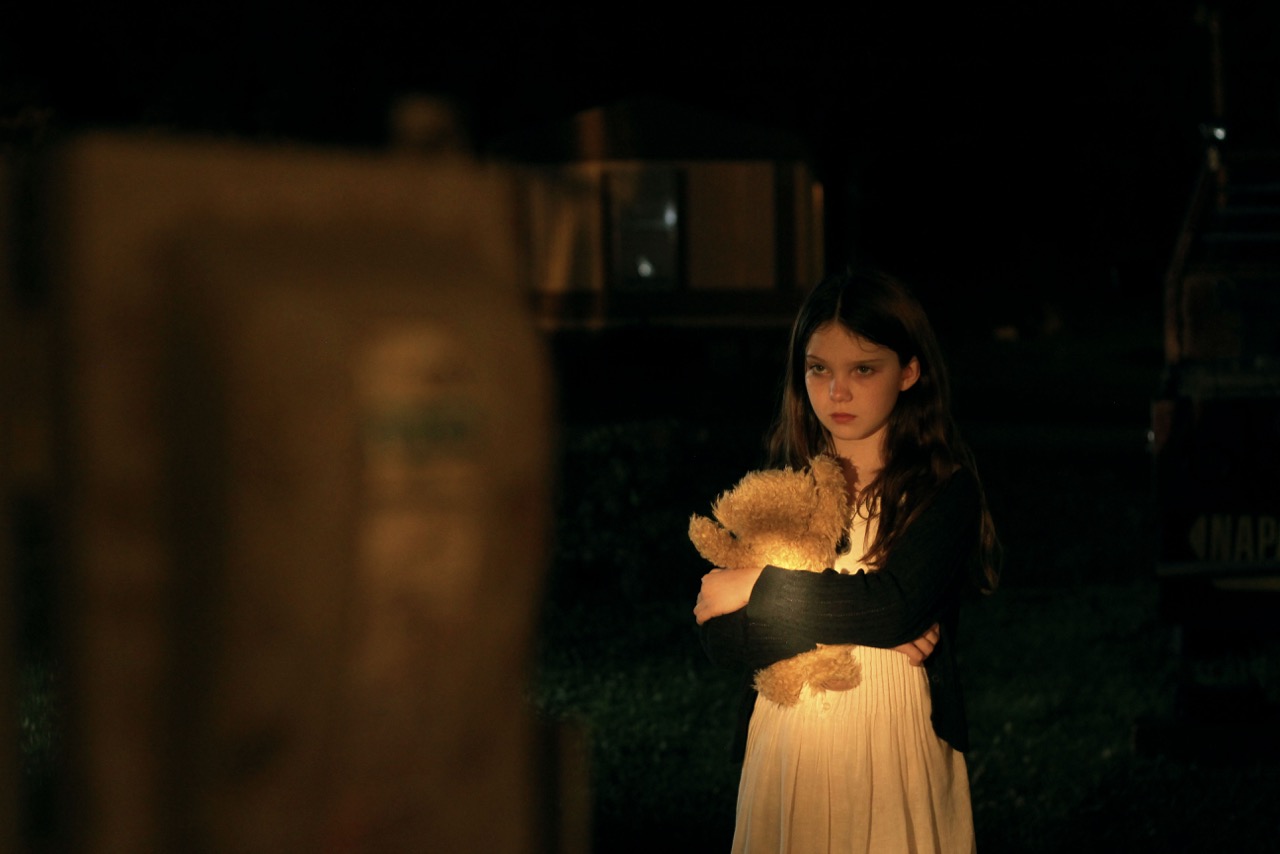 Beyond that, not much else is particularly clear. Is it meant to be a possession film? And if so, what is Aer? The opening narration talks about the cult's belief in a child with two souls, one dark, one good, which pushes the film into the arena of something like Bless the Child (2000) with the child caught between saviour and devil child but this never features in the film again. There is a cult but it is not clear what they are trying to do, even at the ending where they conduct a ritual in which Kennedy Brice is levitated in a beam of light.
Certainly, in the title role, Kennedy Brice has a great series of calm and impassively cold stares. It is just that the film can never decide what is going on. One of the revelations we get at the end is that Victoria Pratt was the woman we saw at the start who escaped from the cult with the child but this proves to be a twist of monumental indifference.
---
---