aka The Asylum; Exeter
---
Crew
Director/Story – Marcus Nispel, Screenplay – Kirsten McCallion, Producers – Brandt Anderson, Michael Corso, Marcus Nispel, Trent Othick & David Zander, Photography – Eric Treml, Music – Eric Allaman, Songs – Quarantine, Visual Effects Supervisors – Jeffrey Edward Baksinski & Rocco Passionino, Visual Effects – Zoic Studios, Special Effects Supervisor – John Ruggieri, Makeup Effects Supervisor – Shaun Smith, Production Design – Guy Roland. Production Company – Bloodline Productions/GO Productions/Shallow Focus/Vicarious Entertainment.
Cast
Kelly Blatz (Patrick), Brittany Curran (Reign), Stephen Lang (Father Charles Conway), Brett Dier (Brad), Nick Nicotera (Brian Knowles), Gage Golightly (Amber), Nick Nordella (Drew), Michael Ormsby (Rory), Kevin Chapman (Greer)
---
Plot
For many years, The Exeter School for the Feeble Minded in Rhode Island was a dumping ground for troubled youth before it was shut down over accusations of institutional abuse and stories of Father Charles Conway engaged in unorthodox religious treatments. In the present-day, Patrick is volunteering helping Father Conway clean up before the building is to be demolished. Against his wishes, Patrick's friend Knowles throws a party in the building. Recovering the next morning, a group of them talk about the supposed possessions that occurred there and decide to try an experiment in levitating one of their number. Patrick's troubled, attention-seeking younger brother Rory volunteers. They are successful but afterwards Rory becomes uncontrollable. While others dismiss it as a mix of drugs from the night before, Patrick is certain that Rory has become possessed. He calls in Father Conway, only for the Father to be run down by the others as they drive off. Deciding to dispose of the body, they then find that the forces possessing Rory are preventing them from leaving the building.
---
Marcus Nispel is a director who emerged out of music video to make his theatrical debut with the remake of The Texas Chainsaw Massacre (2003), which was responsible for the spate of remakes of 1970s/80s films that have littered the last decade. Nispel went onto a tv mini-series remake of Frankenstein (2004) and the non-genre Pathfinder (2007) but has mostly become associated with other genre remakes such as Friday the 13th (2009) and Conan the Barbarian (2011).
I liked The Texas Chainsaw Massacre when I saw it but Marcus Nispel failed to do the same in any of his subsequent films. Indeed, most of these just become slick remakes conducted without any feeling or substance. Nispel's name has turned up in several of the bitchy Worst Director lists that the IMDB has descended to and there does not appear to have been much of a market for him as a director elsewhere. Backmask, for instance, was shot around 2011, the finished film has a 2012 copyright date but it never saw light of release until 2015 where it was marketed under several different names. (Which may have something to do with the fact that backmasking – the Christian theory that circulated in the 1980s that rock groups recorded messages praising Satan backwards on their records in order to inveigle youth – has nothing to do with the plot and is mentioned precisely once throughout).
Nothing does anything to inspire about Backmask. Nispel has cast it with what have to be some of the most unlikeable teens to ever turn up as victims in a horror film. The set-up of the group wandering around an asylum being cleaned up/in ruins is a tried and true horror standard – see efforts such as House on Haunted Hill (1999), Killer Instinct (2000), Session 9 (2001), Hell Asylum (2002), Psych 9 (2010), Grave Encounters (2011) and Paranormal Asylum (2013).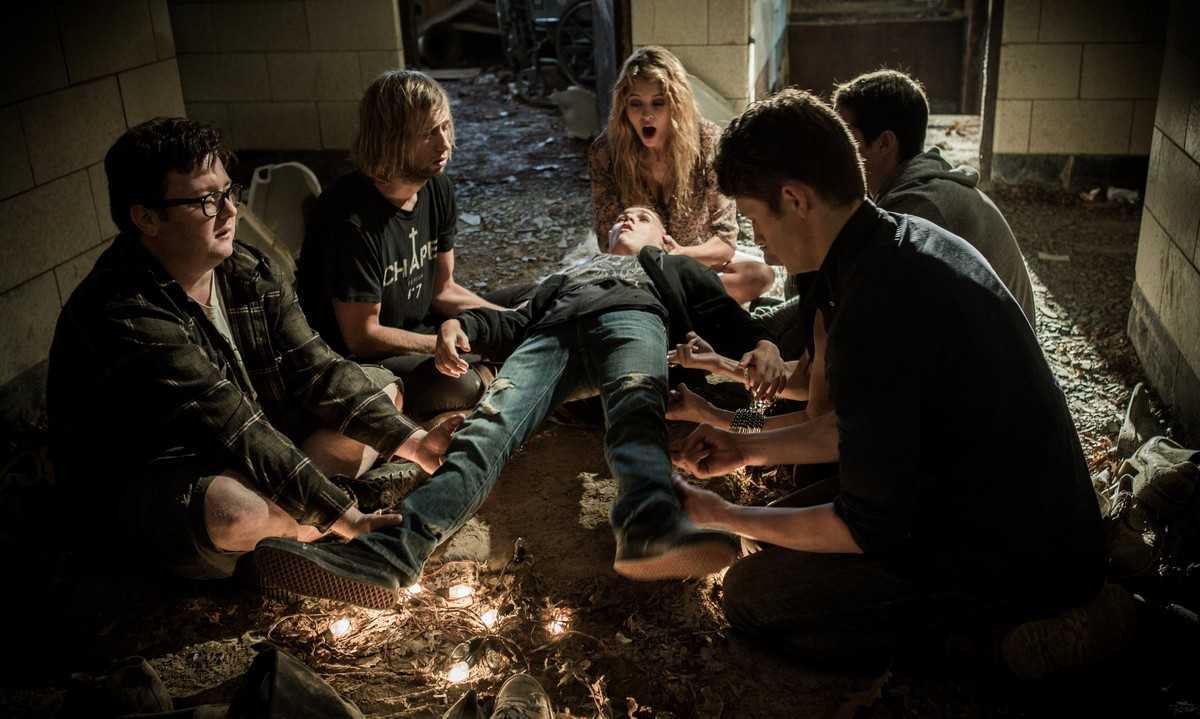 Very quickly, Backmask turns out to be nothing more than a standard possession film. This has been churned out a good deal in the last few years with films such as The Exorcism of Emily Rose (2005), The Rite (2011), The Devil Inside (2012), Deliver Us from Evil (2014), The Vatican Tapes (2015), Incarnate (2016), The Crucifixion (2017) and The Exorcist (2020) among others, and Backmask does precisely zilch in terms of offering an inspired or even interesting regurgitation of the standard. All we get are the usual deep voices, rocking beds, levitations, ouija board sequences, even a spider walk sequence. The result feels like a storm in a teacup, tired moves being whirled around to no effect at all.
At least the film gets some amusement out of the stupidity of its characters – like the scenes of them looking up a DIY exorcism website or lines like: "Holy water – we've got a dead priest downstairs. Can't we just dip his finger in it?" There is the odd amusement to be found in some of the gore effects scenes, particularly one where Nick Nicotera gets half his face sliced off. The eventual explanations about the box, The Summoning and the priest's illegitimate children makes little sense.
---
---