---
Crew
Director/Screenplay – Xan Cassavetes, Producers – Jen Gatien & Alex Orlovsky, Photography – Tobias Datum, Music – Steven Huesteter, Additional Music – Demdike Stare, Visual Effects Supervisor – Eric Alba, Visual Effects – Method Studios (Supervisor – Jim Rider), Makeup Effects Supervisor – Ozzy Alvarez, Production Design – Chris Trujillo. Production Company – Deerjen Films/Verisimilitude/Bersin Pictures/Venture Forth.
Cast
Josephine de la Baume (Djuna), Milo Ventimiglia (Paolo), Roxane Mesquida (Mimi), Anna Mouglalis (Xenia), Michael Rapaport (Ben Rider), Riley Keough (Ann), Ching Valdes-Aran (Irene Pola)
---
Plot
Djuna meets the screenwriter Paolo late at night in a videostore. They are attracted and she takes him home where they start making out before she abruptly withdraws and tells him to go. He continues to come back and so she shows him her secret – that she is a vampire. She takes him to bed where she chains herself up for his safety but he undoes the chains and lets her take him. With him now transformed into a vampire too, they realise a love for one another and she invites him to move in. Djuna's sister Mimi then comes to stay, which Djuna is not happy with, but is forced to by the insistence of Xenia, the owner of the house. Mimi is much more reckless than Djuna and happily kills and claims victims. This brings the two sisters into conflict.
---
Kiss of the Damned was an independently made vampire film that did the rounds of a number of regular and fantastic film festivals where it gained some quite reasonable word of mouth. It is a directorial debut for Xan Cassavetes, the daughter of director/actor John Cassavetes, who is probably best known here for his role as the husband in Rosemary's Baby (1968) and the sinister agency head in Brian De Palma's The Fury (1978). Prior to this, Xan Cassavetes had previously made a single short film and a documentary about the Z Channel.
Kiss of the Damned and its story of vampire love and bad assery is a familiar one to anybody who has watched a good number of genre films. What does propel the film into something worth watching is Xan Cassavetes' direction. The initial romance between Josephine de la Baume and human Milo Ventimiglia seems too brief to be the great love affair it is made into – barely a look passed in a videostore and he is following her home and persists in returning despite her telling him to go away. This hardly seems enough for them to shacking up together only a few scenes later.
That said, Cassavetes propels their scenes together into something extraordinary – the image of Josephine de la Baume and Milo Ventimiglia kissing through the tiny gap afforded by a door chain. Or the scene where de la Baume gets Milo Ventimiglia to chain her up to the bed so they can have sex, showing him how she becomes a vampire when aroused and then he unchains her anyway.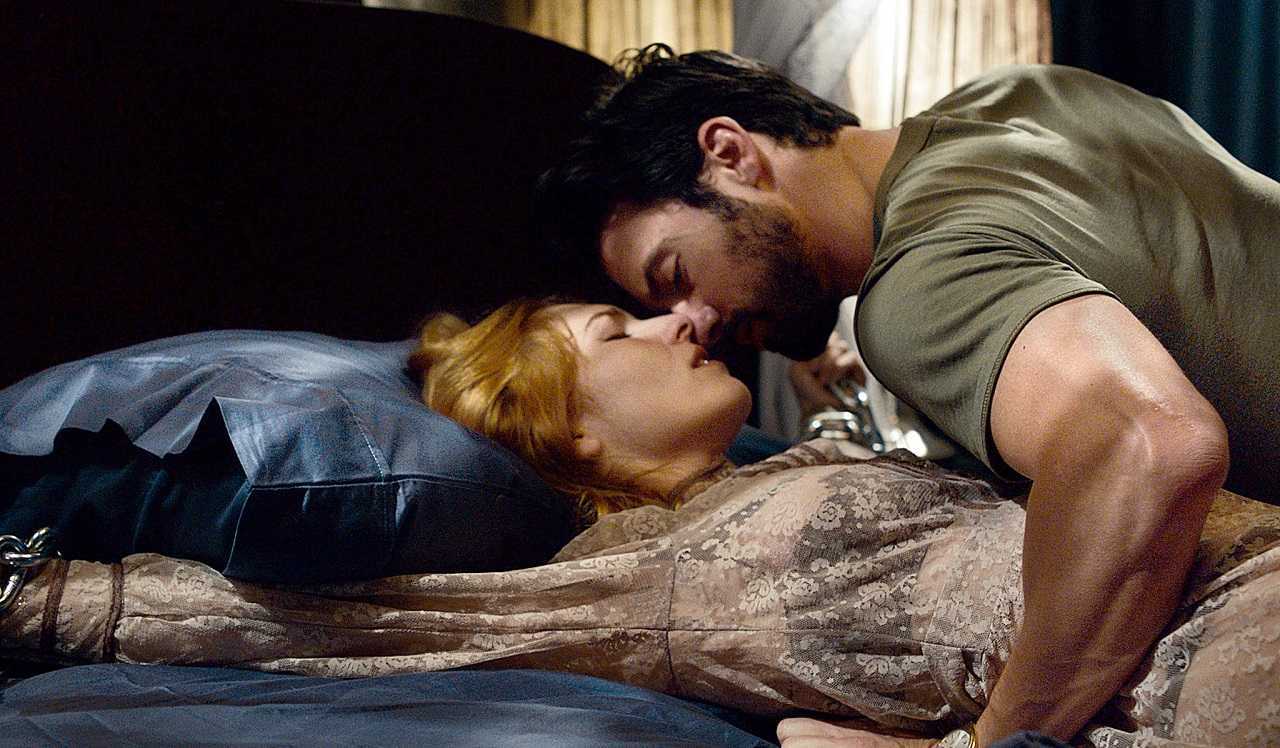 The main problem with this part of the story is that Cassavetes jumps from the wild crazy tease of these scenes to having de la Baume and Ventimiglia settled down in a very short period of time, whereupon all of the forbidden tease that the film has up to that point dissipates and the two become no more than a regular middle-class couple with a boring safe life. Josephine de la Baume fairly much drops off-stage during the latter half of the film. Certainly, after this point, Roxane Mesquida gets to inherit the bad girl role and engage in all the forbidden acts, including dragging a couple back for a threesome (and slaughtering them soon after).
The best directed scene in the film is where Roxane Mesquida brings Riley Keough, a young fan she has picked up outside Anna Mouglalis's stage show, to Mouglalis's place, is told by Mouglalis to take her away because she has not feasted on human blood for forty years only for Mesquida to insist on getting Keough a glass of water, causing Keough to cut her lip on a chip whereupon Mouglalis becomes uncontrollable in her fight between control and desire. It is a great scene for the subtlety that it plays out with, where the dialogue takes place beneath the surface of what is being said and everything is conveyed by suggestion.
There is a somewhat weak end where the menace of Roxane Mesquida is simply disposed of by the deus ex machina of being caught in a car crash that leaves her exposed to daylight – a left field ending that reminds a good deal of the similar ending in Daughters of Darkness (1971). However, the film does demonstrate the emergence of a director of some promise in Xan Cassavetes. After all, a director that has films like Indiscretion of an American Wife (1953) and Virdinia (1961) playing on tvs in the background is in another whole league to one who simply does the tired old thing of naming characters after figures in Bram Stoker.
---
---