aka Erotikill; Female Vampire
(La Comtesse Noire)
---
Crew
Director/Screenplay – J.P. Johnson [Jess Franco], Producer – Marius Lesoeur, Photography – Joan Vincent [Jess Franco], Music – Daniel White. Production Company – Eurocine/General Films.
Cast
Lina Romay (Countess Irina Karlstein), Jack Taylor (Baron Von Rathony), Jess Franck [Jess Franco] (Dr Roberts), Jean-Pierre Bouyxou (Dr Orloff), Anna Watican (Anna), Luis Barboo (Irina's Manservant), Alice Srno (Princess's Servant), Monica Swin (Princess de Rochefort), Raymond Hardy (Hotel Masseur)
---
Plot
The mute unspeaking Countess Irina Karlstein lives in the family castle on the island of Madeira. The journalist Anna visits and questions Irina about her ancestors' history of atrocities. The reality is that Irina is a vampire and subsists by seducing men and women and draining their lifeforce during the act of sex.
---
The late Jesus or Jess Franco (1930-2013) is considered the world's most prolific director. Between 1957 and 2013, Franco directed a purported 199 feature films. Many of these exist under a labyrinth of alternate titles and different cuts. Franco's most prolific heyday were during the late 1960s to the mid-1970s. During this period, he was producing 6-8 films per year in numerous genres from thrillers, spy films and science-fiction but most of all horror and erotica/pornography. Franco's films have attained a certain cult following for their arty pretentions, although just as many of them are cheaply made. (A full list of Jess Franco's other genre films is at the bottom of the page). Franco also makes occasional acting appearances in his films – he can be seen on screen here in the role of Dr Roberts who starts an investigation into Irina's activities.
There was a minor fad for lesbian vampire films during the early 1970s. This was started by Hammer's Karnstein trilogy The Vampire Lovers (1970), Lust for a Vampire (1971) and Twins of Evil (1971). This was quickly imitated by European efforts such as Daughters of Darkness (1971) and The Blood Spattered Bride (1972) – see Vampire Films for more detail. Jess Franco ventured into this mini-genre several times with Vampyros Lesbos (1970) and The Daughter of Dracula (1972). There was the feeling with these other films that he was seeking to push the boundaries and make something more explicit, which he finally achieved with The Bare-Breasted Countess.
The Bare-Breasted Countess is known under several different titles. It also comes in a variety of different cuts ranging between 72 and 96 minutes – an R-rated one; a much more explicit one; and one that strips all the adult content out and operates as just a horror film, while different video/dvd releases have enforced different cuts to remove some scenes as well. The full uncut version (96 minutes) is the one viewed here.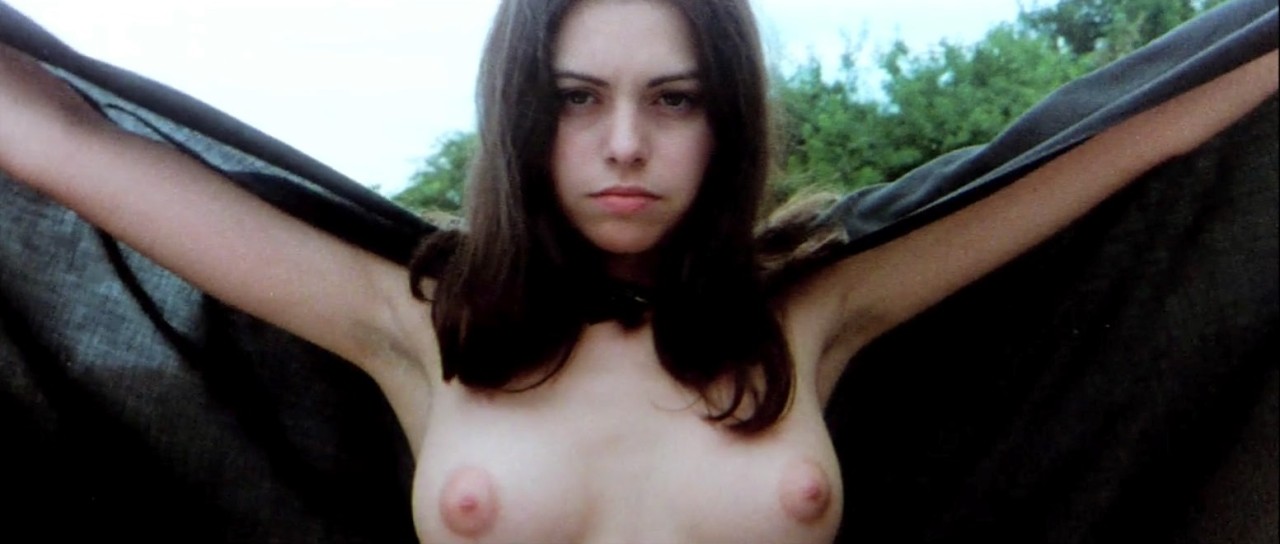 For all that, the uncut version reads as a fairly tame affair today, There is no explicit pornography, no more than we get in softcore erotica made for video/cable where we see nothing that go beyond boobs and pubic bushes – certainly, no penises and no penetration shots. For all the censorship upset caused by scenes where Lina Romay goes down on a guy, what is happening when she does so is hidden by the fall of her hair and any actual activity only implied.
When Jess Franco had the opportunity, he had arty ambitions. Usually most of his films were made so cheaply that he had no opportunity to do anything. Here however, he makes a film with undeniable imagination. The first shot of the film is of Lina Romay, nude wearing only a cape and leather belt, walking out of the mist-covered woods and directly into the camera until her face fills it. The camera then pans down to give closeups of her breasts and pussy to give us no doubts about what type of film we are watching. In the subsequent scene, she goes and propositions a farmer – all without saying a word! – and goes down on him while they are in a big walk-in bird cage with pheasants running around them.
In the title role, the film stars then nineteen year-old Spanish actress Lina Romay (1954-2012) in her screen debut. Romay subsequently became Franco's muse and longtime girlfriend before they married in 2008. Franco cast her in assorted horror and hardcore pornographic roles in their time together with she appearing in more than a hundred of his films, She co-directed over a dozen of films with Franco, also working as a writer and editor on many of them.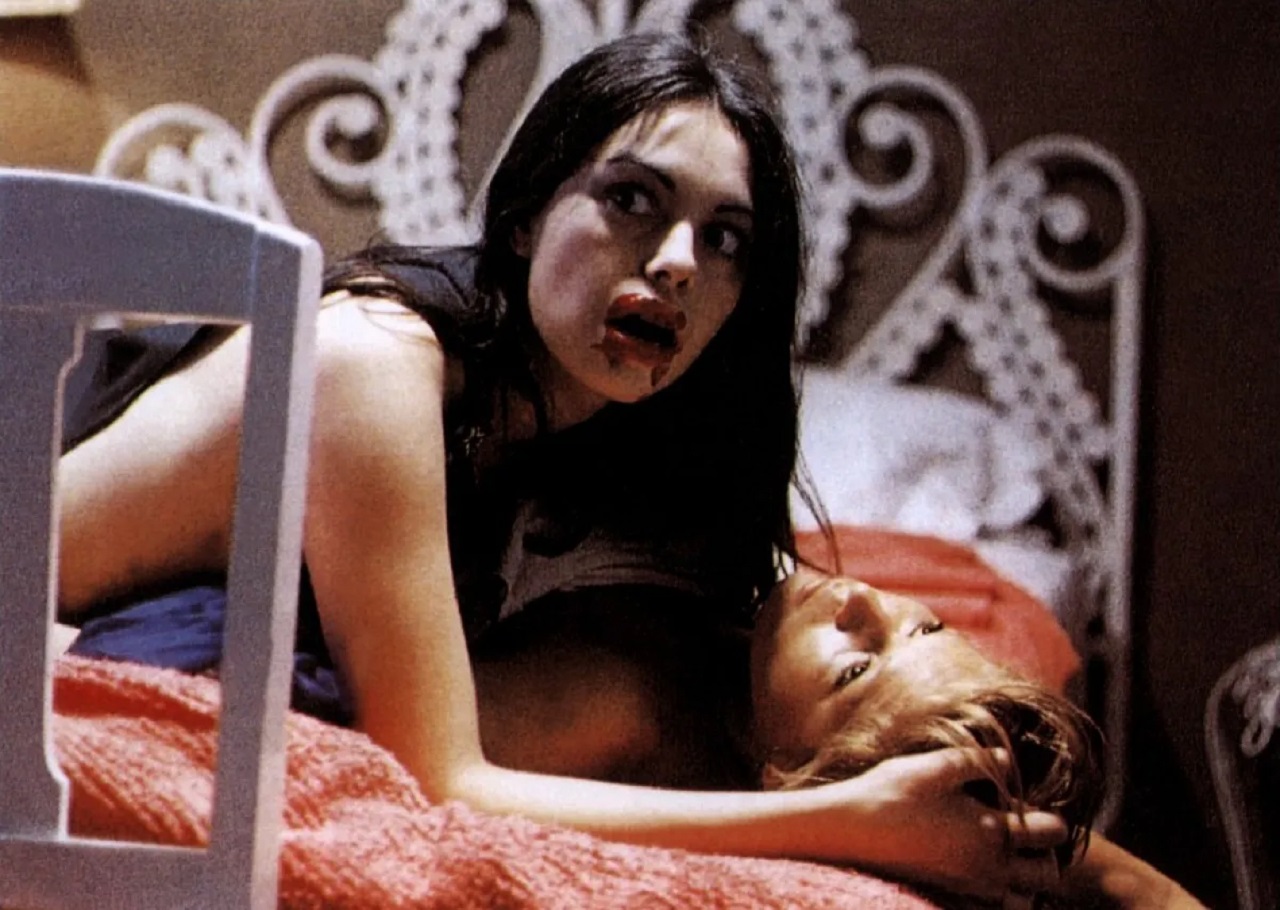 Romay has great screen presence. She manages to turn something like lying on a bed sucking her thumb into an erotic tease. Franco certainly pushes the material into a perverse territory at times – Lina Romay kills Raymond Hardy during sex and then rides on top of his dead body. Later she kills journalist Anna Watican and masturbates while writhing over her dead body. It is not quite clear what it is she actually does as we never see her drinking any blood as you expect a traditional vampire to do. Given that we don't actually see any fangs or blood drunken – anything vampiric other than Lina Romay turning into a bat – it could be equally possible to offer an interpretation that this is a film about Necrophilia.
On the other hand, there is never much more to the film than these assorted sexual encounters. The plot is essentially the same one that served for Franco's The Daughter of Dracula – a member of aristocratic family revived/still alive and seducing/preying on people in the present. In both films, Franco plays the role of an investigator looking into the vampire killings. Also in both cases the investigation forms a B plot but never amounts to anything – in a regular vampire film, it would lead to a showdown between parties but this is just left unresolved.
Jess Franco's other films are:– The Awful Dr Orloff (1962), The Sadistic Baron Von Klaus (1962), The Secret of Dr Orloff (1964), Attack of the Robots (1966), The Diabolical Dr Z/Miss Death (1966), The Blood of Fu Manchu (1968), Necronomicon/Succubus (1968), The Castle of Fu Manchu (1969), Justine (1969), Kiss Me Monster (1969), 99 Women (1969), Sadisterotica/Red Lips (1969), The Girl from Rio (1969), Venus in Furs/Paroxysmus (1969), The Bloody Judge/Night of the Blood Monster (1970), Count Dracula (1970), Eugenie/Philosophy in the Boudoir (1970), Nightmares Come at Night (1970), Vampyros Lesbos (1970), Dracula, Prisoner of Frankenstein (1971), She Killed in Ecstasy (1971), The Corpse Packs His Bags (1972), The Daughter of Dracula (1972), The Demons (1972), Doctor Mabuse (1972), The Erotic Adventures of Frankenstein (1972), The Silence of the Tomb (1972), The Erotic Adventures of Maciste in Atlantis (1973), The Obscene Mirror/The Other Side of the Mirror (1973), The Sinister Eyes of Dr Orloff (1973), A Virgin Among the Living Dead/Christina, Princess of Eroticism (1973), Lorna the Exorcist (1974), The Perverse Countess (1974), Eugenie (1975), Doriana Grey (1976), Jack the Ripper (1976), Night of the Assassins (1976), Sexy Sisters/Satanic Sisters (1976), Greta the Mad Butcher/Wanda the Wicked Warden/Ilsa: Absolute Power (1977), Call of the Blonde Goddess/Voodoo Passion (1977), Wicked Women (1977), Demoniac/Exorcism/The Ripper of Notre Dame (1979), Man Hunter/The Devil Hunter (1980), White Cannibal Queen (1980), Bloody Moon (1981), Oasis of the Zombies (1981), Revenge of the House of Usher (1982), Grave of the Living Dead (1983), The Treasure of the White Goddess (1983), The Sinister Dr Orloff (1984), Mansion of the Living Dead (1985), Faceless (1987), The Killer Barbies (1996), Lust for Frankenstein (1998), Marie-Cookie and the Killer Tarantula in 8 Legs to Love You (1998), Tender Flesh (1998), Vampire Blues (1999), Vampire Junction (2001), Incubus (2002), Killer Barbies vs Dracula (2002), Snakewoman (2005), Paula-Paula (2010), Al Pereira vs the Alligator Ladies (2012), Crypt of the Condemned (2012) and Revenge of the Alligator Ladies (2013).
---
Trailer here
---