---
Crew
Director/Screenplay – Ryan Barton-Grimley, Producers – Ryan Barton-Grimley, A.J. Gordon & Ari Schneider, Photography – Sean Ayers, Music – Robby Elfman & Ari Schneider, Visual Effects – Nocturnal Robot (Supervisor – Jeremy Wanek), Production Design – Audrey Haworth. Production Company – RBG Films/Clumsy Tiger Productions, LLC/Loaded Image Entertainment.
Cast
Ryan Barton-Grimley (Philip 'Hawk' Hawkins), Ari Schneider (Revson 'Rev' McCabe/Forneus the Gimp), Jana Savage (Theo), Richard Sayler (Jasper), Jeff Lorch (Deputy Jack Scroggins), Casey Graf (Arnold), David Rickabaugh (Zagan), Jack Bradley (Andros), Kevin Ocampo (Terry)
---
Plot
In San Muerte, California, Philip 'Hawk' Hawkins lives in a tent in his parents' back yard. He is obsessed with vampire hunting. He works as a security guard after having been discharged from the army for staking a fellow soldier with a 2×4. While on the job, he is certain that he sees three vampires entering the supposedly unoccupied warehouse next door. He brings in his best friend Revson 'Rev' McCabe and they stake out the warehouse. Hawk later brings in Jasper, his cellmate from when he was in jail, and they are also joined by Theo, a crime writer working in a religious goods store who wants to write about them. Together they set out to track down and kill the vampires.
---
Hawk & Rev: Vampire Slayers was a directing-writing outing from Ryan Barton-Grimley, who is US-based but was born in Zimbabwe. Barton-Grimley has assorted credits as an actor. He made his directorial debut with the home invasion thriller The Truth (2010), followed by the non-genre Elijah's Ashes (2017) and subsequent to this the horror film Listen Carefully (2021). In the film, he also plays the lead role of Hawk. Ari Schneider, who plays Rev and produces and co-writes the music, is a frequent collaborator as an actor, co-writer and producer on several of Barton-Grimley's other films.
The vampire hunter has been with us almost as long as vampire fiction has been. Two of the earliest, most formative works – J. Sheridan Le Fanu's Carmilla (1872) and Bram Stoker's Dracula (1897) – both introduced dedicated vampire hunters along with their respective vampire characters. The vampire hunter gained strength on screen with Hammer's Dracula/The Horror of Dracula (1958). In their second Dracula film The Brides of Dracula (1960), Hammer spun Peter Cushing's Van Helsing out as the hero in the absence of Christopher Lee and later attempted to launch a series of Van Helsing films.
There have been assorted Van Helsing standalone films and the vampire hunter gained a popularity on screen in the 1990s with the various adventures of Buffy and Blade. The vampire hunter parody began with Roman Polanski's The Fearless Vampire Killers (1967) and has extended through assorted comedy efforts including Stan Helsing (2009), Jesus Christ, Vampire Hunter (2001) and Super Hot (2021). (For a more detailed listing see Monster Hunters).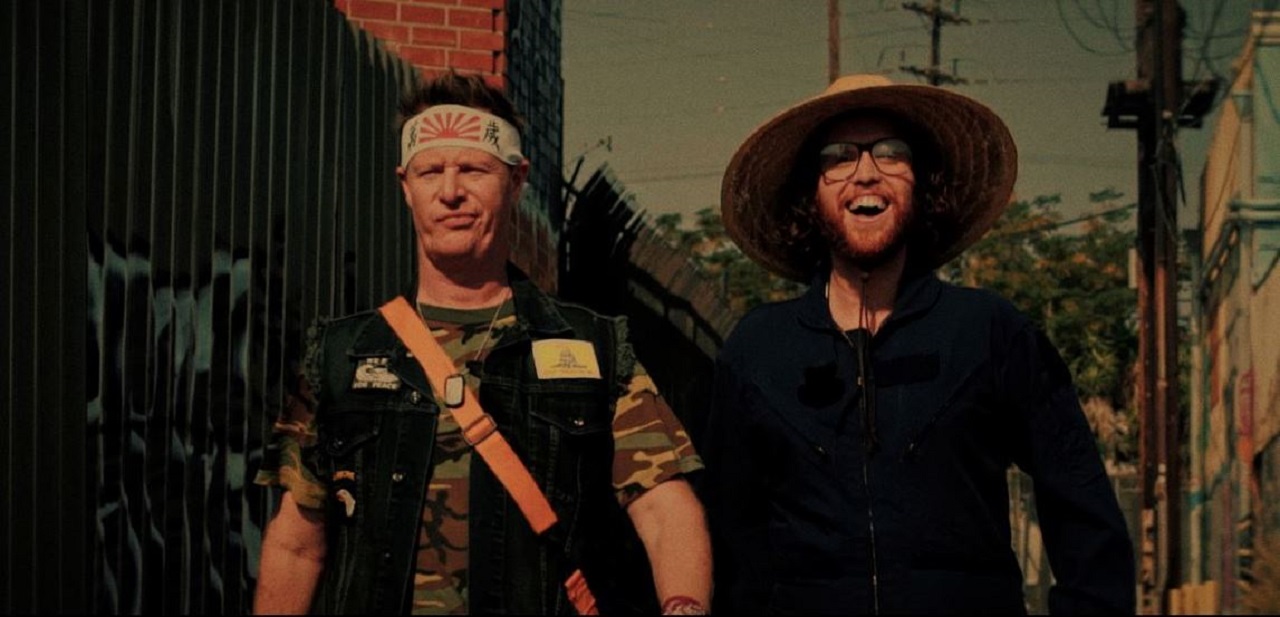 Hawk & Rev: Vampire Slayers sets in with an engaging energy. As Hawk, Ryan Barton-Grinley creates an endearingly likeable loser – at first introduced sleeping in a tent on his parents' lawn (his response after being asked to move out of home); or his constant calls to the police and dealings with police deputy Jeff Lorch, including at one point trying to pass off a bunch of vampire hunting paraphernalia as intended to help children with cancer.
The characters all come with a sarcastic appeal and Barton-Grimley, Ari Schneider and Jana Savage are on the ball, keeping within character and delivering line after line with a very snappy energy, not to mention often amusing puncturing of expectation. In particular, the final confrontation with the vampire wittily spears the heroes and vampire movie clichés – there seems no more deliriously absurd an image than that of wino Kevin Ocampo keeping drinking his beer as his neck is being bitten into.
The film also comes with plentiful reference to other vampire works including Fright Night (1985), The Lost Boys (1987) (along with dissing of its sequels) and From Dusk Till Dawn (1996).
---
Trailer here
---