aka The Bloodsucking Doll; Night of the Vampire; The Vampire Doll
(Chi o Suu Ningyo/Yureiyashiki no Kyofu – Chi o Suu Ningyo)
---
Crew
Director – Michio Yamamoto, Screenplay – Ei Ogawa, Producer – Fumio Tanaka, Photography – Kazutami Hara, Music – Riichiro Manabe. Production Company – Toho.
Cast
Kayo Matsuo (Keiko Sagawa), Akira Nakao (Hiroshi Takagi), Atsuo Nakamura (Kazuhiko Sagawa), Yoko Minazake (Shido Nonomura), Jun Usami (Dr Yamaguchi), Yukiko Kobayashi (Yuko Nonomura), Kaku Takashina (Genzo)
---
Plot
Kazuhiko Sagawa travels to the remote country home of his girlfriend Yuko Nonomura, only to be informed by her mother that Yuko has died in a car crash a few weeks earlier. He then thinks that he sees Yuko still alive and follows her to the graveyard. This turns out to be her ghost who turns and attacks him. Kazuhiko's sister Keiko becomes worried about not having heard from him after eight days and she and her boyfriend Hiroshi set out to the Nonomura household to investigate. There they encounter Yuko's vampiric ghost and determine to get to the bottom of the mystery surrounding her.
---
Legacy of Dracula was the first in what has become known as The Bloodthirsty Trilogy. This was a trio of films from director Michio Yamamoto, made at Godzilla's home studio Toho during the early 1970s. The others were Lake of Dracula (1971) and Evil of Dracula (1974). None of the three films are connected, excepting in that they featured vampires and were misleadingly retitled as Dracula movies by American distributors, even though Dracula does not feature as a character.
Legacy of Dracula is a modestly effective venture into the kaidan eiga. What is noticeable is how Michio Yamamoto relies on Western models rather than the Japanese kaidan tradition. Most traditional Japanese kaidan eiga – see the likes of Ugetsu Monogatari (1953), Kwaidan (1964), Oni Baba (1964), Illusion of Blood (1965) – are rooted in a dynastic past or, as in the case of modern equivalents like Ring (1998), feature a peculiar kind of supernatural vengeance.
By contrast, Michio Yamamoto turns to more Western elements – the traditional remote country mansion lit up by ominous lightning bolts, lurking retainers, the lead characters as detectives knitting together a mystery from the past, and the very notion of the vampire, which did not exist in Japanese cinema up until this point. In fact, recast the film with Caucasian rather than Japanese actors and you might not be mistaken in thinking that Legacy of Dracula is a Hammer film both in plot, setting and pacing.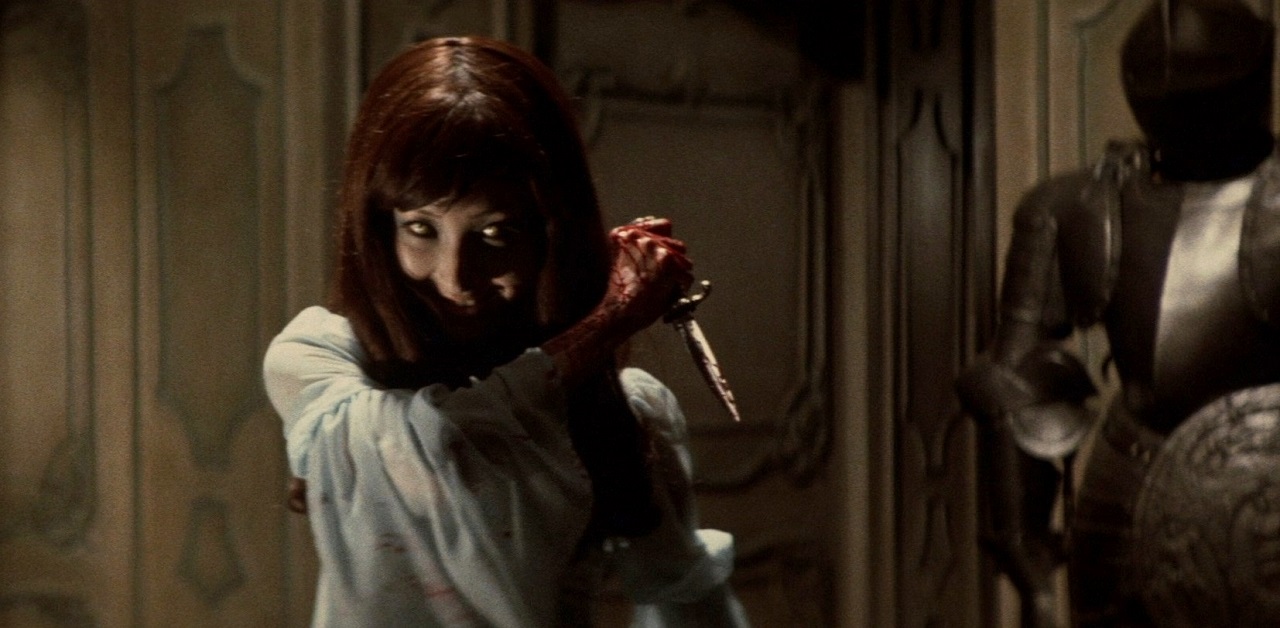 Michio Yamamoto produces a number of eerie scares with Yukiko Kobayashi appearing in white face and suddenly glaring at victims with unearthly smile and glowing green eyes and the scene fading out as she raises her scarred arm into camera. There is an effective surprise villain that emerges in the third act and a gory climactic throat-slitting. On the whole though, Legacy of Dracula is slow moving and tends to be more talky than it ever is spooky.
The script also seems confused about the fundamental nature of Yuko. It never makes clear if she is ghost or vampire, while it also invents a confusingly incongruous explanation, borrowed from Edgar Allan Poe's The Facts in the Case of M. Valdemar (1845), about her having been hypnotised at the point of death and how this somehow caused her to become a vampire, as well as talk about how her mother sold the daughter's soul. Quite possibly this is something that exists through the translation.
As might also be noted, the various English language translations are inaccurate in describing the film – there is no Dracula, and no vampire or bloodsucking dolls. A doll does appear, having been substituted in Yuko's grave, during one scene and there is a tiny broken china figurine that appears throughout, although neither of these are ever seen to be animate, let alone vampiric or bloodsucking.
---
---