aka A Slit Mouthed Woman
(Kuchisake-onna)
---
Crew
Director – Koji Shiraishi, Screenplay – Koji Shiraishi & Naoyuki Yokota, Producers – Kayako Hanamura, Shuntaro Kanai, Hirokazu Kokago, Nobumasa Miyazawa, Takafumi Ohashi, Saori Yabe & Yoshimitsu Yoshitsuru, Photography – Shozo Moroshita, Music – Chika Fujino & Gen Wano, Makeup Effects – Akiteru Nakada, Production Design – Kazuhisa Hatakeyama. Production Company – Tornado Film/For-side.com/Twin Co. Ltd/Memory Tech/Earl Grey Film.
Cast
Eriko Sato (Kyoko Yamashita), Haruhiko Kato (Noboru Matsuzaki), Chiharu Kawai (Mayumi Sasaki), Rie Kuwana (Mika Sasaki), Sakina Kuwae (Natsuki Tamura), Miki Mizuno (Taeko Matsuzaki/Slit Mouthed Woman), Kazuyuki Matsuzawa (Hideo Tamura), Kaori Sakagami (Saori Tamura), Koichiro Nishi (Kyoko's Ex-Husband), Ayu Kanesaki (Ai Ono)
---
Plot
The park near Higashi Elementary School in Kanagawa Prefecture is haunted by the legend of the slit-mouthed woman. She appears to people wearing a mask that she opens to reveal a mouth that has been carved from ear to ear before snatching them. One young boy is now snatched. School teacher Kyoko Yamashita is waiting with pupil Mika Sasaki who is trying to tell her that she is being abused. Because Kyoko's own daughter Ai has rejected her, Kyoko reacts badly and Mika runs away only to be snatched by the slit-mouthed woman. Kyoko and fellow teacher Noboru Matsuzaki team up to find the slit-mouthed woman's lair. In the course of this, Noboru reveals that the slit-mouthed woman is his mother.
---
The Slit-Mouthed Woman or the Kuchisake-onna is a figure from Japanese urban legend. According to the legend, she is a wife who was found with another man by her husband who slit her mouth from ear to ear with a sword. She appears to people asking "Am I Beautiful?" – when they answer "no", she kills them; when they answer "yes", she carves their mouth to resemble her own. There have been several films based on the legend of the Slit Mouth Woman with The Slit-Mouthed Woman (1996), Slit-Mouthed Woman (2008), The Slit Mouthed Woman Returns (2012) and Slit Mouthed Woman in L.A. (2014), as well as the pinku film The Slit-Mouthed Woman (2005).
During the late 90s and early 2000s, Japan produced a huge number of ghost story films beginning with Ring (1988) and passing through other successes such as Tomie (1999), Ju-on: The Grudge (2002) and One Missed Call (2003), all of which produced multiple sequels. These produced other imitators, were copied right by other countries around the Asian region and eventually led to a string of Hollywood remakes. (For further detail see Asian Horror). With Carved: The Slit Mouthed Woman, the legend of the Kuchisake-onna has appropriated as one of these J-horror copies.
Director Koji Shiraishi is a regular director of J-horror films, having also made the likes of Ju-rei: The Uncanny (2004), Noroi: The Curse (2005), Yurei Zombie (2007), Grotesque (2009), Occult (2009), Teketeke (2009), Teketeke 2 (2009), Shirome (2010), Ada Part 1 (2013), Ada Part 2 (2013), Cult (2013), A Record of Sweet Murderer (2014), Sadako vs Kayako (2016) and Hell Girl (2019).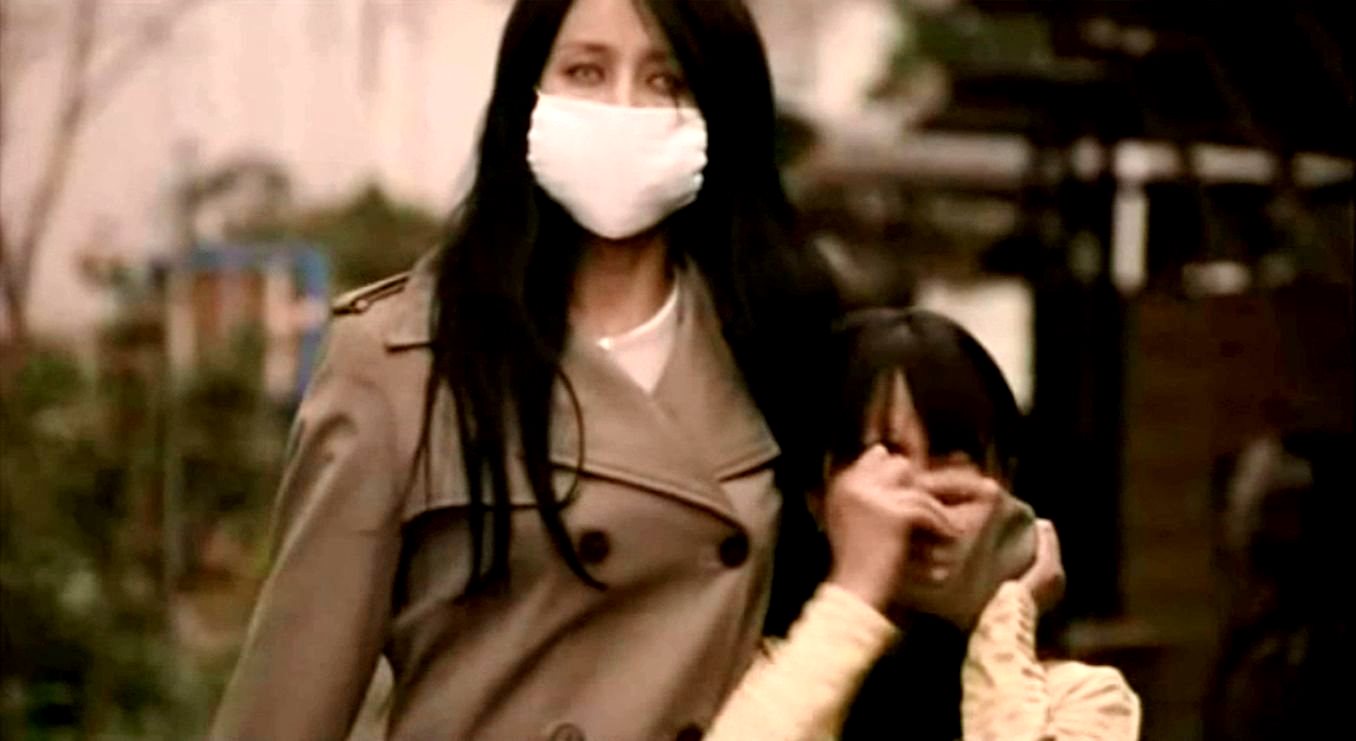 As an entry in the Japanese ghost story cycle of the 1990s/2000s, Carved: The Slit Mouthed Woman feels routine. The idea has a great deal of potential but Koji Shiraishi's direction feels workmanlike and unremarkable, He produces assorted shock effects from time to time. However, what is noticeably missing is the atmosphere and sense of the uncanny that almost all of the other abovementioned J-horror films generate. Certainly, beneath what is going on, the film has a serious message about child abuse but the script does no more than skate over the surface of such issues.
There also seems something confused about the way the film approaches its urban legend. The Kuchisake-onna is a malevolent spirit – in the West she might be termed a 'boogey man' or in this case 'boogey woman'. Carved: The Slit Mouthed Woman tries to operate as a modern kaidan eiga but this seems at odds with the explanations the film offers of the Kuchisake-onna being the disfigured mother of one of the characters in the film. To be fair, the latter sections of the film head towards something more supernatural but the bulk of the film and its origin story are rooted in mundane explanations. Nor does this Slit Mouthed Woman have much of the urban legend's obsession with physical beauty and revealing her face to people – all she seems to do is snatch children. It is something that strips the film of the legend's mythic power and simply makes it a mundane horror story about a mad woman seeking vengeance. The Kuchisake-onna, as seen here at least, is no more than a figure like Michael Myers or Jason and nothing supernatural.
This was followed by two sequels with A Slit-Mouthed Woman 2/Carved 2 (2008) and The Slit-Mouthed Woman 0: The Beginning (2008).
---