aka The Yotsuya Ghost Story
(Yotsuya Kaidan)
---
Japan. 1965.
Crew
Director – Shiro Toyoda, Screenplay – Toshio Yasumi, Based on the Play by Nanboku Tsuruya, Producer – Ichiro Sato, Photography – Hiroshi Murai, Music – Toru Takemitsu. Production Company – Toho/Tokyo Eiga.
Cast
Tatsuya Nakadai (Iemon), Mariko Okada (Oiwa), Kanzaburo Nakamura (Naosuke), Junko Ikeuchi (Osode), Mayumi Ozora (Oume), Masao Mishima (Takuetsu), Keiko Owaii (Omaki)
---
Plot
The samurai Iemon has been left impoverished after the loss of his master. He becomes angry upon learning that his father-in-law is planning to sell his daughters (including Iemon's wife Oiwa) into prostitution. He kills his father-in-law and then conspires with Naosuke (the fiancee of Oiwa's sister Oume whom Naosuke desires), who has just killed another man, to make it appear that the two bodies were killed by an assailant. Iemon then learns that if he marries Osode, the daughter of a wealthy man, he will be recommended to a new master – however, he is still married to Oiwa. Osode and her father give him a medicine that makes Oiwa's face hideously ugly. In disgust, Iemon kills her and a servant. He nails their bodies to either side of a door and throws in the river, making it appear that they eloped together. He marries Osode but the ghost of Oiwa returns to haunt him.
---
Illusion of Blood falls into the tradition of the Japanese kaidan or ghost story. Kaidan are different from Western ghost stories – they tend not to centre around old dark houses or melodramas from the past being replayed but around people being vengefully visited upon for selfish actions. Further, it is usually (although not always) a genre rooted in Japan's traditional historic past – where the element of the supernatural is something that disrupts formality and tradition.
The play that Illusion of Blood is based on, Yotsuya Kaidan (1825), which is meant to be performed as kabuki, is the most popular of this form. This play has undergone an enormous number of film adaptations, including the silent Yotsuya Kaidan (1925) and New Version of the Ghost Story of Yotsuya (1928), as well as other lost silent versions in 1918, 1921, 1923 and 1928, and sound versions such as The Yotsuya Phantom (1949), Yotsuya Kaidan (1956), Ghost Story of Yotsuya (1959), Ghost of Oiwa (1961), The Ghost of Oiwa/The Ghost of Yotsuya (1969), a 1981 television adaptation and Crest of Betrayal (1994). Takashi Miike's Over Your Dead Body (2014) is a horror film set backstage of the staging of the play version of Yotsuya Kaidan.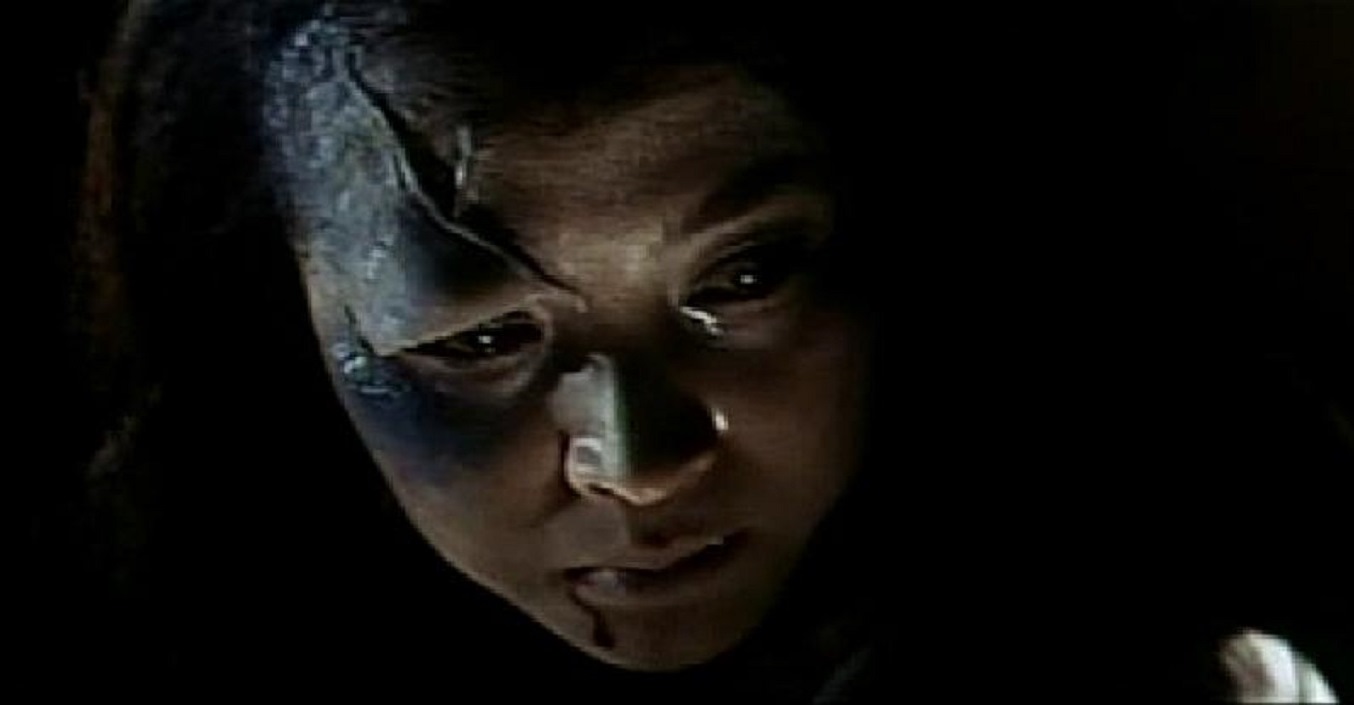 Illusion of Blood is an interesting film. It was shot for widescreen in Eastmancolor. Generally speaking, widescreen is not a good medium for horror but director Shiro Toyoda manages to stage some effective shocks. The revelation of the wife's 'hideously ugly' face is withheld from us for some time and when seen does hold some impact. There are some good shock effects like the emergence of the wife and servant's bodies from their burial in a river nailed to either side of a door.
There is a complicated plot in the multiple murders and tangle of desires. The overriding theme of a man who acts out of anger and selfishness and is then propelled through a snowballing series of bad luck circumstances is well conveyed.
---