(Suito Homu)
---
Crew
Director/Screenplay – Kiyoshi Kurosawa, Producers – Seigo Hosogoe & Yasushi Tamaoki, Photography – Yonezo Maeda, Music – Masaya Matsuura, Makeup Effects – Dick Smith, Art Direction – Shuji Nakamura. Production Company – Itami Productions.
Cast
Nobuko Miyamoto (Akiko), Shingo Yamashiro (Kazuo), Nokko (Emi), Juzo Itami (Kenichi Yamamura), Fukumi Kuroda (Asuka), Ichiro Furudate (Taguchi)
---
Plot
The tv producer Kazuo obtains permission to shoot a show in the home of the late Ichiro Mamiya, a famed artist. Kazuo and his crew move into the house and set up the shoot. There they uncover a mural of his wife that Mamiya left behind. However, their being in the house stirs up supernatural forces. They realise that the house is haunted by the spirit of Mamiya's late wife cannot find rest because she accidentally set their child alight inside the furnace.
---
Japan's Kiyoshi Kurosawa came to prominence around 2000 for his intensely weird and bafflingly unfathomable horror films. Kurosawa's genre films include the psycho film Guard from the Underground (1992); Cure (1997) about a series of cryptic hypnotism murders; Serpent's Path (1997) and Eyes of the Spider (1998), a duo of studies in obsessive revenge; the medium thriller Seance (2000); the ghost story Pulse (2001) – his best known film that later underwent an English-language remake, followed by two sequels; Bright Future (2003), a strange film about two frustrated workers and jellyfish amok; Doppelganger (2003) about an overworked man being helped out by a mysterious double; the ghost story/mummy film Loft (2005); the ghost story Retribution (2006); the dreamscape film Real (2013); the ghost story Daguerreotype (2016); and the alien invasion film Before We Vanish (2017) and its follow-up Foreboding (2017).
Sweet Home was not Kiyoshi Kurosawa's first film, although it was his first venture into the horror genre with which he subsequently became associated. It is however a long way away from the uncanny style that Kurosawa would gain a reputation for a decade later. There is not the sense of the mysterious and unfathomable running beneath things. Storywise, everything is straightforward – Kurosawa has yet to abandon concern for smooth plotting and discover his penchant of allowing his films to arrive at cryptically baffling dead ends. If anything, Sweet Home resembles just a regular Japanese kaidan eiga – in its better moments something of the demented House (1977).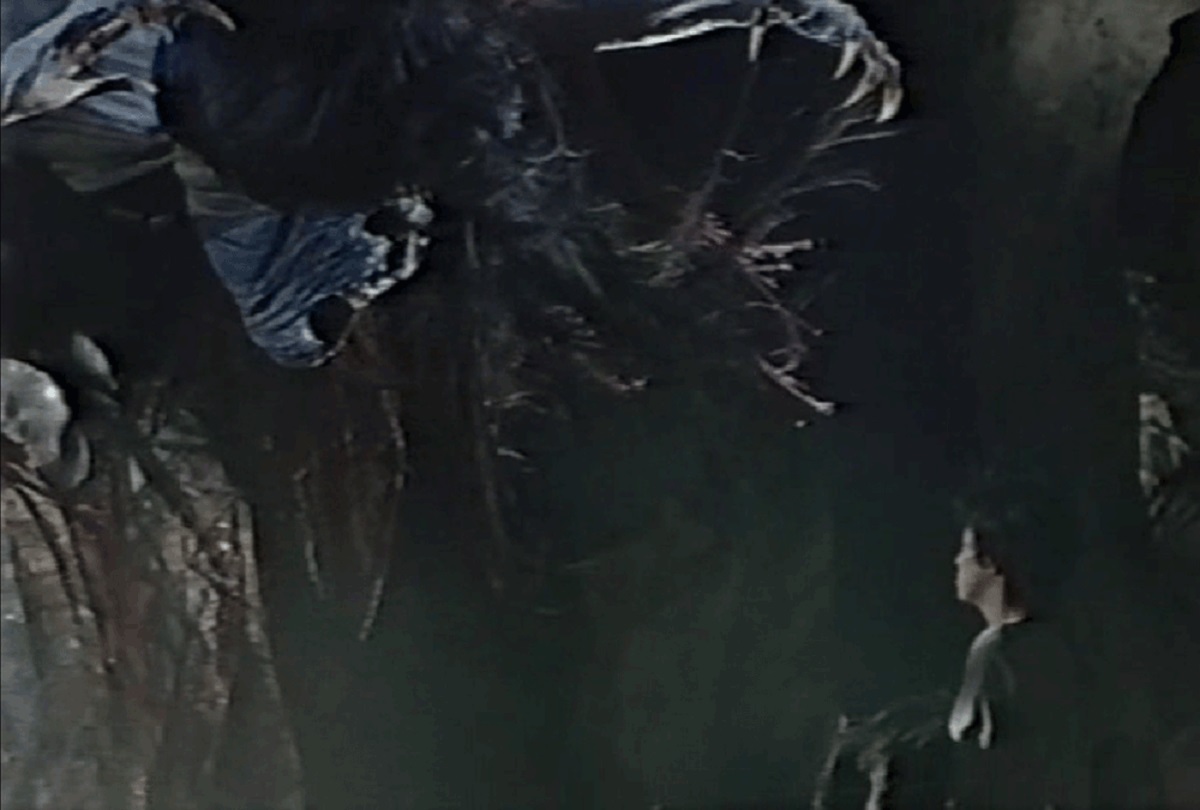 For the most part, Sweet Home is directorially crude. That is not to say that it is uninteresting – more on that in a moment. The build-up is nothing exciting and the characters and their conflicts unexceptional. The amusing thing about the film is that today its theme of a film crew venturing into a haunted house would almost certainly be played as Found Footage, a genre that did not exist back in 1989.
However, there are several scenes that do perk the film up out of the routine. One is the scene where the crew handyman (Ichiro Furudate) follows a trail of cloth leading through a door, a dead body falls on him and a shadow pursues him, severing him in two. This is followed by the shadow pursuing Fukumi Kuroda through the house, reflected as a giant hand shape on the walls, which causes each of the electric bulbs to pop as it passes them, before she returns to where she came and finds the severed torso of Kuroda crawling after her and collapses back into the wheelchair whereupon the axe propped against the wall falls and splits her head in two.
There is a highly entertaining sequence later where a body emerges from the furnace and begins burning from within and melts right down to the skeleton. Not to mention a fantastic climactic scene with the emergence of the dead wife as a twelve foot ghost with multiple heads, including ones coming out of its chest, and shooting lightning bolts as Nobuko Miyamoto stands up to plead with it. For these scenes, Kurosawa obtained the services of famous Hollywood makeup effects artist Dick Smith, best known for his work on The Exorcist (1973) and The Hunger (1983).
Peculiarly enough, at the same time as Sweet Home came out, it was also adapted into a videogame by Capcom.
---
---