aka Terror Eyes
---
Crew
Director – Kenneth Hughes, Screenplay – Ruth Avergon, Producers – Ruth Avergon & Larry Babb, Photography – Mark Irwin, Music – Brad Fiedel, Production Design – William De Seta. Production Company – Resource Productions.
Cast
Leonard Mann (Detective Judd Austin), Rachel Ward (Eleanor Adjai), Drew Snyder (Professor Vincent Millett), Joseph R. Sicari (Taj), Karen MacDonald (Carol Mann), Annette Miller (Helene Griffin), Bill McCann (Gary Downs), Nicholas Cairis (Gus), Elizabeth Barnitz (Kim Morrison), Holly Hardman (Kathy), Meb Boden (Anne Barron)
---
Plot
Boston police detective Judd Austin investigates a series of murders in which women are found decapitated. The killer is a mystery figure who dresses in a black and hides their face behind a motorcycle helmet. The investigation takes Judd to Wendell College for girls where several of the victims were students. Judd investigates anthropology professor Vincent Millett who was involved with the most recent victim and who also teaches a course on the headhunters of Papua New Guinea who ritually decapitate victims. As Judd continues his investigation, the mystery killer claims other victims.
---
The slasher film went massive around 1980 following the hits of Halloween (1978) and Friday the 13th (1980). Screens were deluged by a host of copies with holiday titles all featuring masked killers stalking teenagers and slaughtering them in novelty ways. There were dozens of these produced before the genre burned itself out around 1983. For more detail see Slasher Films.
Most of the slasher copycats were B budget films. Night School was one of the few of these that was made with a decent budget and given a studio release. It had a reasonably respectable director in Ken Hughes, billed here as Kenneth Hughes (see below for Hughes' other films). Hughes was age 59 at the time, making him one of the older directors to jump aboard the slasher bandwagon, although he was beaten out in this regard by J. Lee Thompson (another British director) who made Happy Birthday to Me (1981) at the age of 67. The film was not a major success, which may well be due to it being given an innocuous title Night School that didn't suggest it was a horror film. In the UK, it was retitled Terror Eyes but there it was subject to censorship where it was cut of 1:16 minutes and then listed as a Video Nasty.
Ken Hughes certainly makes a slicker and better budgeted slasher film than most of the other entries of the cycle. The budget affords the film a slightly better cast than usual, if still no major names. This includes a drop dead gorgeous Rachel Ward who was unknown at the time, only a couple of years short of her breakout in tv's The Thorn Birds (1983). Here she makes her film debut as the professor's girlfriend.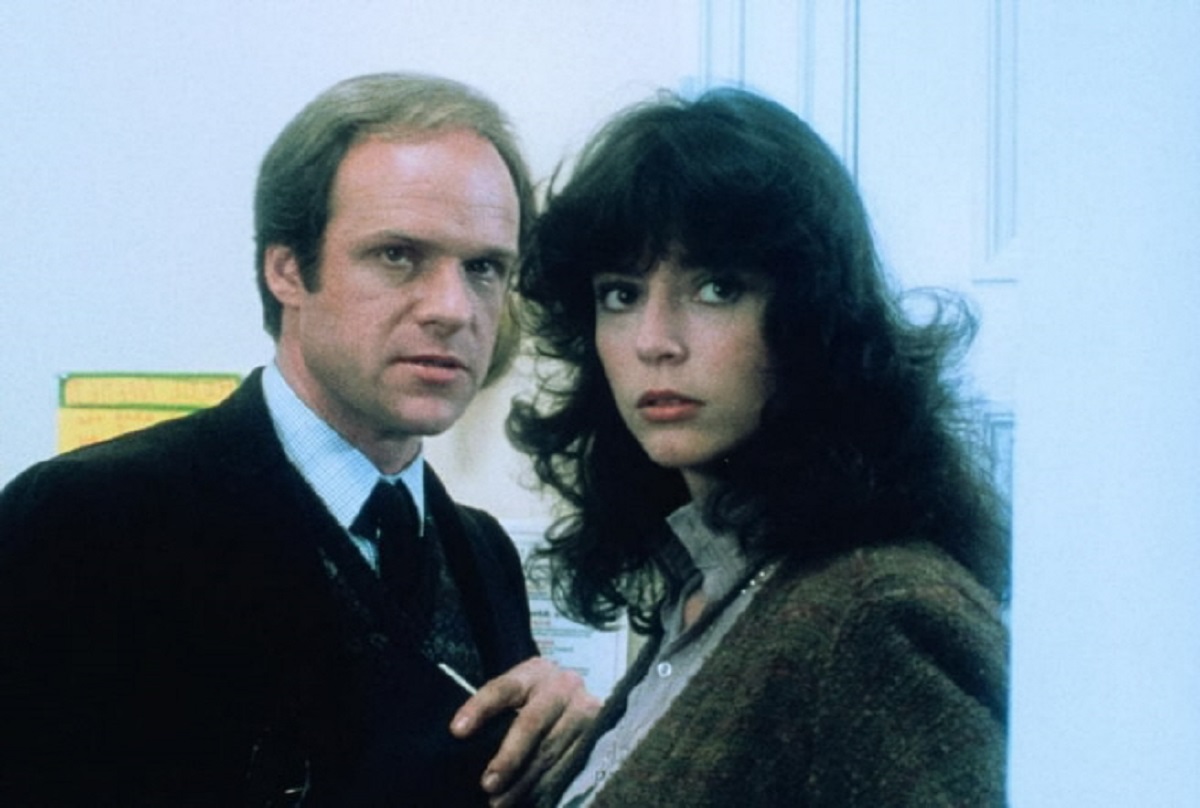 Perhaps the greatest concession to a more traditional form of storytelling is the fact that most of the show is seen through the eyes of Leonard Mann's detective hero. Indeed, this is a slasher film with one foot in the genre of the police procedural. By contrast, most other slasher films dispensed with grown-up authority figure heroes – Donald Pleasence in Halloween excepted – and placed the focus on the teens in peril.
That said, Kenneth Hughes's set-ups are not that sophisticated. Rachel Ward takes an entirely gratuitous shower scene in much detail, which is crudely interspersed with scenes of someone entering the apartment and creeping up on her before this only proves to be boyfriend Drew Snyder. We then get an erotic scene with them together in the shower with he rubbing a red powder into her skin but again the eroticism of the scene is undone by the fact that a cutaway crudely makes the red powder look like blood as it runs down the drain.
Another absurd scene is where waitress Karen MacDonald has been attacked and we then cut to the next morning as her boss Nicholas Cairis opens up the diner and suspense is tediously drawn out by Hughes making us think that her severed head is going to fall out of every conceivable location in the kitchen, resulting in drawn out shots of Cairis serving soup, transferring it to another pot, looking in the fridge and the boxes on top of it and so on.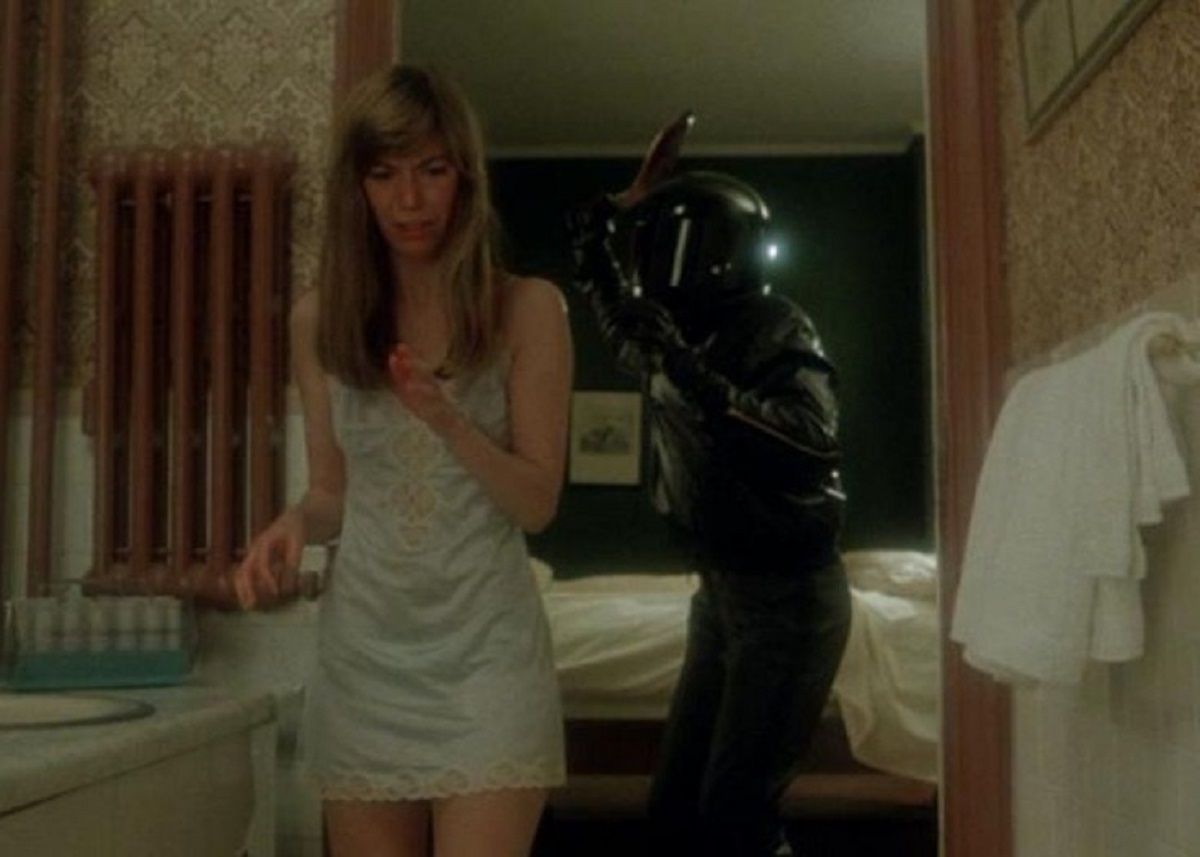 That said, Hughes does sink his teeth in in a few scenes. Unlike what you would expect of a studio-backed slasher film, he does not hold back. In particular, there is a very gory scene with a bathrobe-clad Elizabeth Barnitz being attacked in a locker room. Hughes leaps into with the full ferocity that some of his younger counterparts lacked. The eventual revelation of the identity of the killer comes as a moderate surprise.
Ken or Kenneth Hughes was a British director/writer who emerged in the early 1950s. Hughes made several crime films and thrillers such as Wide Boy (1952), Black 13 (1952), The House Across the Lake (1954), The Brain Machine (1955) – not an SF film despite the title – Confession (1955), Little Red Monkey (1955), The Long Haul (1957) and Wicked As They Come (1957), before having a reasonable hit with Joe MacBeth (1955), a modernisation of the Shakespeare play. In between these, he made one SF film with Timeslip/The Atomic Man (1955) about a man out of synch in time. He gained critical acclaim with The Trials of Oscar Wilde (1960) and Cromwell (1970). He was one of the directors involved on Casino Royale (1967) and went on to direct Ian Fleming's children's book Chitty Chitty Bang Bang (1968). Night School was his last film.
---
---