---
Crew
Director/Screenplay – Matthew Holness, Producers – Wayne Marc Godfrey, James Harris, Robert Jones & Mark Lane, Photography – Kit Fraser, Music – The Radiophonic Workshop, Special Effects Supervisor – Matthew Strange, Creature Design – Dominic Hailstone, Creature Effects – Odd Studio (Supervisor – Adam Johansen), Production Design – Charlotte Pearson. Production Company – BFI/The Fyzz Facility/Film 14 Limited/Bankside Films/Evandine Productions/Kodak/Cinelab
Cast
Sean Harris (Philip), Alun Armstrong (Maurice), Charlie Eales (Michael Browning)
---
Plot
Philip returns to Fulmarsh to stay with Maurice, the uncle who raised him. Maurice is aging and lives in a rundown house. Philip has brought with him a bag that contains a puppet creature that he fears. He makes repeated attempts to drown the puppet in the canal or burn it but it continues to return. At the same time, police are searching for a missing boy and their investigation brings them to Philip who was on the train at the same time the boy was last seen.
---
Possum was a directorial debut for Matthew Holness, who is principally known as a comedy actor on British television. Holness has appeared as a regular in the sketch show Bruiser (2000), Man to Man With Dean Learner (2008) and wrote/co-created and played the title role in the horror parody Garth Marenghi's Darkplace (2004) based on his stage show – all of these being made in collaboration with Richard Ayoade. In between that, Holness has appeared in various other British comedy tv series and some dramatic roles including a part in The Haunting of Bly Manor (2020). Possum comes with the backing of an impressive list of British companies, including the British Film Institute. Holness based it on a 2008 short story, which the credits carefully note he published in the anthology The New Uncanny.
Matthew Holness stated that he was interested in making a film about the eruption of the uncanny and that he drew influence from silent German films. As a result, Possum is very different in tone to the average horror film. The locations consist of the dreariest marshes, rundown British flats, abandoned industrial sites and derelict areas of town imaginable. Holness has muted the colour to almost a sepia tone throughout.
Moreover, the pace is slow and funereal. It is a film of enigmatic silences where it is not at all clear what is going on. There are lines of dialogue but they appear to be between parties where we are not an invited participant and refer to things and a background to which we are often not privy. Sean Harris gives a performance that is hunched and physically expressive, often through a tightly downturned lip – there are times you think the character is so withdrawn that he is handicapped. It is one of the least accessible and commercial films that one has sat down to watch in some time.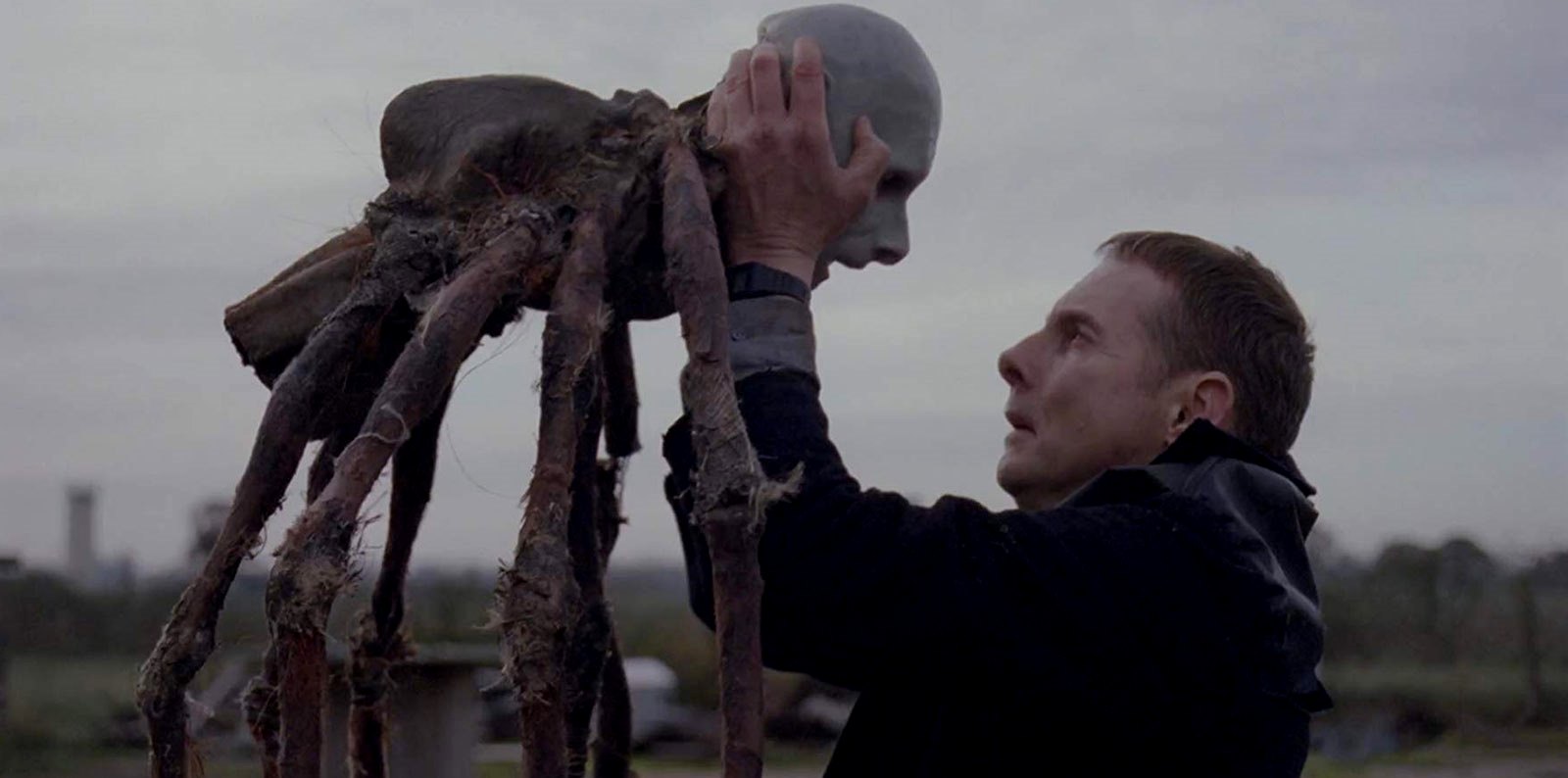 In between all the slowness, there are moments of intense uncanniness. Of scenes looking down alleys as a pair of giant spider legs appear around the corner or with a skeleton shape sitting on his bed. Or of Sean Harris's attempts to get rid of the puppet including repeatedly dropping it in the canals and river and burning it and its coming back to haunt him with increasing malevolence.
One thought maybe they were in for another entirely surreal film on the order of an Eraserhead (1977). However, Matthew Holness does pull it all together at a surprise ending that does make sense of what has been going on. That said, I am still not entirely sure what the spider puppet was meant to represent. Or even for that matter the revelance of the title Possum.
---