---
Crew
Director/Screenplay – Sandor Stern, Based on the Novel by Andrew Neiderman, Producer – Rene Malo, Photography – Guy Dufaux, Music – Peter Manning Robinson, Pin Design – Atelier P&P, Art Direction – Francois Seguin. Production Company – Malofilm Group/Lance Entertainment.
Cast
David Hewlett (Leon Linden), Cyndy Preston (Ursula Linden), Terry O'Quinn (Dr Frank Linden), John Ferguson [Pyper-Ferguson] (Stan Fraker), Bronwen Mantel (Mrs Linden), Jonathan Banks (Voice of Pin), Jacob Tierney (Leon Age 7), Michelle Anderson (Ursula Age 5), Steve Bednarski (Leon Age 13), Katie Shingler (Ursula Age 11), Patricia Collins (Aunt Dorothy), Helene Udy (Marcia Bateman), Joan Austen (Nurse Spaulding)
---
Plot
Brother and sister Leon and Ursula Linden are raised by a father who is a doctor, Their father amuses himself by treating Pin, the anatomical dummy in his office, as though it were real and using his skill with ventriloquism to make it appear to talk. As a result, the children believe Pin is real. After his mother forbids him to have other friends, Leon comes to regard Pin as his best friend. Leon becomes very attached to Ursula and upset after finding her having sex in the back of a car. When she becomes pregnant, they go to ask Pin for advice and are surprised when it talks back. Dr Linden urges Leon to go to college but is startled to return to his office and see Leon asking Pin for advice about what to do. Dr Linden takes the dummy with him as he heads to a lecture only for it to move around in the back of the car and cause them to crash. Following the funeral, Leon and Ursula inherit the house whereupon Leon insists on moving Pin in with them. Aunt Dorothy also moves in but Pin tells Leon how to dispose of her. Ursula gets a job at the local library where she meets and starts going out with Stan Fraker. Leon becomes jealous. When he overhears Stan trying to persuade Ursula that Leon is mentally disturbed, Pin starts telling him how to get rid of Stan too.
---
I had heard about Pin for many years. The essential plot set-up of what I took to be a film about an anatomical dummy come to life didn't do much for me. However, when I sit down to watch it, Pin proves to be a fascinating and surprisingly well-made Canadian horror film.
Things get decidedly twisted only a few minutes in with scenes where young Leon (Jacob Tierney) peeps in on a nurse sexually relieving herself with the anatomical dummy; father Terry O'Quinn giving the children sex education using his ventriloquism to make it seem that Pin is talking; the kids looking at pornographic magazines together; and a jealous teenage Leon dragging Cyndy Preston out of a car where she is making out with a boy at a school dance. And then of course there is the scene when David Hewlett drags Cyndy Preston in to ask advice of Pin – and it talks back to them
Pin essentially boils down to being another variant on the possessed ventriloquist's dummy story. This has a long history on screens going back to the silent era with the likes of The Great Gabbo (1929), Dead of Night (1945), Devil Doll (1964), Magic (1978) and Goosebumps (2015). The figure of Pin is a decidedly creepy one with just enough likeness to seem blank but with the skin shaded in tones of red that looks as though it has real organs beneath the plastic. Like some of the better ventriloquist's dummy efforts, the film stays carefully ambiguous about whether Pin really is alive or it is all in David Hewlett's mind. This is something that the strange ending does nothing to clarify.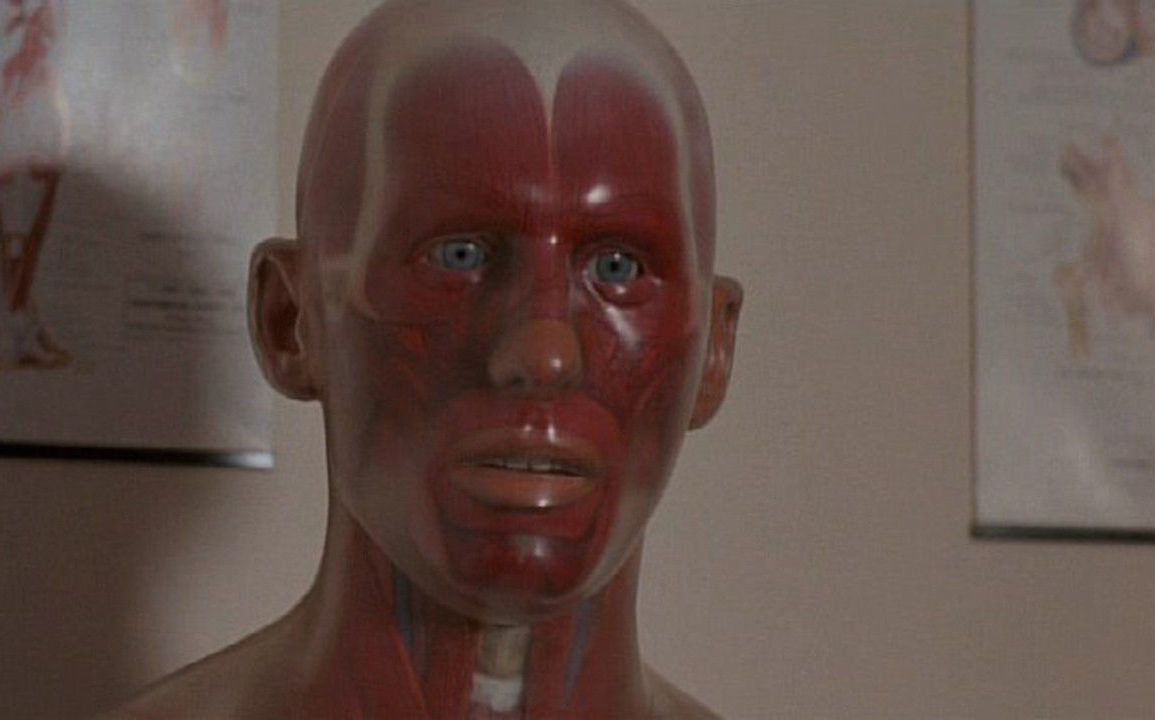 Cast as Leon is a nineteen year-old David Hewlett in his first leading role. Hewlett has since gone on to a number of parts in genre works like Scanners II: The New Order (1991), Cube (1997), most of the works of Vincenzo Natali and as a regular on the various Stargate tv series – he even directed a couple of low-budget films with Rage of the Yeti (2011) and Debug (2014). Here, rather than the jovial, unassuming best friend type he is usually cast as, Hewlett is young, lean and plays with a disturbed coldness. It is one of the best performances one has seen him give. He even looks the spitting image of Robert Pattinson. The other name in the cast is Terry O'Quinn, who was then known for The Stepfather (1987) and several years before tv's Lost (2004-10), and it is an odd contrast to see him in a more regular role as the children's father.
Director/writer Sandor Stern had a long career writing tv scripts going back to the 1960s. He had dipped into writing the scripts for 1970s genre tv a few times with The Strange and Deadly Occurrence (1974), Where Have All the People Gone (1974), the nuclear war tv movie Red Alert (1977) and the original The Amityville Horror (1979). He also directed Amityville: The Evil Escapes (1989), the cloning tv movie Duplicates (1992) and the plague outbreak thriller Jericho Fever (1993).
The film is based on a 1981 novel by Andrew Neiderman. Neiderman is best known for a large number of Gothic potboilers attributed to V.C. Andrews of Flowers in the Attic (1987) fame that were ghost written by him subsequent to her death supposedly based on her unfinished ideas. Neiderman's original works under his own name have also been adapted into a number of genre films including Duplicates (1992), The Maddening (1995), The Devil's Advocate (1997), Tender Loving Care (1997) and Perfect Little Angels (1998), as well as the Virginia C. Andrews pastiches Fallen Hearts (2019), Gates of Paradise (2019) and Web of Dreams (2019).
---
---