---
Crew
Directors – Mike Hurst & Valeri Milev, Screenplay – Mike Hurst, Producers – Stephanie Caleb, Moshe Diamant & Courtney Solomon, Photography – Anton Bakarski, Music – Justin Burnett, Visual Effects – Art3fatti, Artea Film. Bipolar Bear Productions, Rain VFX (Supervisors – John Attard & Max Pareschi) & Shango VFX (Supervisor – Alejandro Agrasar), Makeup Effects Supervisor – Vincent Guastini, Production Design – Nate Jones. Production Company – After Dark Films/Signature Pictures.
Cast
Bruce Payne (Alex Winston), Roger Cross (Sarge), Daniella Alonso (Rose Matthews), Scott Adkins (Trent Parker), Jesse Garcia (Omar Hernandez), Layke Anderson (Tom Falkirk), Yo Santhaveesuk (Nguyen), Rocky Marshall (Langford), Stuart Milligan (Captain McAdam), Dimitar Doychinov ("Grizzly" Adams), Stephanie Caleb (Therapist), Dean J. West (Ellis), Claire Garrett (Cherry)
---
Plot
The world has been overrun by a zombie holocaust. A camera crew from the tv series 'Re-Kill' follows a unit of soldiers as they head into action to deal with various zombie hordes.
---
The zombie film has seen a surprising renaissance during the latter half of the 2000s, following successes such as Resident Evil (2002), 28 Days Later (2002), Dawn of the Dead (2004) and Shaun of the Dead (2004). This resulted in the genre becoming quickly overrun with a mass of mostly cheaply made copies to a point of creative exhaustion. Soon into the cycle, most of the films dealt with this by throwing zombies in with ridiculously incongruous things and/or creating wilfully absurd title mash-ups.
Re-Kill ends up being one of the few zombie films that firstly still plays itself seriously and secondly does something new and original with the basics. The novelty of its idea is that it comes in the form of a reality tv show modelled along the lines of a show like Cops (1989– ) following a troupe of soldiers as they head into various quarantine zones to wipe out zombie infestations.
Even more amusing is how the reality tv show concept comes interspersed with news clips, ads and segments from other shows depicting the sort of television we might get in a world where the living populace is trying to deal with the existence of zombies. There is a good deal of satiric amusement to some of these segments – commercials for gated communities with hundred foot walls, anti-zombie viruses and repeated ads with a quasi-erotic focus trying to inspire people to have sex and 'Repopulate America'. In particular, the 'Where Were You' segments in which various people recount their initial experiences of the zombie outbreak are hilarious.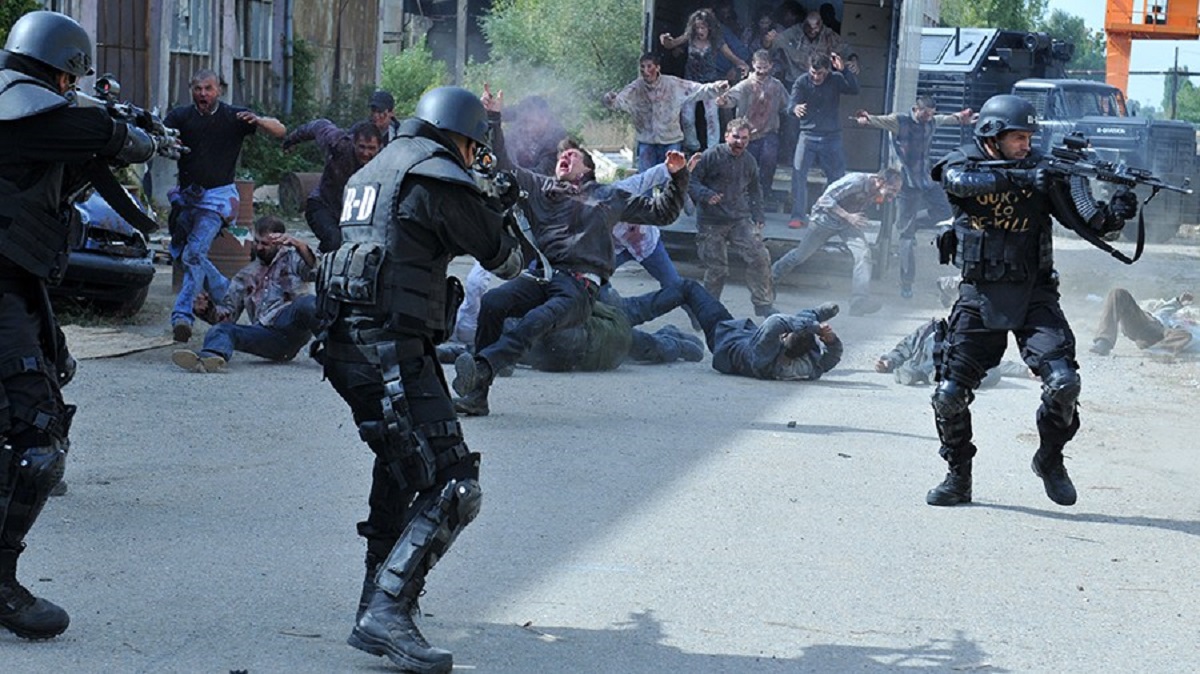 The reality tv show sections with the soldiers heading off to fight zombies fall into more regular zombie movie scenes – you are reminded somewhat of [Rec] (2007). Here, directors Mike Hurst and Valeri Milev deliver a good, solid action focus once we get into the fray. In between the action, all of the actors are allowed to deliver a fine series of characterisations that show often potently effective snapshots of the state of mind as they are dealing with their job. In particular, Bruce Payne delivers a rather unnerving performance as the religious fanatic among the group.
Co-director Mike Hurst, no relation to the Kiwi actor Michael Hurst from Hercules: The Legendary Journeys (1994-9), has directed several films including genre entries such as House of the Dead 2 (2005), The Darkroom (2006), Room 6 (2006), Pumpkinhead: Blood Feud (2007) and Paradox (2016). Hurst has also written a number of other similar B-budget films with the likes of Mansquito (2005), The Butcher (2006), The Graveyard (2006) and Hardwired (2009).
After Dark Films, the production company of Courtney Solomon, has been prolific with genre material, including other efforts such as Dungeons & Dragons: Wrath of the Dragon God (2005), Captivity (2007), The Butterfly Effect 3: Revelations (2009), Perkins 14 (2009), Slaughter (2009), Universal Soldier: Regeneration (2009), Prowl (2010), Area 51 (2011), Fertile Ground (2011), Husk (2011), Scream of the Banshee (2011), Seconds Apart (2011), The Task (2011), Children of Sorrow (2012), Universal Soldier: Day of Reckoning (2012), Dark Circles (2013), Ritual (2013), Bastard (2015), Wind Walkers (2015), The Wicked Within (2015), Phoenix Forgotten (2017) and Nightmare Cinema (2018).
---
---