---
USA. 2015.
Crew
Producers – Jesse Baget, Steve Barton, Jon Condit, Zedediah De Soto & K.W. Low. Production Company – Dread Central/Ruthless Pictures.
Director – Jesse Baget, Screenplay – Stefania Moscato, Visual Effects Supervisor – Zedediah De Soto, Makeup Effects – Heather O'Boyle.
Cast
Bill Oberst Jr. (Marvin Gloatt)
Dark Times
Crew
Directors/Screenplay/Producers – Peter Horn & Jared Marshall. Production Company – Tolling Bell Productions.
Cast
Jeff Newman (Friend), Jason Fred Gordon (Santa)
Fist of Jesus
Crew
Directors – Adrian Cardona & David Munoz, Screenplay – David Munoz, Photography – Paco Ferrari, Music – J. Oskura Najera, Makeup Effects – Adrian Cardona & Monica Marguia.
Cast
Marc Velasco (Jesus), Noe Blancafort (Judas), Savador Llos (Jacobo), Roger Sotera (Lazaro)
How to Survive a Zombie Apocalypse
Crew
Director – Vedran Marjanovic Wekster, Photography – Ivan Majic & Marko Podgorscak, Music – Karstenholymoly & Mario Majic, Makeup Effects – Kristian Maric & Sanja Martinovic Marjanovic.
I Am Lonely
Crew
Director – Phil Haine, Screenplay – Jonathan Brown, Photography – Tom Seal, Music – Frederic Fournier.
Cast
Matt Prendergast (Chris), Chris Spyrides (Steve)
Dead Stop
Crew
Director/Screenplay – Tommy Woodward, Producers – Jason Cox, Humberto Estrada & Tommy Woodward, Photography – Humberto Estrada.
Home
Crew
Director/Screenplay – Cameron McCulloch, Producers – Cameron Mitchell & Zoe Rixon, Photography – Karl Semon & Tinny Tang, Music – Cameron McCulloch, Makeup Effects – Brynn Cumming & Miakate Russell, Production Design – Emily Curtis.
Dead Rush
Crew
Director/Photography – Zach Ramelan, Screenplay/Producers – Raven Cousens & Zach Ramelan, Special Effects – Mitchell Stacy.
Cast
Mickey Conde (David), Charlie Hamilton (Chuck), Jonathan Rhys Margeson (John), Raven Cousens (Meg)
Teleportal
Crew
Director – Paul Shrimpton, Screenplay – Alex Chandon, Paul Shrimpton & Graham Taylor, Producers – Paul Shrimpton & Graham Taylor, Visual Effects – Alex Chandon, Makeup Effects – Hannah Day & Graham Taylor, Set Design – Katrina Addison.
Certified
Crew
Director/Screenplay – Luke Asa Guidici, Producer – Kimberley Browning, Photography – John Matysiak, Music – Jeff McDonough, Production Design – Tema Levine.
Cast
Thomas Garner (Frank Nuttel), Rebecca Spicher (Alice), Therese Lentz (Mrs Sappleton), Timothy Brennen (Mr Sappleton)
Marathon Apocalypse
Crew
Director/Screenplay/Producer – Adam O'Brien, Photography – Arnaud Dumas, Visual Effects – Fake Digital Entertainment.
Cast
Myriam Kessiby (Runner)
Brutal Relax
Crew
Directors – Adrian Cardona, Rafa Dengra & David Munoz, Screenplay – David Munoz, Story – Jose M. Angorrilla, Ayats, Adrian Cardona, Rafa Dengra & David Munoz, Producers – Eskoria Films. Fantosfreak, David Munoz & Soulpsychokiller, Photography – Rafa Dengra, Music – Sayas Salpistis, Digital Effects – Adrian Cardona & Rafa Dengra, Makeup Effects – Adrian Cardona & Pilar Ochando.
Cast
Jose M. Angorrilla (Olivares)
---
Plot
The zombie apocalypse has occurred. At the KPRS news station, anchor Marvin Gloatt attempts to keep broadcasting despite having been bitten by a zombie. A variety of news clips are presented. Fist of Jesus:– In the First Century A.D., Jesus is interrupted in the preaching of the Sermon on the Mount by an outbreak of zombies. He and Judas attempt to fight them off. I Am Lonely:– In Dublin, Chris is sheltering in his apartment where he is relishing the fact that he can spend time with his best friend Steve who has been bitten. Dead Stop:– A police officer goes to aid a woman in a car at a gas station only to find that her husband has been bitten and the zombie apocalypse is occurring all around. Home:– In the Australian Outback, a woman holds off the zombies outside the house, while sheltering her bitten fiance inside. Dead Rush:– A group of employees attempt to escape an office building as the zombie apocalypse occurs. Teleportal:– A man playing a horror videogame shooting zombies is suddenly teleported inside the game. Certified:– A postman arrives at the Sappleton house to deliver a letter where young Alice invites him in, telling him how her uncle has never been the same since a disaster at the mine. Brutal Relax:– Olivares's psychologist suggests that he take some time off to recuperate from work stress. Olivares goes to the beach, only for the zombie apocalypse to break out.
---
Zombieworld is an anthology films that offers up a variety of short films on the subject of zombies. Since the success of Grindhouse (2007), the anthology film has found a renewed interest particularly in the horror genre with the likes of Chillerama (2011), The ABCs of Death (2012) and sequels, V/H/S (2012) and sequels, Holidays (2016) and XX (2017), among others. The distinctive feature of each of these anthologies is that the episodes come from different directors. The difference between Zombieworld and other multi-director anthologies is that none of the directors here have any recognisable presence before the film was made. It should also be noted that many of the segments were made some time earlier – some as much as five years before the film came out – and do not appear to have been commissioned for the anthology so much as it has been shaped around them. The film was in part put together by the popular horror site Dread Central.
Zombieworld offers its best episode first with Fist of Jesus, which feels like it should make a natural double-bill for Lee Demabre's Jesus Christ, Vampire Hunter (2001), although the idea of a zombie Jesus had been handled earlier in the inept Zombiechrist (2010). Directors Adrian Cardona and David Munoz, who hail from Spain, maintain a demented pace. The episode comes with a smart and funny series of inside jokes aimed at those in the know about Christianity. There is a series of gonzo scenes with Jesus and Judas wading in against hordes of zombie Jews, Romans and cowboys (!), fighting them off with fish (viz the Miracle of the Loaves and Fishes), using a piranha followed by a marlin and then its gutted skeleton being wielded as a makeshift sword. The episode is waist-deep in gore and splatter.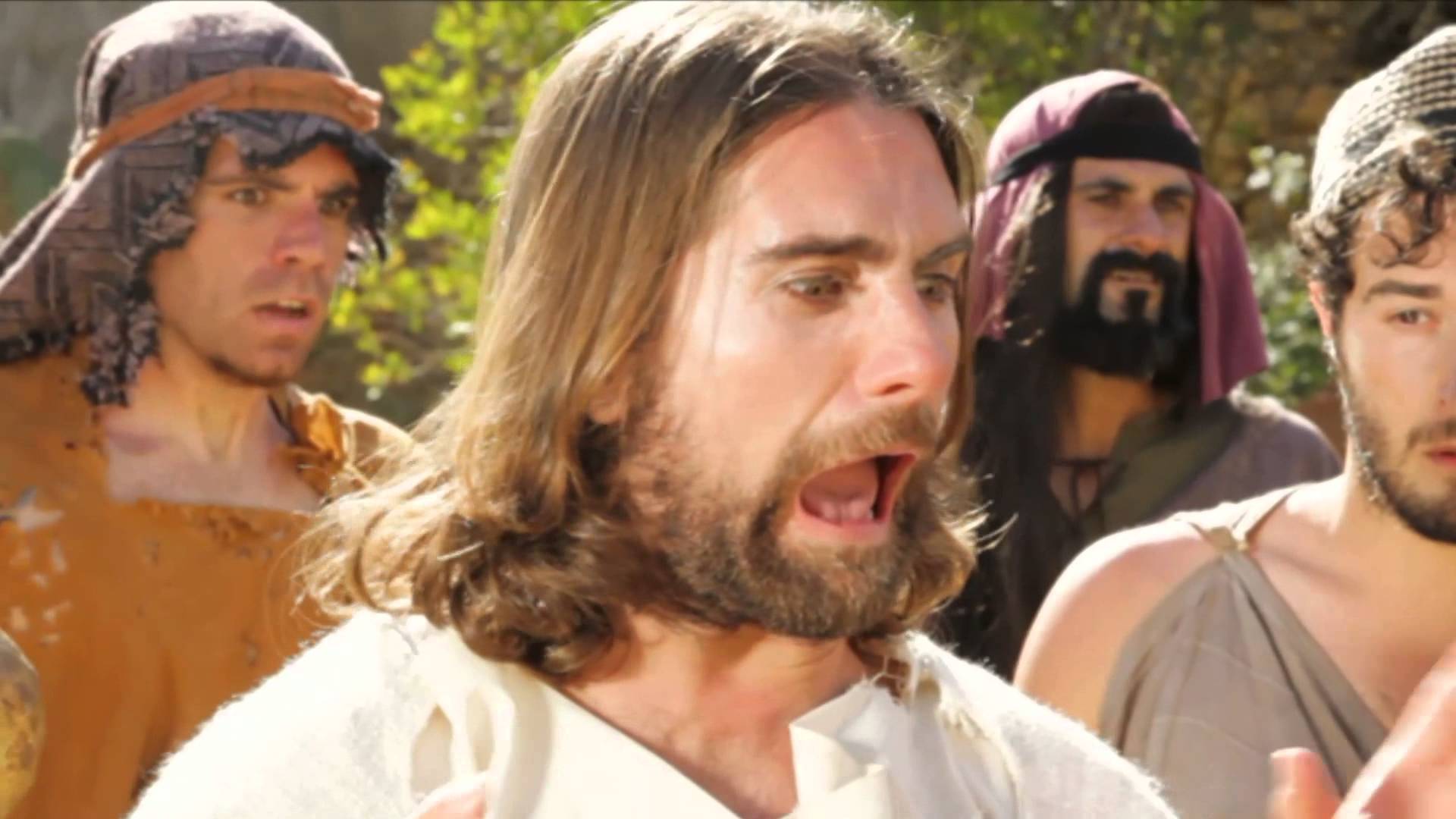 How to Survive a Zombie Apocalypse from Croatian director Vedran Marjanovic Wekster comes as a series of chapters interspersed throughout. It is mildly amusing but falls far too much in the shadow of Fist of Jesus, coming straight after it, and is not nearly as clever or funny by half. Moreover, it is far too reliant on the Resident Evil films. The later episodes do feature the amusing image of the hero wading into action with a bicycle seat as his weapon of choice.
I found the Irish-made I Am Lonely tedious. The entire episode almost consists of Matt Prendergast monologuing about how he is enjoying being able to spend the time with his infected friend. The monologues are not even funny and the segment's punchline on the mean-spirited side.
The American-made Dead Stop is presented as Found Footage taken from the dashboard cam of a cop car and the security cam at a gas station as an officer helps a woman whose husband has been bitten. The Found Footage zombie film has been done before and this adds nothing new beyond the minor novelty of its location.
The Australian-made Home is slick and well put together and is one of the best of the episodes from a production point-of-view. The episode is brief – just a girl sequestered in an Outback homestead – before arriving at a smart stinger of an ending. A piece that never outstays its welcome.
The Canadian-made Rush is simply a first person shooter episode. This was done around the same time in films such as Bunker of the Dead (2015) and Pandemic (2016), while this does nothing new with the idea.
The British-made Teleportal is a one-gag idea in which a videogamer is teleported inside a horror videogame. The piece is too slight – the character is transported inside the game and that is supposed to be the punchline. I would have been far more interested what happened once he got there and how he would survive in such a world.
The US-made Certified is the oddity of being the one episode in the entire anthology that features no zombies. It is revealed at the end that it is all just a little girl with an overactive imagination and ability to tell stories that lets the postman think her father and friend might have been infected. This works with a suitable degree of cleverness.
The final episode Brutal Relax is from the same duo of Spanish filmmakers as Fist of Jesus and comes in the same ridiculously over-the-top and blood-drenched manner. This is funny, highly amusing in its absurdities and where Jose M. Angorrilla makes for a wonderfully phlegmatic hero before he is roused into action and tackles the zombies with his bare hands. These two episodes blow away many better-budgeted, feature-length counterparts in the zombie field. I, for one, would love to see what directors Adrian Cardona and David Munoz could do if they were given a proper budget.
---
---