---
Crew
Director – Kyle Rankin, Screenplay – Andy Selsor, Producers – Michael Cassidy, Chad Nicholson & Kyle Rankin, Photography – Thomas E. Ackerman, Music – Steven Guthienz, Visual Effects Supervisor – Tony Copolillo, Visual Effects – Siopio VFX, Makeup Effects – Cameron S. Dortch, Production Design – Jeremy Jonathan White. Production Company – CockSure Entertainment.
Cast
Maria Thayer (Deb Clarington), Michael Cassidy (Ryan Waverly), Ray Wise (Frank Waverly), Syd Wilder (Stacy), Chris Marquette (Chaz Waverly), Julie Brister (Ruby), Brian Sacca (Colonel Newton)
---
Plot
In Portland, Maine, Deb Clarington, a camera operator at a local news channel, is out at a bar having drinks with her girl friend Ruby when she spots a hot guy across the room. Ruby pushes her to go and talk to the guy Ryan Waverly, only for this to precipitate a split-up between he and his fiancee Stacy. Deb wakes up the next morning to find that she and Ryan spent the night together and overhears him on the phone trying to work out how to get rid of her. They exit the apartment only to find that the zombie apocalypse has occurred overnight. They agree to put things aside and for Deb to drive Ryan across town to join his family for Independence Day dinner, which entails fighting off zombies all along the way. Upon arriving, Ryan insists that Deb be invited inside. There she finds that the zombie outbreak is all down to a defective chemical process that was used at the water treatment plant owned by Ryan's father.
---
The zombie parody has become legion during the late 2000s/10s with the likes of Zombie Beach Party (2003), Poultrygeist: Night of the Chicken Dead (2006), Zombie Cheerleader Camp (2007), Zombie Strippers! (2008), Attack of the Vegan Zombies! (2009), Stag Night of the Dead (2009), Big Tits Zombie (2010), Santa Claus vs. the Zombies (2010), Bong of the Dead (2011), Cockneys vs Zombies (2012), Pro Wrestlers vs Zombies (2014), Zombeavers (2014), MILFs vs Zombies (2015), Scouts Guide to the Zombie Apocalypse (2015), Attack of the Lederhosen Zombies (2016), Pride and Prejudice and Zombies (2016) and Fat Ass Zombies (2020). Among these, there have also been a number of films whose titles have spoofed the Romero classics – beginning with Shaun of the Dead (2004), joined also by Porn of the Dead (2006), Flight of the Living Dead: Outbreak on a Plane (2007), Dorm of the Dead (2012) and Night of the Living Deb here.
Night of the Living Deb reminds of Night of the Comet (1984) in which Catherine Mary Stewart and bimbo sister Kelli Maroney wake up to find the zombie apocalypse has occurred while they have been asleep. That is an apt comparison, although it does a slight to Maria Thayer to call her a bimbo. In Thayer's performance, Deb is more like the socially awkward woman friend who hasn't gotten her life together, babbles a lot and makes self-deprecating jokes.
With her open face and chirpy, slightly clueless manner, Maria Thayer gives a performance that is hard to dislike. Not to mention that she has a wonderfully droll way with one-liners, delivering them in a deadpan way that is not constantly waiting for the drumbeat that you usually get with mainstream American comedy. This is somebody I can really see going places and will be keeping an eye on her future career so I can always say "I saw her first in ____."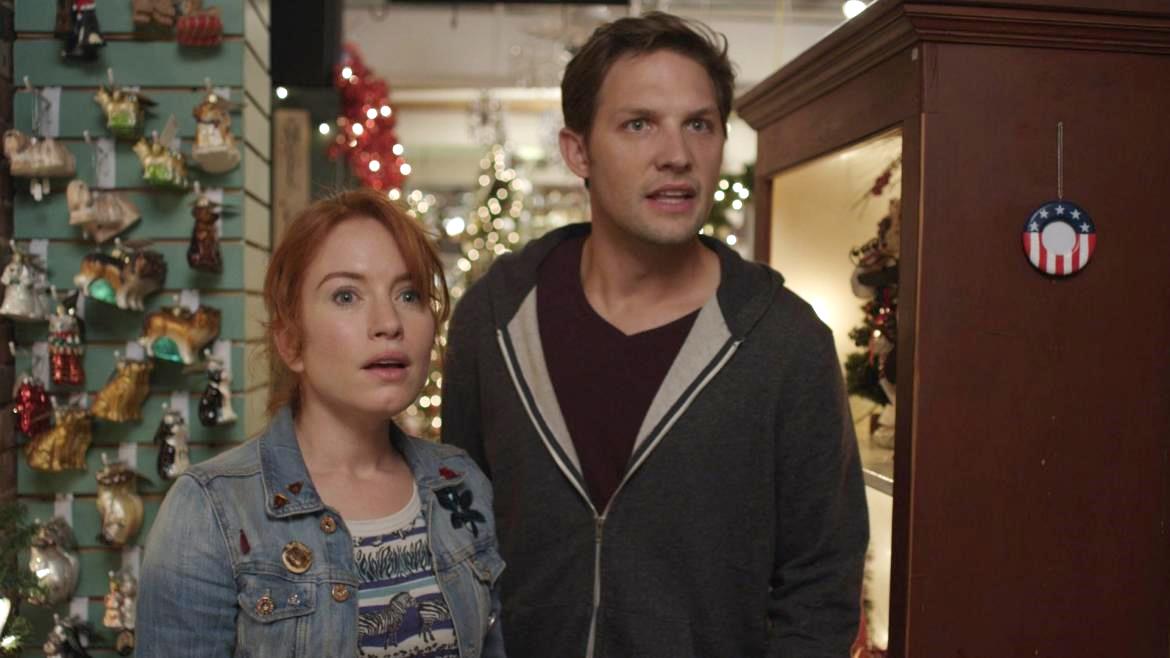 Night of the Living Deb works rather well as a zombie comedy. You can almost see it as a sex-reversed version of Shaun of the Dead – Maria Thayer, when you think about, is almost a female version of Simon Pegg. The opening scenes as she and Michael Cassidy wake up and he tries to get rid of her, while they remain oblivious to the fact that a zombie apocalypse has occurred around them, is rather funny. The one-liners are snappy and the film is constantly deflating the cliches of the zombie film – a suggestion they should listen to the emergency broadcast on the radio has the two of them standing listening to the shower radio while fully dressed.
The film starts to run out of material by around its second half about the point where they arrive at Ray Wise's mansion and in the attempts to escape the town. And by the time when the emergency broadcast from the tv station becomes "this is the story of a woman in love," it all seems a bit silly. However, you cannot deny the film and Maria Thayer imprints itself with an undeniable likeability for at least its first half.
With the exception of Ray Wise, a genre favourite since Twin Peaks (1990-1), the rest of the cast are unknowns. The oddest piece of casting is science-fiction author Orson Scott Card, best known for the book that became Ender's Game (2013), who briefly turns up as a fringe science author being interviewed on tv right at the end.
Director Kyle Rankin first appeared with the screenplay for Reindeer Games (1996). He made his directorial debut with The Battle of Shaker Heights (2003) and went on to make Infestation (2009), Nuclear Family (2012) and The Witch Files (2018).
---
---