---
Crew
Director/Photography – Matthew O. Oaks [Matthias Olaf Eich], Screenplay – Matthew O. Oaks & Bernd Strack, Producers – Matthias Olaf Eich, Rainer Hoffmann & Willi Kamarad, Music – Chris Weller, Visual Effects Supervisor – Steffen Hacker, Visual Effects – unexpected GmbH, Special Effects Supervisor – Christian Bierling, Makeup Effects – Katharina Grethlein & Philipp Rathberger. Production Company – Praetoria Productions.
Cast
Patrick Jahns (Markus G. Elser), Esther Maaß (Sergeant Debby O'Neill), Aciel Martinez Pol (Thomas Williamson), Christopher Lee Meadows (First Lieutenant Taylor), Carlos Lobo (Captain Walker), Harald Pucher (Adolf Hitler), Sarita Bradley (Sandra Williamson), Christian Jungwirth (General Buster)
---
Plot
Markus Elser and his best friend, the American Thomas Williamson, decide to make a video about breaking into an old Nazi bunker on an American Air Force base in Germany in search of gold they believe is there. While Thomas monitors from safety, Markus jumps the fence into the base. Fleeing after being spotted by soldiers, he falls into the river where he finds a secret entrance to the bunker. Inside however, he succeeds in stirring up a horde of Nazi zombies. Joined by a unit of American soldiers, whose numbers are rapidly slaughtered by the zombies, Markus tries to find a way out.
---
The Nazi zombie film is a sub-genre that has turned up with persistent regularity since the 1970s. The film that kicked the fad off was Shock Waves (1977) and in the next few years we had Night of the Zombies (1981), Oasis of the Zombies (1981) and Zombies' Lake (1981). The genre underwent a revival in the late 2000s with Outpost (2007) and Dead Snow (2009), both of which have produced sequels, as well as War of the Dead (2011).
Behind the pseudonym Matthew O. Oaks is German director Matthias Olof Eich. Eich previously owned a scenery company in Germany and worked on three promotional tours for the Star Wars prequels. He made his directorial debut with the slasher film Break (2009). Eich conceived and shot Bunker of the Dead based around the Bavarian town of Oberammergau. During World War II, the Messerschmitt plant built the first jet-engine fighter there and constructed a labyrinth of tunnels that extend for miles into the town's hillside. Following the War, the area was appropriated by the US military as a training base.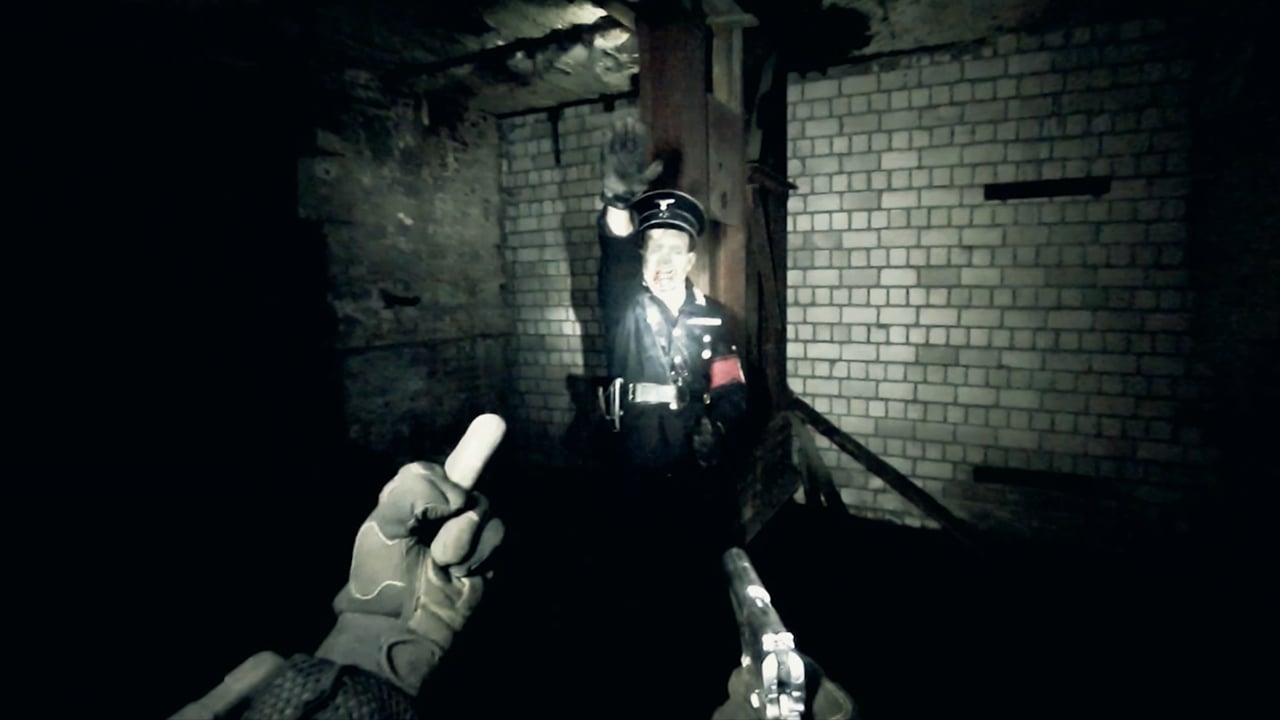 Bunker of the Dead is the first Nazi zombie film to be presented as Found Footage. Even more uniquely, it is the first Found Footage film to be presented in 3D. The entire film has been shot from a GoPro camera mounted on the helmet of Patrick Jahns as he ventures into the underground bunker. This of course allows Matthias Olof Eich to essentially make a First Person Shooter film where we see Jahns despatching zombie with assorted weapons and in bloody hand-to-hand combat.
The downside of Bunker of the Dead is that it feels more like a videogame on your dvd screen than it does a film. It never consists of anything more than us watching the camera-eye viewpoint of Patrick Jahns as he runs about the bunker shooting and battering zombies while his off-screen voice yells with glee at each kill. There is no plot development beyond a string of kills one after the other – the most development we get is when Jahns meets a group of American soldiers halfway through and their weaponry escalates the conflict onto a much bigger stage, before all but a female soldier (Esther Maaß) are wiped out and she and Jahns continue on together. The most amusing the film gets is with the introduction of a zombie Adolf Hitler and he and Patrick Jahns facing off against one another in hand-to-hand combat.
Matthias Olaf Eich next made Darwins Law (2019) about a deadly online game.
---
---