---
USA. 1994.
Crew
Director/Screenplay – John Waters, Producers – John Fielder & Mark Tarlov, Photography – Robert M. Stevens, Music – Basil Pouledoris, Music Supervisor – Bones Howe, Production Design – Vincent Peranio. Production Company – Polar Entertainment.
Cast
Kathleen Turner (Beverly Sutphin), Matthew Lillard (Chip Sutphin), Sam Waterston (Eugene Sutphin), Ricki Lake (Misty Sutphin), Walt MacPherson (Detective Gracey), Scott Wesley Morgan (Detective Pike), Justin Whalin (Scott), Mink Stole (Dottie Hinkle), Mary Jo Catlett (Rosemary Ackerman), Patricia Dunnock (Birdie), Patricia Hearst (Juror No 8)
---
Plot
Beverly Sutphin leads a life as the perfect housewife, married to her dentist husband Eugene and with two teenage children Chip and Misty. However, she also kills the neighbours who complain to the police about her obscene phone calls and steal her parking spot at the mall, the math teacher who condemns Chip for liking horror movies, and Misty's date for standing her up. She is arrested whereupon she is nicknamed 'Serial Mom' by the media. At the trial, Beverly determines to conduct her own defence by exposing the dirty secrets and hypocrisies of the witnesses brought to condemn her.
---
There are those who say that everything John Waters has done since about Polyester (1981) has been a commercial sell-out. One doesn't necessarily agree – these days Waters certainly works with professional production crews and star names like Debbie Harry, Johnny Depp, Melanie Griffith, Christina Ricci, Kathleen Turner and Sam Waterston. More so though, Waters has left behind much of the outrageous assaults on good taste that made films like Pink Flamingos (1972) and Female Trouble (1974) into cult favourites.
On the other hand, Waters' mainstream films are never less than always watchable – both Hairspray (1987) and Cry-Baby (1990) in particular are a ball. Certainly, a number of Waters' films subsequent to Serial Mom – such as Pecker (1998), Cecil B. Demented (2000) and the quasi-fantastical A Dirty Shame (2004) – seem more like broad farce than they ever dig with the offensive brilliance that Waters early films did.
Serial Mom reads like warmed over John Waters themes – the gleeful rebellion against all that is considered good taste, the glorification of criminal celebrity. Rarely does any of it rise above the feeling of been-there-before familiarity in the ground it is treading. There is not even the grotesque outrages of Divine eating doggy poo to give the film a perverse kick.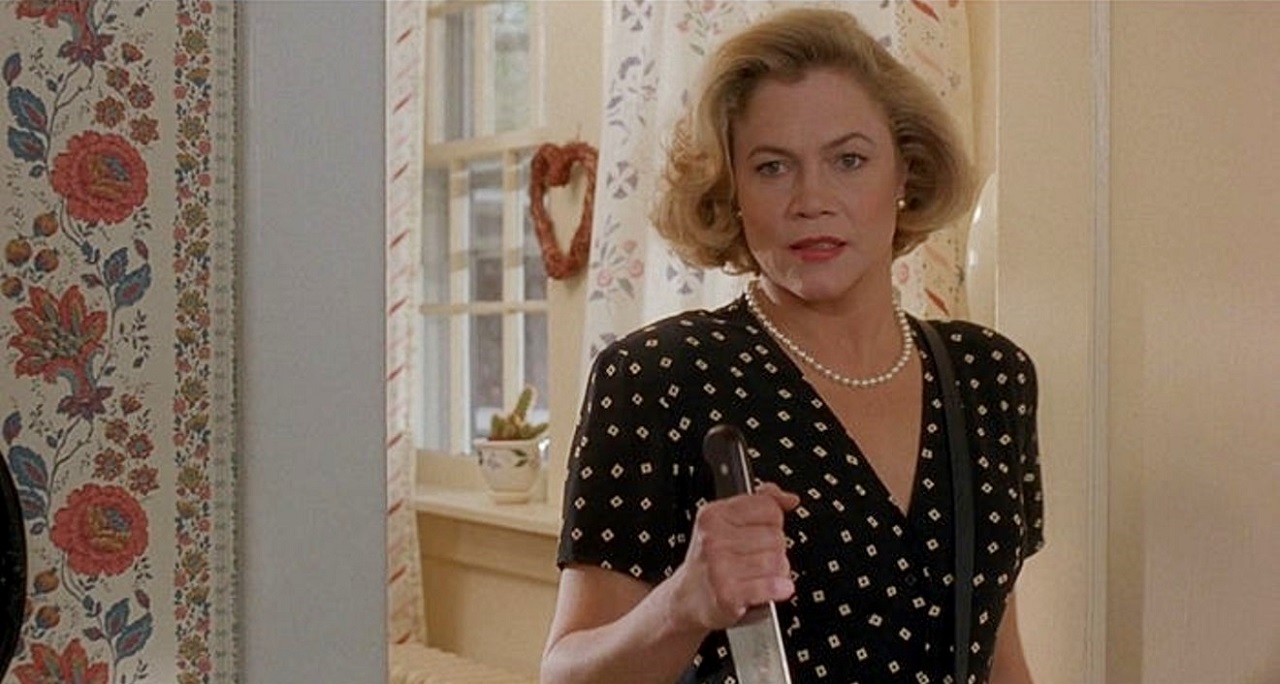 Unfortunately, by the time that Serial Mom arrived on the scene, the satiric theme of the media obsession with serial killers had been done by Natural Born Killers (1994) and Waters' rehash of it comes across surprisingly dull. Which is a shame as Waters has been mining the theme of the media glorification of criminals and mass murderers long before O.J. madness was even a morbid glimmer in anybody's eye. (Waters once made the claim that he regarded going to criminal trials as a spectator sport, as a perverse inversion of Hollywood celebrity – indeed, these days he casts former abductee/terrorist Patty Hearst in most of his films).
Serial Mom is further undone by an unfocused script – the reason for Kathleen Turner's killings seems to be taken for granted, construed as no more than series of sarcastic attacks on the petty-minded. There are a few moments when the film does come to life with the old John Waters maniacal gleam – the image of Kathleen Turner trying to shake one victim's liver off a poker; a scene where she torches Justin Whalin while an all-girl grunge group called The Camel Tips play and the audience applaud; the bashing in of one woman's head with a joint of meat while she watches Annie (1982) on video. The subsequent Miss Meadows (2014) with Katie Holmes as a perfectly mannered vigilante schoolteacher was a far more biting and intelligent treatment of the same themes that Waters aims for here but strikes far too broadly.
Kathleen Turner gets into the role with glee – although it is one of Turner's more arch readings and she hardly convinces when the part requires her to be a regular everyday housewife. Waters assembles many regulars from previous films – Mink Stole, Mary Vivian Pearce, Traci Lords, Patty Hearst and now mega-famous talkshow host Ricki Lake to whom Waters gave her her first break.
---
Trailer here
---