---
Crew
Director/Screenplay – Crispian Mills, Co-Director/Production Design – Chris Hopewell, Producer – Geraldine Patten, Photography – Simon Chaudoir, Music – Michael Price, Visual Effects – Big Bang Post Production (Supervisor – Ben Foley) & Vine Post Production, Animation – Collision Films Ltd (Director/Designer – Chris Hopewell), Makeup Effects – Millennium FX Ltd (Designers – Neill Gorton) & Rob Mayor. Production Company – Indomina Productions/Pinewood Films/The Works International/Keel Films/Sensitive Artist Productions Ltd.
Cast
Simon Pegg (Jack Nife), Alan Drake (Perkins), Amara Karan (Sangreet), Clare Higgins (Clair De Grunwald), Paul Freeman (Dr Ebort Friedkin), Tuyet Lee (Launderette Warden), Golda John (Bashful African Lady), Tamzin Griffin (Caligula), JJ Stanness (Sheena the Punk Rocker), Jacqui Chan (Launderette Grand Dame)
---
Plot
Jack is a writer living in a flat in Hackney, London who has had some success with a series of children's books. He has now embarked on a tv project about Victorian murders. However, he has become obsessed with the subject to the point that it has started to affect his sanity and he imagines seeing potential serial killers and sinister happenings in every corner. He has had difficulty getting anybody interested in his Victorian murders project until his agent calls and says that she has set up a meeting with a potential buyer that evening. This causes Jack to realise that he has no clean clothes. His attempt to home-clean them goes disastrously awry. This means that Jack must overcome his fear of launderettes, where he was abandoned as a child, and venture into one to clean his clothes. However, a mishap has caused him to superglue a knife to his hands and he is arrested after the other customers think he is trying to attack them. Jack meets the girl of his dreams at the launderette but then the two of them are imprisoned in the launderette's basement by a real serial killer.
---
A Fantastic Fear of Everything is a film that feels it should have the same sort of cult buzz written all over it. It clearly aims to bring in the same audience that have championed most of star Simon Pegg's other written-starring efforts, Shaun of the Dead (2004), Hot Fuzz (2007) and The World's End (2013). I hoped I was sitting down to watch a darkly funny black comedy.
The film taps the vein of macabre and gleefully gruesome jollity about murder that runs through British culture – see the films of Tod Slaughter or comedies like Deadly Advice (1994) and before that the Victorian fascination with penny dreadfuls. Quickly in, the film heads off in the direction of something like Lunatics: A Love Story (1991) with a series of bizarre hallucinatory scenes set inside Simon Pegg's head. All of which seems highly promising.
Only in the hands of debuting director Crispian Mills, A Fantastic Fear of Everything flounders about without any clear idea or direction. It is a film that you feel should have been funny. The main problem is that director Crispian Mills winds the bizarre paranoid intensity up to a shrill fever pitch at the outset and fairly much keeps it there. The film never seems to step back and ask what it is actually trying to do or allow everything to coalesce into a plot.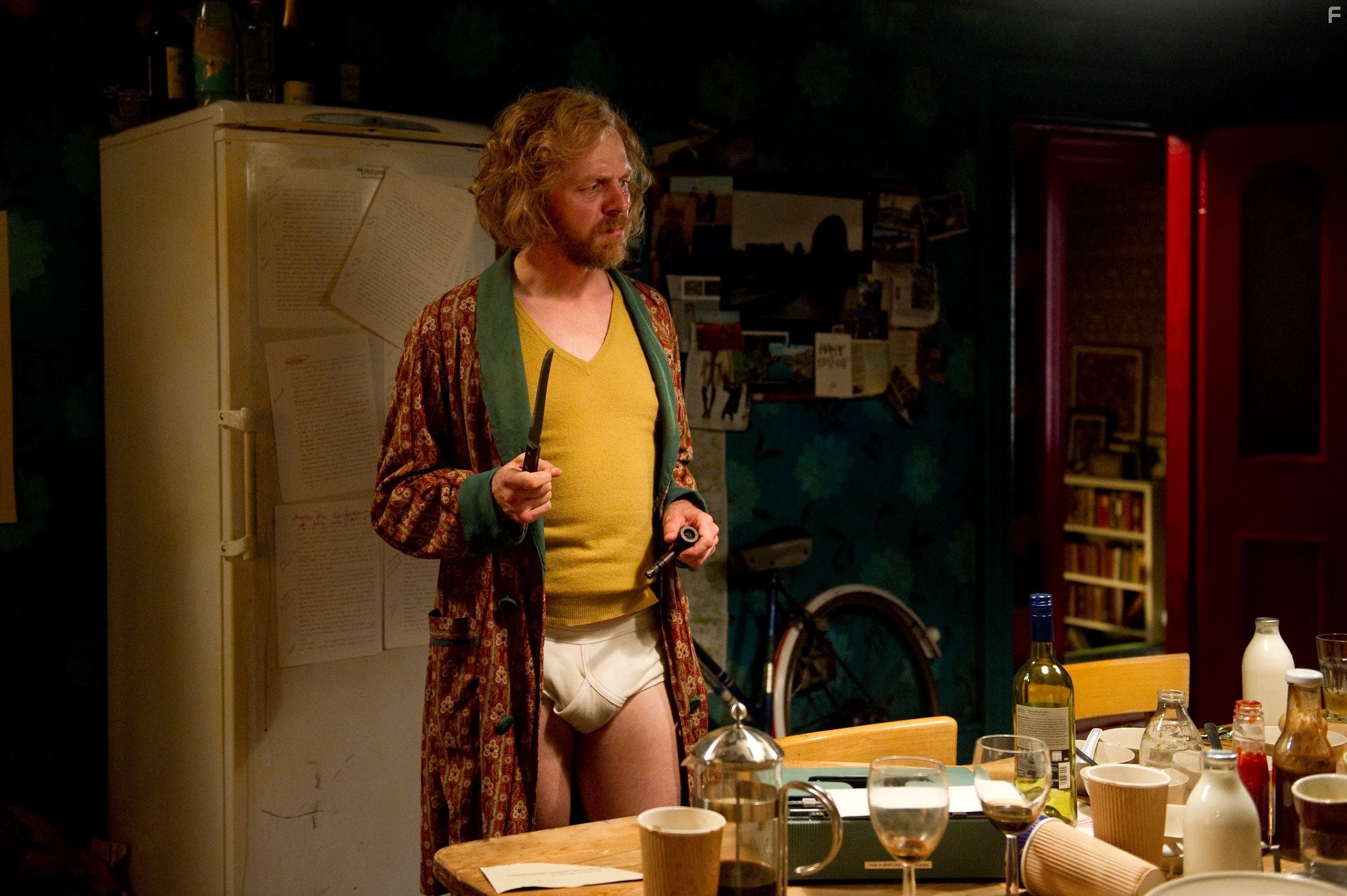 It even becomes rather dull as we pass through one bizarre incident after another and watch Simon Pegg, who is on screen alone for nearly three-quarters of the film, prancing about reacting to or imagining seeing things. A much better director might have aimed for something of the lunging black twists of an early Coen Brothers film like Raising Arizona (1987) or The Hudsucker Proxy (1994) and in particular the bizarre, largely forgotten Sam Raimi film Crimewave (1985).
The show does sort of settle down towards the end when Simon Pegg makes his venture to the laundry. There the film brings together various elements into something of a plot – Pegg confronting his childhood fears, finding the girl of his dreams (Amara Karan) and they having to escape the clutches of a would-be serial killer (Alan Drake) who also ties back to Pegg's past.
At least the serial killer plot is written with some amusement – with Pegg at one point berating him for his lame 80s rock musical tastes and a liking for big hair bands. Amid this, there are undeniably amusing lines of dialogue – "Don't tell me you've got your mother down here?" Pegg asks Drake (in regard to a mummified body in the cellar), which gets the natural response "Of course I have, I'm a serial killer."
Simon Pegg and director Crispian Mills, who is the son of actress Hayley Mills and director Roy Boulting, reteamed with the horror comedy Slaughterhouse Rulez (2018) about monster loose at a British boarding school.
---
---