---
Crew
Directors/Screenplay – Jen & Sylvia Soska, Producers – Loyd Bateman, Donald Charge, Agnes Soska, Jen Soska, Marius Soska, Sylvia Soska & Maryann Van Graven, Photography/Visual Effects – Loyd Bateman & C.J. Wallis, Music – C.J. Wallis, Pyrotechnic Effects – Thistlehead FX, Prosthetic Effects – Alyssa Satow, Katie Satow & Maryann Van Graven, Makeup Effects – Maryann Van Graven, Extra Makeup Effects – Jennifer Slavin & Kyla Rose Tremblay. Production Company – Twisted Twins Productions/Fortyfps Productions.
Cast
Sylvia Soska (Badass), Jen Soska (Geek), Rikki Gagne (Junkie), C.J. Wallis (Goody Two Shoes), Loyd Bateman (Priest), John Tench (Cowboy Pimp), Tasha Moth (Hooker), Carlos Gallardo (God)
---
Plot
Geek gets her more outgoing twin sister Badass to drive her to pick up her friend Goody Two Shoes from church prayer group, while they are joined by the twins' friend Junkie. They then discover the body of a hooker has been left in the trunk of Badass's Thunderbird. They drive, while trying to debate what to do with the body. Badass wants to bury it and dispose of the evidence but the others object to this. They are propelled through a series of circumstances, having to deal with drug deals gone wrong, the hooker's psychopathic cowboy pimp and a serial killer, not to mention the dismemberment of various of the group throughout the course of the journey.
---
Dead Hooker in a Trunk is a debut feature from Canadian twin sister Jen and Sylvia Soska (who operate under the company name of Twisted Twins Productions). The two made the film as a trailer at film school, deciding to put all the things they liked into it and thumb their noses at the establishment for telling them couldn't. The trailer was celebrated by all who saw it who urged the sisters to make a full length film. Dead Hooker in a Trunk appeared at a number of horror festivals where it gained the Soska sisters quite a name.
Dead Hooker in a Trunk comes with one of the most attention-grabbing titles that one has seen in some time. The film is a real grab bag of genre influences covering everything from crime drama to surreal black comedy and splatter movie while throwing in a kitchen sink of necrophiliac moteliers, cowboys and serial killers. If anything, it plays more as a road movie than it does a crime thriller or a horror film – even if it is the oddity of a road movie that never leaves the city environment. You could liken it to a version of the British thriller The Man in the Back Seat (1961) as fed through the sensibilities of Thelma and Louise (1991) and the post-Quentin Tarantino gangland thriller, or perhaps more closely an indie version of Peter Berg's Very Bad Things (1998).
Dead Hooker in a Trunk comes along a couple of decades too late for the great era of Canucksploitation but could easily have been part of it. The Soska twins leap into the exploitation elements with a great deal of enthusiasm. There is a plentiful gore with various people bloodily shot, gutted and body parts ripped off. The two twins and Rikki Gagne (who is top-billed but only has a supporting role) come from a background in stuntwork and there is opportunity for them to kick ass, even scenes with Sylvia being lassoed and dragged behind a horse. There is a positively sizzling scene where Sylvia seduces two cops and leave them handcuffed to a motel bed.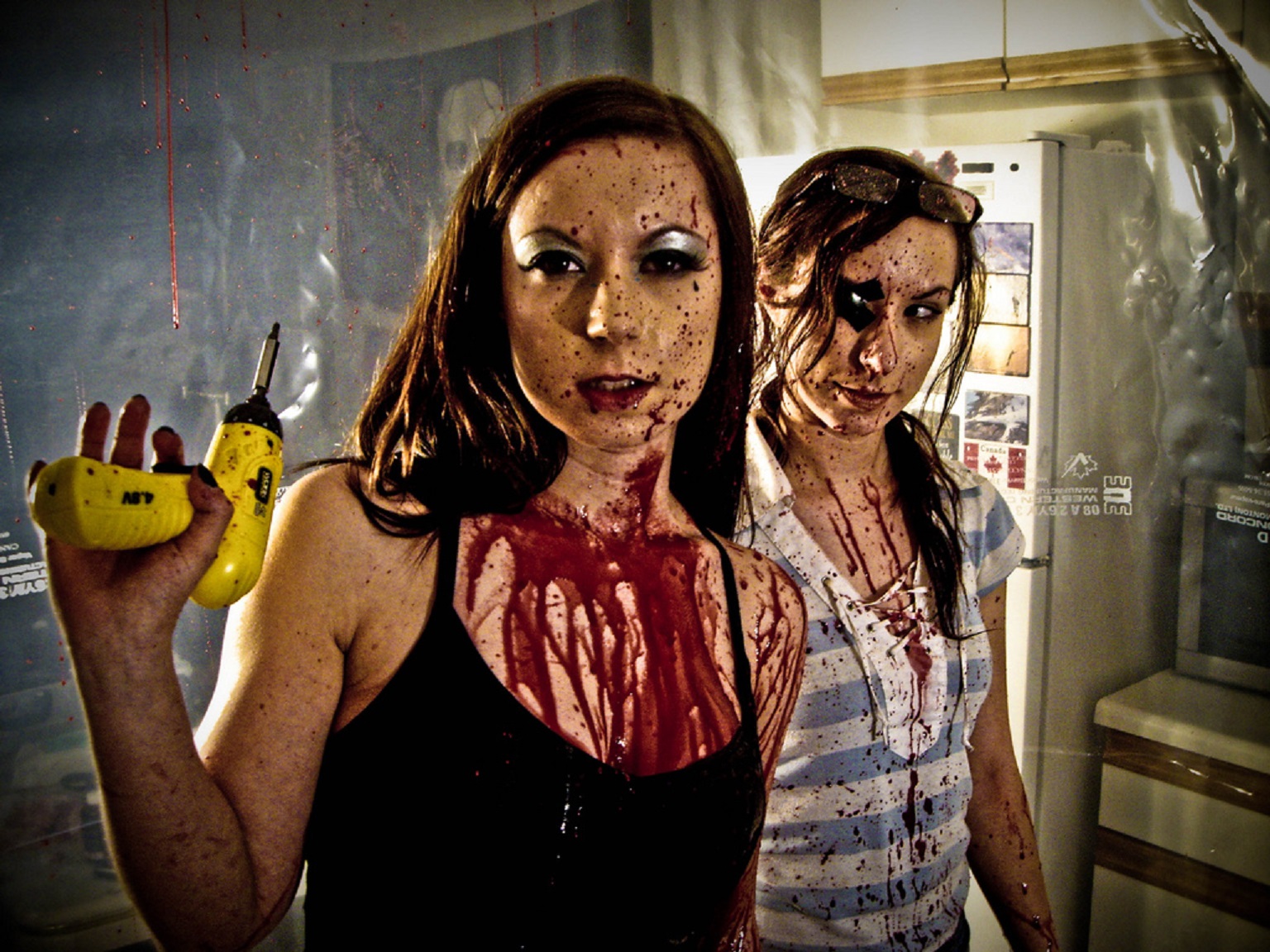 Many of the scenes homage other films – the attack in the motel readily homages the classic motel chainsaw scene in Scarface (1983), while the killer having conversations with his alter ego could be borrowed from Mr. Brooks (2007). When we get to appearances from God as a taxi driver, the film cannot help but resemble something of a straight version of the madcap Domino (2005).
The minus side of Dead Hooker in a Trunk is that it is highly uneven. The tone, even what type of film the twins seem to be making, feels like it changes from scene to scene. The script never has the feel of going somewhere so much as it is a series of picaresque incidents strung together. It is indicative that despite the title Dead Hooker in a Trunk, the characters spend the time running around with the body in the trunk of the vehicle while never seeking to answer the question of how it got there in the first place. There are bizarrely unmotivated character changes that seem to come out of nowhere. The good twin is frequently tipping off the police, although never seems to concern herself that this would surely place all of them in trouble with the law or at the very least herself in conflict with the rest of the party; yet later when the hooker comes back to life and the other sister kills her by whacking her on the head with a shovel, she seems to have no reaction to this. The good twin has her right eye knocked after being hit with a baseball bat, while the junkie's arm is torn off by a passing truck but nobody seems terribly upset by this. The arm is even sewn back on with a needle and thread while they are in a park – something that in reality would fail to reattach the bone and cause massive iatrogenic infections – and the person is later seen using their arm again with no particular problem.
What fires the film far more than the unevenness that the Soska sisters display as directors/writers is their presence as actors up on the screen. While Jen gets the bespectacled milquetoast half, Sylvia in particular asserts herself with a fierce kickass determination that drags the film along kicking and screaming in her wake. Without the two of them up on screen and the ability to play off each other like seasoned professionals, Dead Hooker in a Trunk would be much the lesser.
In the end, Dead Hooker in a Trunk is a wildly uneven film. It has been shot using a digital camera – the camerawork is shakily handheld at times, while the quality of sound is often ragged. But then it is a first film – and one that is little more than a glorified student film – so these things come with the territory. That in itself is less important, what is more important is that it signals the appearance of the Soska twins as a force to be reckoned with. Right now, they are fired up by a decidedly offbeat sense of black humour and above all a love of the horror/exploitation genres. What they have to say is ragged but refinement of the vision will come with further experience, greater access to professional film crews and better budgets. You can guarantee that we will be hearing more from them soon.
Jen and Sylvia Soska subsequently went onto make the much more professional American Mary (2012) set in the underground of body modification, the slasher sequel See No Evil 2 (2014), the T is for Torture Porn segment of ABCs of Death 2 (2014), the revenge film Vendetta (2015) and the remake of Rabid (2019).
---
---