Denmark/Sweden. 2016.
Crew
Director/Based on an Original Idea by Ali Abbasi, Screenplay – Ali Abbasi & Maren Louise Käebne, Producer – Jacob Jarek, Photography – Nadim Carlsen & Sturla Brandth Grvølen, Music – Martin Dirkov, Visual Effects Supervisor – Peter Hjorth, Visual Effects – Slowmotion FX, Makeup Effects – Soda SFX (Supervisors – Thomas Foldberg & Martin Jacobsen), Production Design – Sabine Hviid & Kristine Køster. Production Company – Profile Pictures ApS/Solid Entertainment/Film i Skåne/B Media Global/Backup Media.
Cast
Ellen Dorrit Petersen (Louise), Cosmina Stratan (Elena), Peter Christoffersen (Kasper), Bjørn Andresen (Leo)
---
Plot
Elena, a single mother from Romania, is hired as maid by Danish husband and wife Kasper and Louise. She arrives to find that they live in a remote lakeside home without any electricity. Not long after Elena settles in, Louise puts a proposition to her – she is no longer able to have children but offers Elena a reasonable sum of money if she would act as surrogate and give birth to one of her frozen eggs. Elena agrees and the egg is implanted. However, as the pregnancy takes hold, Elena begins to become more and more affected by what she senses is a dark presence.
---
Shelley was the feature-length directorial debut of Ali Abbasi, who is of Iranian-Swedish background. Abbasi had previously made the M is for Markus (2011) short and subsequently went on to make a further fantastic film with Border (2018) that received reasonable acclaim. Shelley played at a number of international film festivals.
Shelley falls into the mini-genre of Pregnancy Horror films that began with Rosemary's Baby (1968) and has spread to quite a reasonable number of films since then. Ali Abbasi makes a horror film but his approach is more that of an arthouse director. Rather than shock effects, he concentrates on mood and in obtaining naturalistic performances from his cast.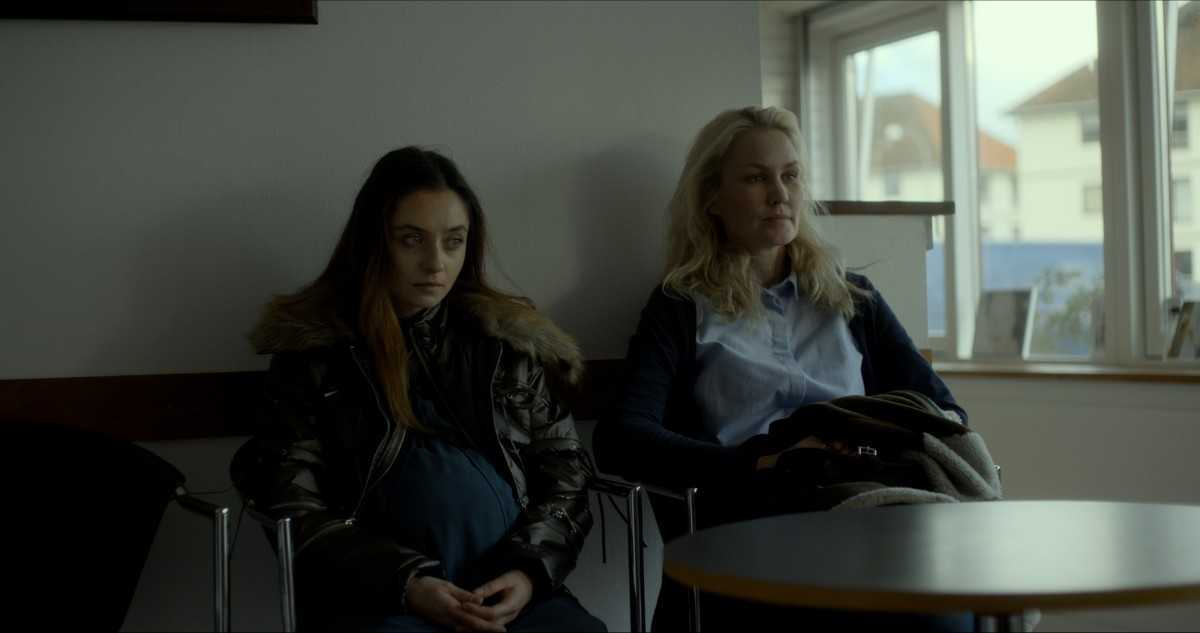 Certainly, he does not neglect the shock effect side of things and there is a doozy of a scene in mid film where Ellen Dorrit Petersen is in bed naked and husband Peter Christoffersen comes and begins fingering her, before the rather ick images where we can see something moving about inside her belly.
The downside of Shelley is that Ali Abbasi makes an enigmatic film. Something ominous is happening but we never know exactly what. Basically what we have is Cosmina Stratan and later the others reacting with dread and horror to 'something' happening regarding the pregnancy – but we are never privy to what. Is it a devil child? A malevolent spirit? No idea. In fact, as we never get any insight to what is going on, it could well be that all of this is just people reacting in horror movie fashion to a perfectly normal and mundane pregnancy. Ali Abbasi does well in the mood and build-up but his crucial failure to put a finger on what is going on makes for a frustrating experience.
---
---