---
USA. 2016.
Crew
Director – Jim Wynorski, Screenplay – William Dever & Jim Wynorski, Producer – Steve Goldenberg, Photography – David M. Rakoczy, Music – Chuck Cirino, Visual Effects – Authority FX, Inc. (Supervisor – Ryan P. Wilson), Production Design – Robert Hummel. Production Company – Caluv Films.
Cast
Traci Lords (Detective Kendra Patterson), Dominique Swain (Honey), Christine Nguyen (Michelle Alika), John Callahan (Carl), Cindy Lucas (Anita Conners), Amy Holt (Shannon Hastings), Corey Landis (Detective Adam Levine), Serafin Falcon (Mike), Chris de Christopher (Professor Orville), Oscar de la Rosa (John Raden), Tabitha Marie (Samantha Pines), Skye McDonald (Sarah Mason)
---
Plot
Five female prisoners from the Arkansas Department of Corrections are taken out into the swamps on a work detail. There one of the girls is devoured by a prehistoric shark that has been released by fracking in the area. On the return trip, the prison van is hijacked by Honey who has come to bust out her girlfriend Anita Conners. Honey takes the two guards hostage and the other three girls with her and heads to a cabin in the woods to hide out from pursuit. However, tensions within the party are amplified when the prehistoric sharkosaurus's start swimming up to attack, trapping them inside the cabin.
---
Jim Wynorski is a prolific director of exploitation films. He has been working since the 1980s, mostly making films for the video market during its heyday and more recently for cable. Wynorski has frequently dabbled in genre material, making numerous horror, action and science-fiction, often with tongue planted in cheek. (See below for Wynorski's other genre films). Most common has been Wynorski's dabbling in softcore erotica – all of his films make a virtue of their T&A content. He was one of the directors prominently associated with the late 1980s/early 90s Scream Queen fad and he has been a frequent contributor to the softcore parody film with titles including The Bare Wench Project (1999), The Witches of Breastwick (2005), The Breastford Wives (2007), The Da Vinci Co-ed (2007) and Cleavegefield (2008), among others.
The gonzo shark film has become its own mini-genre during the 2010s. Up until the late 2000s, the shark film existed as a steady output of Jaws (1975) rip-offs, which moved steadily down the B end of the market from the 1990s onwards. With the likes of Shark in Venice (2008) and especially Mega Shark vs Giant Octopus (2009), the shark film began a move towards the increasingly tongue-in-cheek, reaching its zenith with the bad movie hit of Sharknado (2013).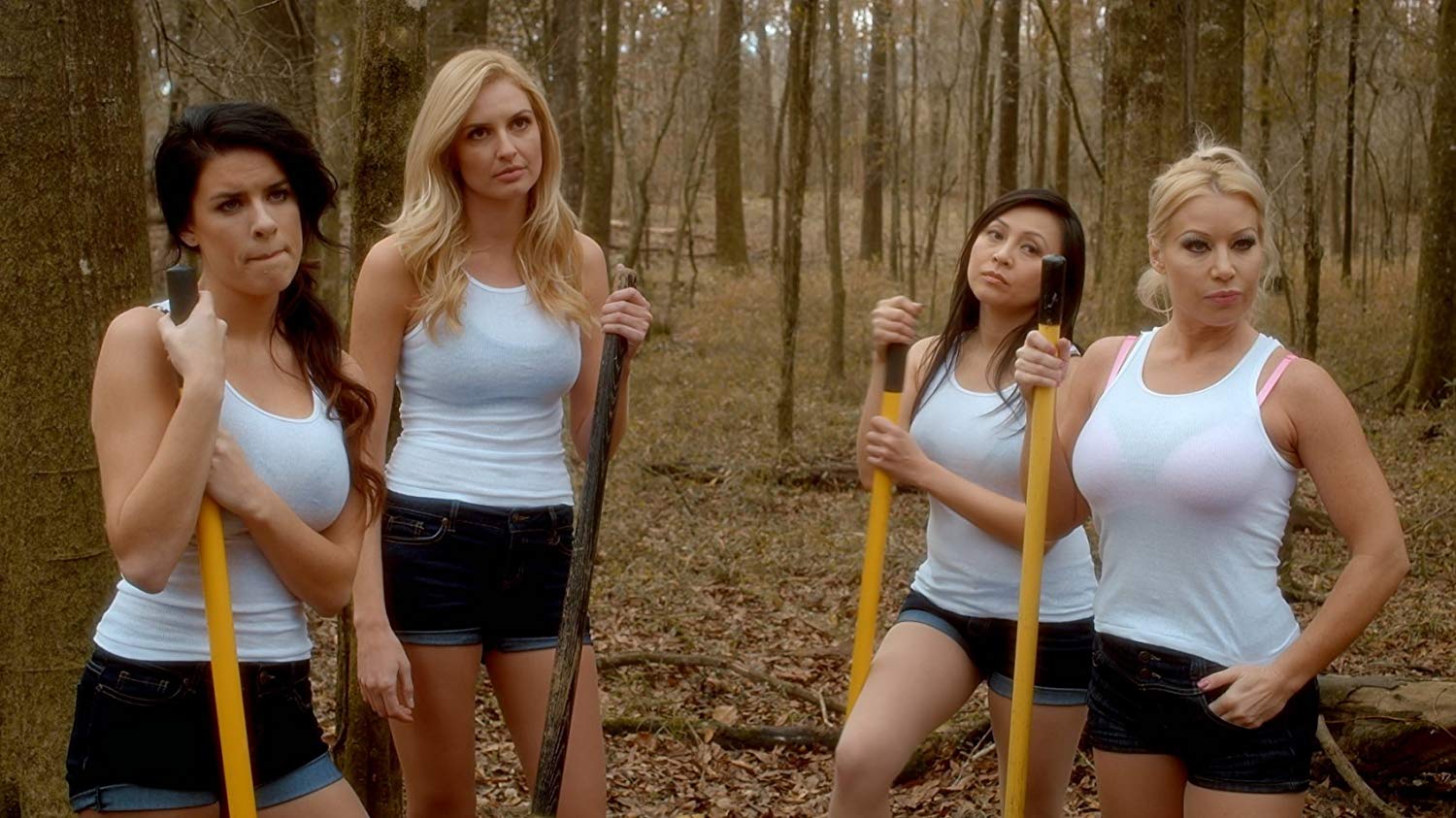 There have been a great many shark films in a similar vein – see the likes of Dinoshark (2010), Sharktopus (2010), Snow Shark: Ancient Snow Beast (2011), 2-Headed Shark Attack (2012), Jersey Shore Shark Attack (2012), Jurassic Shark (2012), Sand Sharks (2012), Avalanche Sharks (2013), 90210 Shark Attack (2014), Raiders of the Lost Shark (2015), Roboshark (2015), Shark Exorcist (2015), Zombie Shark (2015), Ice Sharks (2016), Ozark Sharks (2016), Piranha Sharks (2016), Planet of the Sharks (2016), Trailer Park Shark (2017), Post Apocalyptic Commando Shark (2018), Santa Jaws (2018), Ouija Shark (2020), Sky Sharks (2020), Noah's Shark (2021), Sharks of the Corn (2021) and Virus Shark (2021), among others.
You have to give Jim Wynorski some credit. He has been plugging away making mostly crappy B-movies for what is now his fourth decade as a filmmaker. Here he has cannily leapt aboard the gonzo shark fad. In doing so, he has come up with a highly entertaining title that should take some sort of award for the number of exploitation genres it manages to cram into one – namely, combining the gonzo shark film with the exploitation standard of the women's prison film, which in turn allows him to make another of his bimbo films. Added to the mix, with total incongruity, he also manages to throw in the Cabin in the Woods horror genre (somehow you suspect having people attacked in a cabin by killer sharks was one of the themes that the makers of The Cabin in the Woods (2012) are kicking themselves they forgot to add to their amalgam/parody of horror cliches).
On the other hand, Jim Wynorski, feels a little like a Johnny Come Lately to an exploitation trend that others started. Moreover, while he comes armed with an hilarious title and conceptual mash-up, Sharkansas Women's Prison Massacre never fully hits the stride that Sharknado and some of the more preposterous films among the gonzo shark fad do.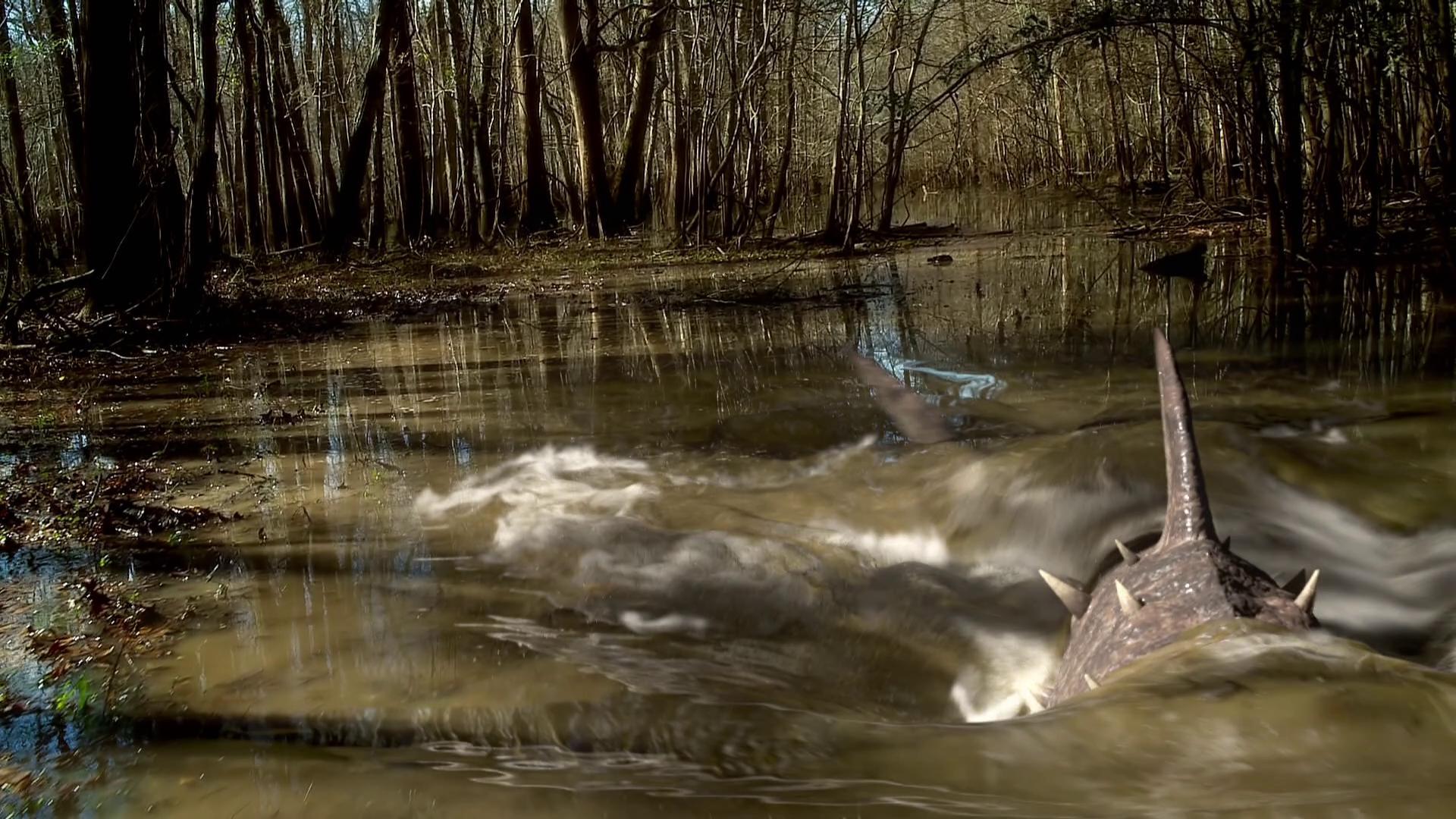 Aside from the entertainingly ridiculous image of sharks burrowing their way through soil up to the door of the cabin, there is not the absurdly over-the-top moves you get in some of the other films – sharks on rollercoasters, sharks in orbit aboard the space shuttle, sharks in hot tubs, sharks on ski slopes, sharks in shopping malls etc. The rest of the film is strangely ordinary given all the inherent possibilities it holds. Wynorski offers up a wholly gratuitous wet t-shirt scene among the prison women but for once is relatively restrained and has all of the girls keep their clothes on throughout.
Jim Wynorski's other genre films are:- The Lost Empire (1983), Chopping Mall (1986), Deathstalker II (1987), Not Of This Earth (1988), The Return of Swamp Thing (1989), Transylvania Twist (1989), The Haunting of Morella (1990), Sorority House Massacre II (1990), Sorority House Massacre 3/Hard to Die/Tower of Terror (1990), 976-Evil II (1991), Scream Queen Hot Tub Party (1991), Munchie (1992), Ghoulies IV (1993), Dinosaur Island (1994), Munchie Strikes Back (1994), Sorceress (1995), The Wasp Woman (1995), Vampirella (1996), The Pandora Project (1998), Storm Trooper (1998), The Bare Wench Project (1999), Desert Thunder (1999), Bare Wench Project 2: Scared Topless (2000), Crash Point Zero/Extreme Limits (2000), Raptor (2001), Thy Neighbor's Wife/Poison (2001), The Bare Wench Project 3: Nymphs of Mystery Mountain (2002), Gale Force (2002), Project Viper (2002), Bare Wench Project Uncensored (2003), Cheerleader Massacre (2003), More Mercy (2003), The Curse of the Komodo (2004), Gargoyle (2004), The Thing Below (2004), Alabama Jones and the Busty Crusade (2005), Bare Wench: The Final Chapter (2005), Komodo vs Cobra (2005), Sub Zero (2005), The Witches of Breastwick (2005), The Witches of Breastwick 2 (2005), A.I. Assault/Shockwave (2006), Cry of the Winged Serpent (2006), Bone Eater (2007), The Breastford Wives (2007), House on Hooter Hill (2007), Cleavegefield (2009), Fire From Below (2009), Vampire in Vegas (2009), Monster Cruise (2010), Dinocroc vs Supergator (2010), The Hills Have Thighs (2010), Camel Spiders (2011), Gila (2012), Piranhaconda (2012), Hypnotika (2013), Scared Topless (2013), Sexually Bugged (2014), Shark Babes (2014), Water Wars (2014), Scared Topless (2015), A Doggone Christmas (2016), Cobragator (2018) and Attack of the 50 Foot CamGirl (2022).
---
Trailer here
---