---
Crew
Director – Jon Wright, Screenplay – Mark Stay, Story – Mark Stay & Jon Wright, Producers – Piers Tempest & Peter Touche, Photography – Hamish Doyne-Ditmas, Music – Christian Henson, Visual Effects Supervisor – Paddy Eason, Visual Effects – Automatik VFX, Special Effects Supervisor – Mark Holt, Creature Supervisor – Shaune Harrison, Prosthetics Supervisor – Kristyan Mallet, Production Design – John Beard. Production Company – Tempo.
Cast
Hannah John-Kamen (Maya), Douglas Booth (Jamie), Colm Meaney (Colm "Daddy" Whelan), Jamie-Lee O'Donnell (Aisling Whelan), Kristian Nairn (Eoin Whelan), Chris Walley (Killian Whelan), Niamh Cusack (Niamh), Lalor Rory (Roddy), Finbar Lynch (Father Brendan)
---
Plot
Jamie's girlfriend Maya learns that she is pregnant. Jamie goes out to buy some champagne to celebrate only to be taunted by street youths, who follow him home, burst into the apartment and assault both he and Maya. In the aftermath, Jamie learns that his Aunt Mavis has died and he has inherited her house in rural Ireland. The two of them decide to relocate there. They are shown through the house by the local bar owner Niamh. She warns them about not opening the door in the wall at the end of the garden and to always leave out meat to appease the Far Darrig or Redcaps, small mythical leprechaun-like creatures. However, they treat her warning with scepticism and forget about it. Jamie hires Colm 'Daddy' Whelan and his family to conduct repairs on the house but soon find the Whelans to be uncouth and insolent. Maya wanders through the gate into the woods but Colm's brutish son Eoin follows and tries to attack her only for the Redcaps to come and kill him. In the aftermath, the rest of the Whelans break into the house in search of Eoin, attacking them and setting the house on fire. Maya flees into the woods and is forced to make a deal with the Redcaps.
---
Unwelcome was the fourth film from Irish director Jon Wright. Wright had previously made Tormented (2009) about a bullied high school kid returned from the dead to seek revenge, the immensely entertaining alien invasion movie Grabbers (2012) and Robot Overlords (2014).
Aside from Warwick Davis in Leprechaun (1993) and sequels, Leprechauns have usually been depicted as cute and cuddly in light fantasy works such as Darby O'Gill and the Little People (1959), even musicals like Finian's Rainbow (1968). There are few dark and sinister depictions of faerie folk on screen – beyond Jonathan Strange & Mr Norrell (2015), I stretch to think of anything else. Unwelcome is based around the redcaps, malevolent faerie creatures from Celtic folklore that are supposed to inhabit old abandoned castles – the term redcap comes from their habit of dipping their hats in their victims' blood.
I anticipated Unwelcome based on Jon Wright's solid body of work elsewhere. Wright returns to his native Ireland, which is photographed with a rich verdant beauty that highlights the greenery of the countryside (and proves welcome relief after watching a string of films that have been colour desaturated to a drab grey-brown). One had the hopes that this marked a return to the same territory of Wright's Grabbers and its affectionate depiction of the colourfully eccentric characters inhabiting rural Ireland – the two films share a number of actors and production personnel in common. Wright finds that same place in some of the scenes, in particular those visiting the village pub and the character of the genial drunk Rory (Lalor Roddy).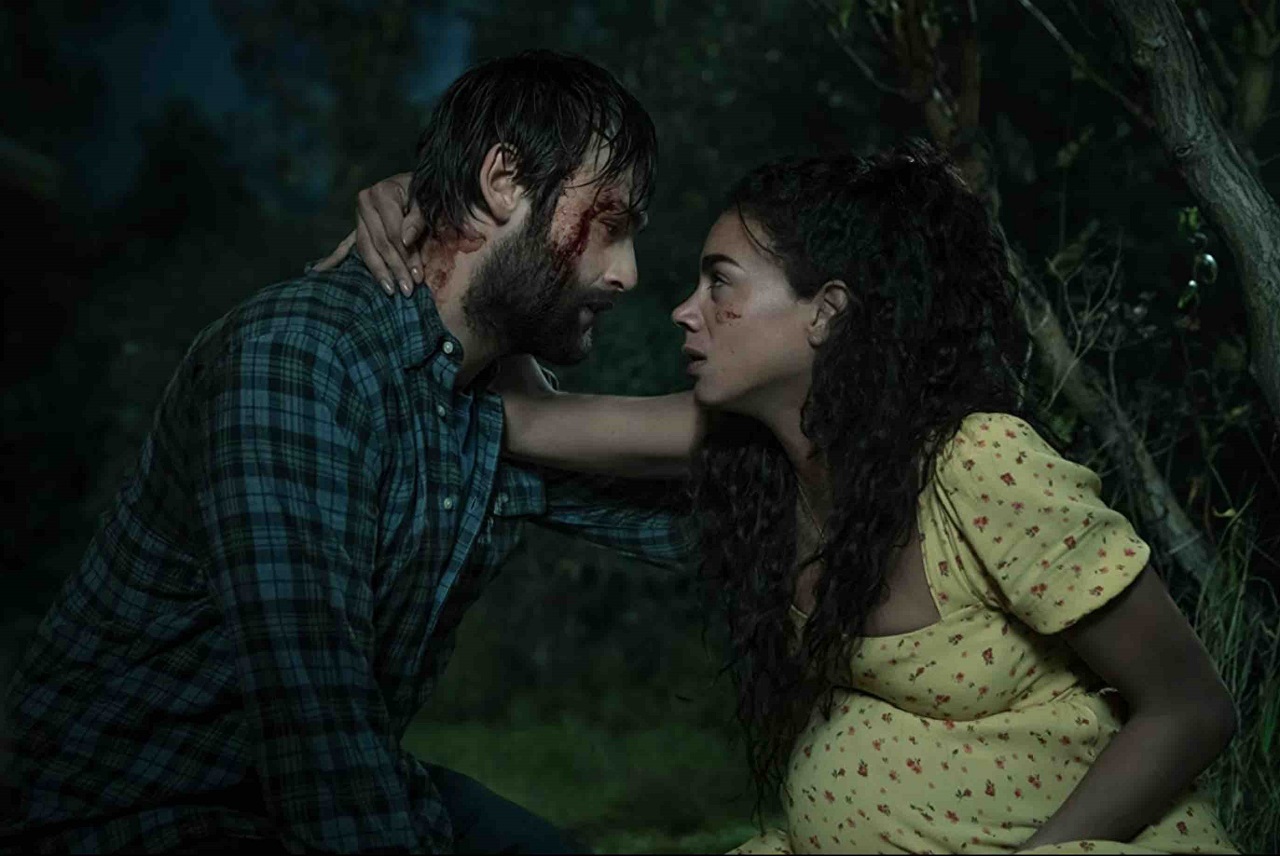 Wright says he imagined the film in terms of "Gremlins (1984) meets Straw Dogs (1971)." The story actually has far more in common with Don't Be Afraid of the Dark (1973), later remade as Don't Be Afraid of the Dark (2011), where a wife (Kim Dickens in the original, Katie Holmes in the remake) discovers malevolent goblins in the basement amid much question from her husband about whether she is going mad. There is the same essential plot here.
This ends up with a film structured in less interesting ways than you feel it could have been. Unlike the Leprechaun films that have Warwick Davis or one of his replacements popping up at intervals to despatch people in ridiculous ways, this keeps all of its bloodshed and despatches, even any appearances of the redcaps, until right near the end. There is much build-up about not opening the gate in the fence. When Hannah John-Kamen does venture though, it seems that she is in an enchanted Woods of some type. However, before we ever get to the redcaps, far too much time is given over to Colm Meaney and his uncouth family as they attack, force their way into and set the house on fire. This does set the stage for the climactic scenes and the effective ending. It leaves you wishing that Wright had given us more of the redcaps.
---
Trailer here
---