aka Mountain of the Cannibal God; Prisoner of the Cannibal God
(La Montagno del Dio Cannibale)
---
Italy. 1978.
Crew
Director – Sergio Martino, Screenplay – Sergio Martino & Cesare Frugoni, Producer – Luciano Martino, Photography – Giancarlo Ferrando, Music – Guido and Maurizio de Angelis, Production Design – Massimo Antonello Geleng. Production Company – Dania Film/Medusa Distribuzione.
Cast
Ursula Andress (Susan Stevenson), Stacy Keach (Professor Edward Foster), Claudio Cassinelli (Dr Minolo), Antonio Marsina (Arthur), Franco Fantasia (Father Moses Suspicion), Lugina Rocchi (Puka Chief)
---
Plot
Susan Stevenson arrives in New Guinea in search of her husband Henry who has gone missing. She is directed to anthropologist Edward Foster who believes that Henry might be on the forbidden area of Roka Island. Along with Henry's brother Arthur, they mount an expedition to the island. They discover that Henry went in search of plentiful uranium deposits on the island. However, once there, they find themselves, as Henry was, captured by cannibal tribes.
---
The Italian cannibal film has a well-deserved reputation as the genre that was prepared to go to the most graphically nasty extremes of any exploitation genre. This mini-genre was started off with Umberto Lenzi's Deep River Savages/The Man from Deep River (1972), which set the limited formula for the rest of the films. The cannibal genre hit its stride around 1979-80 with such notorious entries as Last Cannibal World/Jungle Holocaust (1977), Cannibal Holocaust (1979), Cannibal Apocalypse/Cannibals in the Streets (1980), Zombie Holocaust (1980), Cannibal Ferox (1981) and others. Amongst these, Slave of the Cannibal God/Prisoner of the Cannibal God had the biggest budget of any Italian cannibal film – and is the only one to star any internationally renowned actors – Ursula Andress and Stacy Keach. It is also one of the few that was not outrightly banned in most countries and consequently remains the most accessible of the abovementioned cannibal films.
As with any cannibal film, Slave of the Cannibal God/Prisoner of the Cannibal God largely exists as a smorgasbord of decapitations and human entrails. These contain some undeniable shock effects – one of the bearers is caught in a trap that slams him between two cage sides mounted with sharp rocks and the others returning to find only a gnawed arm; the gutting of Claudio Cassinelli around a campfire; a native's dick chopped off for attempting to have his way with Ursula Andress; a dwarf kicked out of the way and falling and splattering his brains over a rock.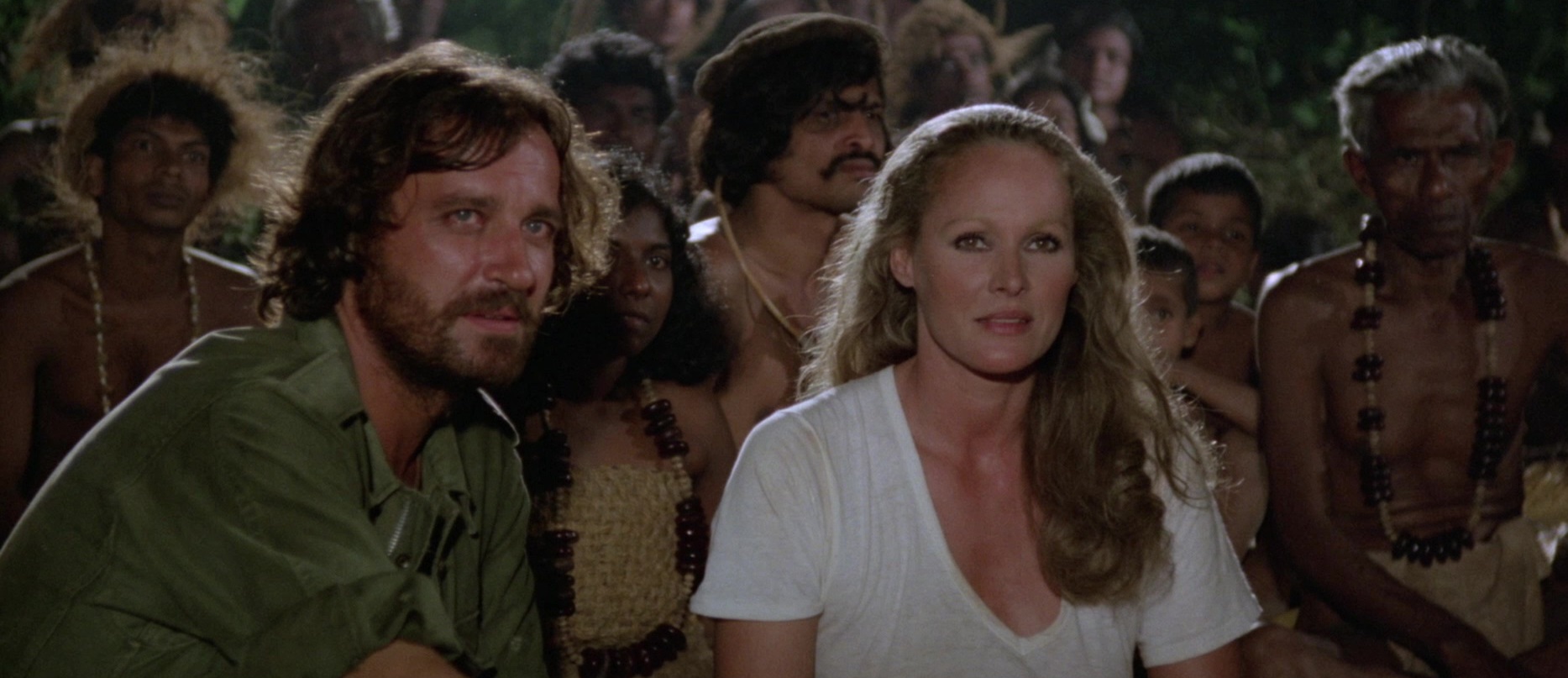 Whatever grander pretensions these films have, gore is ultimately the bottom line. As to why – the answer is probably the same that one can give as to why some like Mexican food with chilli hot enough to burn one's head off – some people just like it that way and it is seen as a kind of badge of courage the most extreme one is able to endure.
Sergio Martino's other genre films include:- the giallo Blade of the Ripper (1971), They're Coming to Get You (1972) about Satanists, the giallo Torso/The Body Bears Traces of Carnal Violence (1973), the cannibal film The Great Alligator (1979), Isle of the Fishmen/Screamers (1981), the occult film Murder in an Etruscan Cemetary/Scorpion With Two Tails (1982), the post-holocaust film 2019: After the Fall of New York (1983); the killer cyborg film Hands of Steel (1986); the action/psycho/fantasy film American Rickshaw (1989) and the giallo Mozart is a Murderer (1999), as well as wrote Devilfish/Devouring Waves/Monster Shark/Red Ocean (1984).
---
---