(L'Ultima Orgia della III Reich)
---
Crew
Director – Cesare Canevari, Story – Antonio Lucarella, Photography – Claudio Catozzo, Music – Alberto Baldan Bembo, Special Effects – Guido Chiappin, Art Direction – Ercola Lura. Production Company – Cine Lu. Ce..
Cast
Daniela Levi [Poggi] (Lise Cohen), Marc Loud [Adriano Micantoni] (Conrad Von Dossen), Maristella Greco (Alma), Fulvio Ricciardi (Prison Doctor), Antiniska Nemour (Fellow Prisoner), Renato Paracchi (Professor)
---
Plot
After 35 years, Lise Cohen reunites with Conrad Von Dossen to tour the abandoned remains of the Neugen Nazi concentration camp. In 1943, Lise was sent to Neugen, a special camp for Jewish women prisoners. There the German soldiers were taught to treat the women as animals and they were regularly raped and tortured, while the uglier ones were killed. Lise conducted an affair with the prison doctor. Conrad, the camp's commandant, then made her his with the secret plan of breaking her.
---
Nazisploitation is a term given to a cluster of 1970s exploitation films that featured Nazis and were centred around sado-sexual themes. I had always assumed that the fad was sparked by the mainstream success of Cabaret (1972) and The Night Porter (1974) but the first film appears to have been the US-made Love Camp No 9 (1969). However, the work that popularised the genre was Ilsa, She-Wolf of the S.S. (1974) with Dyanne Thorne as the commandant of a concentration camp who enjoyed sexually using and torturing prisoners. This was followed by other works such as Salon Kitty (1976), SS Experiment Camp (1976), Love Train for the SS (1977), Private House of the SS/SS Girls (1977), The Beast in Heat (1977) and Nathalie: Escape from Hell (1978), as well as others that are outright porn films, Many of these encountered Censorship Controversies. There is a documentary about the phenomenon with Fascism on a Thread: The Strange Story of Nazisploitation Cinema (2019).
A film like The Gestapo's Last Orgy sits there and almost taunts you to watch it. It is like watching Italian cannibal movies just to see how far they will push things. Can you immerse yourself in a film that sensationalises and makes erotica out of the greatest human atrocity of the 20th Century? It's something that holds a certain perverse fascination just to see what it is like to cross a taboo line.
Fairly early in, The Gestapo's Last Orgy seems to be a film that is trying to compete with Salo, or 120 Days of Sodom (1975), Pier Poalo Pasolini's taboo-defying film that catalogued a series of atrocities performed by the Italian fascists. Director Cesare Canevari serves up a similar parade of outrages to the ones that Pasolini did. We get a slideshow where we see a mother and daughter bound together 69ing each other; a women who is eating shit and then smearing her body with it and masturbating. Next the German soldiers are introduced to a group of nude women prisoners and unleashed to have their way with them in a mass orgy. That is in between scenes where the uglier girls among the prisoners are fed to the dogs.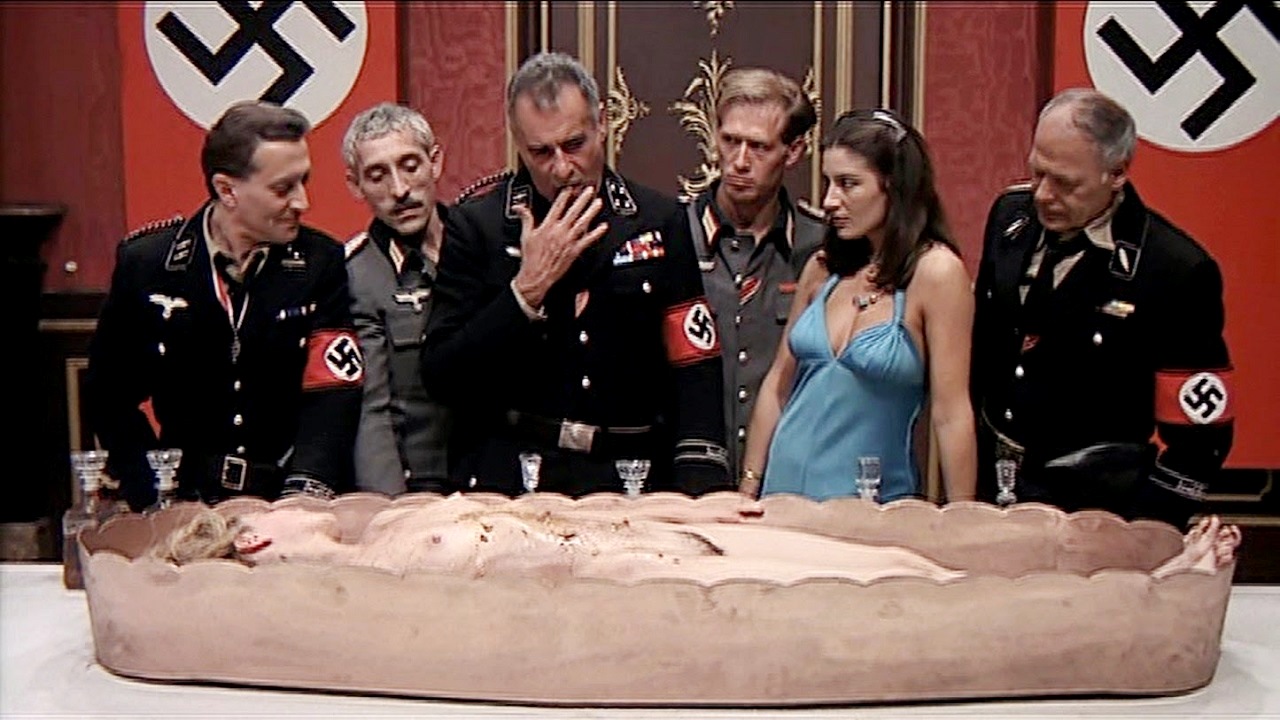 The most outrageous scene is the dinner party where the professor (Renato Paracchi) stands up to talk about his hare-brained scheme to fatten the Jewish girls up until they are plump and then serve them up as food. As the gathered guests are reeling, he has a meal of such cooked flesh brought in and they all sit around and eat. When one of the Jewish serving girls faints, they pour the platter of food over her and then place her body in a coffin on the table, cover it in alcohol and set it alight. In terms of the outrage that these films are capable of stirring up, it seems harder to think of anything capable of going further than this.
The main problem is that after such a provocative and charged opening, The Gestapo's Last Orgy fatally starts to take itself seriously. It firstly turns into a love story between Daniela Poggi and the doctor (Fulvio Ricciardi) – which admittedly has some undeniable heat when Daniela strips down, even if her and Fulvio's scenes seem to consist of nothing more than either one rolling over on top of the other on a bed. We get the impression according to her voiceover that this was a genuine relationship on her part but the doctor then gets shuffled aside as she takes up with camp commandant Adriano Micantoni.
Here the film becomes something like an exploitation version of Sophie's Choice (1982) – albeit with a lot more nude bodies. In these scenes, the random tortures and taboo-defying outrages of the earlier scenes are forgotten about and dropped entirely. This does lead to a nasty revenge ending on her part but by that point it feels like a Nazisploitaton film that suddenly started to take itself far too seriously.
---
---