---
Crew
Producers – San Fu Maltha & Brian Yuzna. Production Company – Komodo Films.
Show Unit
Crew
Director/Screenplay – Rako Prijnto, Producer – Wahyu Indra, Photography – Padri Nadeak, Music – Aghi Narottama Gumay & Bemby Gusti, Art Direction – Fauzi. Production Company – Kumpul Produksi.
Cast
Lukman Sardi (Bayu), Marcella Zalianty (Dinna), Sapto Soetarjo (Andi), Donny Alamsyah (Andre)
Titisan Naya
Crew
Director/Screenplay/Producer – Riri Riza, Photography – Ipung Rachmat Syaiful, Music – Thoersi Argeswara, Art Direction – Eros Eflin. Production Company – Miles Films.
Cast
Dinna Olivia (Naya), Junior Lim (Leo), Dewi Irawan (Amelia)
Peeper
Crew
Director/Screenplay – Ray A.J. Nayoan, Story – Marky Ali Yahya, Producers – Syarika Bralini & R. Nanung Nugroho S., Photography – Sidi Saleh, Music – Aghi Narottama Gumay, Bemby Gusty & Handy Rizal, Art Direction – Iqbal Rayya.
Cast
Wiwied Gunawan (Dewi Durga/Sarpanaka), Epy Kusnandar (Bambang)
The List
Crew
Director – Robby Ertanto, Screenplay – Brian Yuzna, Producers – Syarika Bralini & R. Nanung Nugroho S., Photography – Ipung Rachmat Syaiful, Music – Aghi Narottama Gumay & Bemby Gusti, Makeup Effects – Orlando Bassi, Art Direction – Wencislaus A.W. De Rozari.
Cast
Fauzi Baadila (Andre), Shanty (Sarah), Prisia Wulansari (Irina), Ahmad Syamsul Anwar (Mbah Dukun)
The Rescue
Crew
Director/Screenplay/Producer – Raditya Sidharta, Photography – Hani Pradigya, Music – Aghi Narottama Gumay & Bemby Gusti, Makeup Effects – Muhammad Anwar, Art Direction – Adri Ramyulloh Marzuki.
Cast
Eva Galia (Gadis), Sogi Indraduhaja (Anton), Reuben Elishama Hadju (Antariska)
Dara
Crew
Director/Screenplay/Producers – The Mo Brothers [Kimo Stamboel & Timothy Tjahjanto], Photography – Roni Arnold, Music – Ramondo Gascaro, Aghi Narottama Gumay & Bemby Gusti, Makeup Effects – Didin Syamsudin, Art Direction – Rico Marpaung. Production Company – Merah Production/Guerilla Visuals Films.
Cast
Shareefa Daanish (Dara), Mike Muliadro (Adjie), Dandy Subangil (Eko), Rusli Lubis (Rama)
---
Plot
Show Unit:- After hearing about a spate of break-ins on the street, Bayu accidentally stabs his girlfriend Andi, thinking she is an intruder. However, his attempts to cover this up end up snowballing. Titisan Naya:- Naya reluctantly gathers for a keris cleansing ritual held by her family. She is disinterested in participating but there are supernatural forces in the house. Peeper:- Bambang spies in on the changing rooms of the dancers at the club where he works. One of the dancers invites him in but is an entity that turns the tables on him. The List:- Sarah goes to a local sorcerer, seeking to use magic to take revenge on Andre for breaking up with her. The Rescue:- The city has been overrun by a zombie outbreak. In the midst of this, soldiers attempt to rescue a handful of civilians. Dara:- The restaurateur Dara invites various suitors to her house where she proceeds to torture and kill them. Problems occur when several of them turn up as she is in the process of torturing her latest victim.
---
The horror anthology film has been with us since the silent era. It gained a popularity during the 1960s and became the signature format for Amicus Films in a series of films beginning with Dr Terror's House of Horrors (1965). It was revived in the 1980s with George Romero's Creepshow (1982), while recent years have seen the rise of multi-director anthologies such as The ABCs of Death (2012), V/H/S (2012) and others. (See Anthology Films). Takut: Faces of Fear is one of these anthologies and comes with the distinction that it was made in Indonesia.
The mistake Takut has made is attempting to tell six stories within a standard 90 minute timeframe. This averages out around fifteen minutes apiece (minus credits). This should be enough time to tell a tight, compact story and many anthology films have regularly done so. Here however in almost every single case, it ends up with episodes that feel as though they need longer in the telling. (The average time is also deceptive as Dara runs longer than the others at 21 minutes and Show Unit at 19 minutes meaning that the other four stories average out at about ten minutes apiece).
The first episode Show Unit is more of a black comedy of errors and an accidental murder plot than it is a horror story. The piece comes with several twists but is amateurishly directed in ways that fail to make the plot it has work for it.
The second episode Titisan Naya (The Incarnation of Naya) is an improvement. It offers much spooky atmosphere, the suggestions of haunted happenings, ghosts and talk about possession, even a touch of incest, All alas without actually delivering anything. The ceremony is held, the lights go out and there seem to be haunted figures in the dark and in the final shot there is a ghost child standing there but it is not clear what any of it means.
Peeper has a certain succinctness, all based around an ironic reversal twist and a gory punchline. But again the piece feels abrupt and unsatisfying.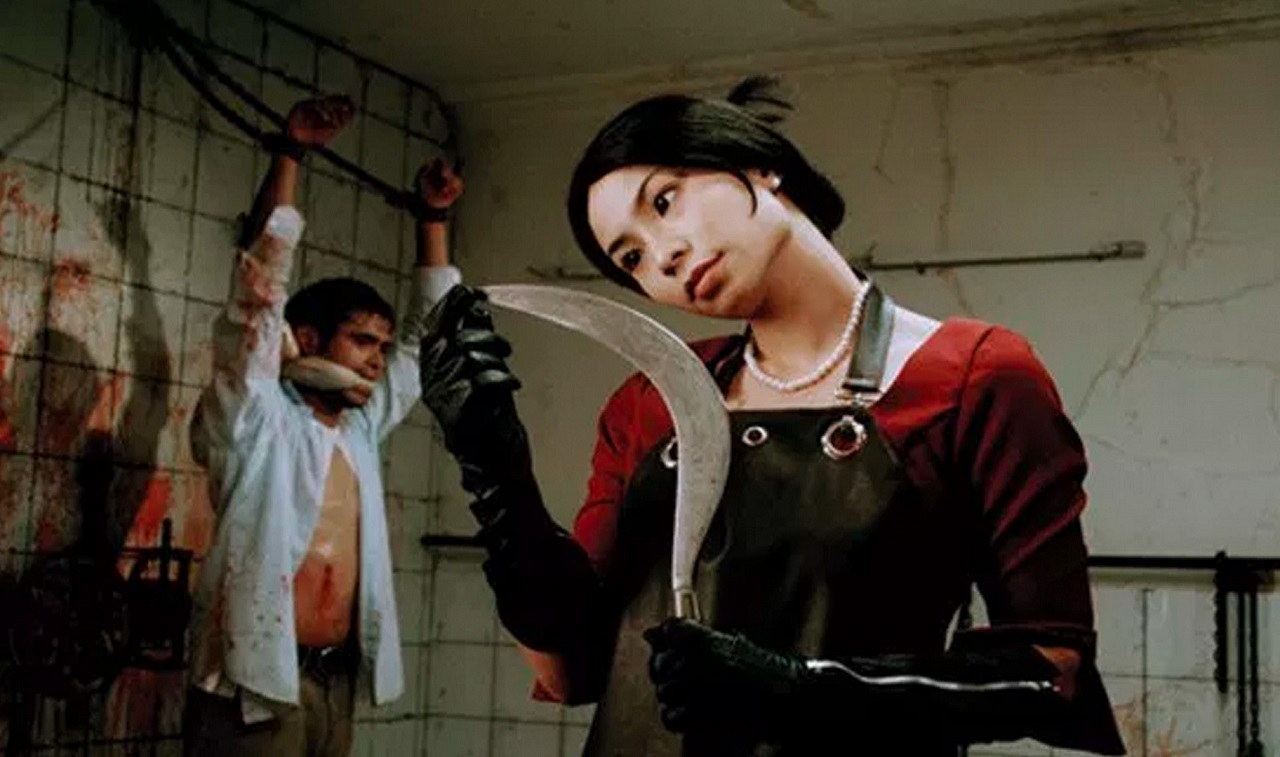 The List is another slight piece about a woman employing a sorcerer to enact voodoo revenge against the guy who broke up with her, before a twist reversal in the ending that felt like it needed to be built up to more than it is. The episode does have a screenplay from American director Brian Yuzna, better known for films like Society (1989), Bride of Re-Animator (1990) and Return of the Living Dead III (1993), who also produces the anthology.
The Rescue is a standard zombie film, albeit with an introduction that suggests the causes are more supernatural than usual. Once we get into the piece, it is directed with a furious gore-drenched energy but again ends with a frustrating abruptness.
The standout episode of the show is Dara from The Mo Brothers, the unrelated Timo Tjahjanto and Kimo Stamboel. The Mo Brothers used this as a dry run for their later film Macabre (2009). This was a hit and The Mo Brothers went on to make Killers (2014) about a friendship between two serial killers and the action film Headshot (2016). On his own, Timo Tjahjanto has contributed episodes to other horror anthologies – the completely wild L is for Libido segment of The ABCs of Death, the Safe Haven episode of V/H/S/2 (2013), the Sarah episode of Portals (2019) and The Subject segment of V/H/S/94 (2021), followed by the full-length horror film May the Devil Take You (2018) and its sequel May the Devil Take You: Chapter Two (2020) and the action films The Night Comes for Us (2018) and The Big Four (2022). Kimo Stamboel later solo directed the horror films DreadOut (2019) and The Queen of Black Magic (2019). Dara had actually screened as a completed film in 2007 prior to being compiled in Takut.
The plots of Dara and Macabre differ substantially – here Shareefa Daanish is luring different suitors to her home and then killing them to serve up in her restaurant, whereas in Macabre the explanation of her running a restaurant has been dropped and she now lures people to her house and carves them up for occult rituals that create immortality. Both films feature Shareefa Daanish as Dara and go to extremes in terms of sadism, torture and gore.
As in everything else they do, The Mo Brothers go for broke with an absolute fearlessness. The piece opens with great effect as Mike Muliadro finds himself chained up in a bathtub and Shareefa Daanish pulls the curtain aside to reveal bodies hanging on hooks and that he is standing in a bath of entrails. The scenes where the various guys turn up come with a blackly comic series of errors – Shareefa entertaining them while readying a crossbow beneath the dining table, as all the while Muliardo is forced to break his fingers to get free from his chains. As in Macabre, Shareefa Daanish gives a wonderfully aloof performance, remaining perfectly outfitted and made up in the midst of all the gore around her.
---