---
Crew
Director – Sylvain White, Screenplay – David Birke, Based on a Character Created by Victor Surge, Producers – Bradley J. Fischer, Robyn Meisinger. William Sherak, Sarah Snow & James Vanderbilt, Photography – Luca Del Puppo, Music – Brandon Campbell & Ramin Djawadi, Visual Effects – Digikore VFX, Mels (Supervisor – Jonathan Piche-Delorme), Muse VFX (Supervisor – John Gross), Rhythm & Hues (Supervisor – John Haley), Skulley Effects (Supervisor – Culley Bunker) & Temprimental Filmc, Inc. (Supervisor – Raoul Yorke Bolognini), Special Effects Supervisor – Mike Ricci, Makeup Effects – Morot FX Studio Inc. (Designer – Adrien Morot), Production Design – Jeremy Woodward. Production Company – Mythology Entertainment/Madhouse Entertainment.
Cast
Joey King (Wren), Julia Goldani Telles (Hallie Knudsen), Jaz Sinclair (Chloe), Annalise Basso (Katie Jensen), Alex Fitzalan (Tom), Taylor Richardson (Lizzie Kunudsen), Kevin Chapman (Mr Jensen), Jessica Blank (Hallie's Mother), Michael Reilly Burke (Hallie's Dad)
---
Plot
In the town of Winsford, Massachusetts, four teenage girl friends, Wren, Hallie, Chloe and Katie, hold a slumber party. During the course of this, they dare themselves to look at a website about the urban legend of the Slender Man and then decide to play a video that will summon Slender Man. In the days after this, all of them are spooked and think they are seeing things. Katie then abruptly disappears while on a school trip. The others are certain that Slender Man was responsible and that it is now coming for them. The only hope is trying to find a means to get Katie back or stop Slender Man.
---
Slender Man is the rather fascinating idea of an internet meme that has grown to become an urban legend in the real world. Slender Man was created by Eric Knudsen under the handle of Victor Surge on the Something Awful forum in 2009. It is an example of what is called a creepypasta, a series of horror stories designed to be circulated by copy and paste – in this case, a series of photo montages Knudsen had created of a tall, humanoid figure who menaces children. From there, the idea of Slender Man rapidly spread and has been represented all over the internet in stories or more commonly in art – as I write this, a Google search of Slender Man art returns 54 million hits giving an idea of just how widespread the idea has become.
The urban legend had grim real world consequences in 2015 in Waukesha, Wisconsin where twelve year-old girls Morgan Geyser and Anissa Weier stabbed their friend Peyton Leutner to death claiming to do so on orders from the Slender Man – a documentary was made about this with Beware the Slenderman (2016). There have been other Slender Man films with Always Watching: A Marble Hornets Story (2015) and an episode of Law & Order: Special Victims Unit (1999– ). Surge is credited as an advisor on the film.
The director of Sender Man is Sylvain White who a decade earlier had a minor hit with Stomp the Yard (2007) but has since spent a decade directing no more than music videos and series television. Prior to that, White's only films were throwaway video sequels such as Trois 3: The Escort (2004) and I'll Always Know What You Did Last Summer (2006).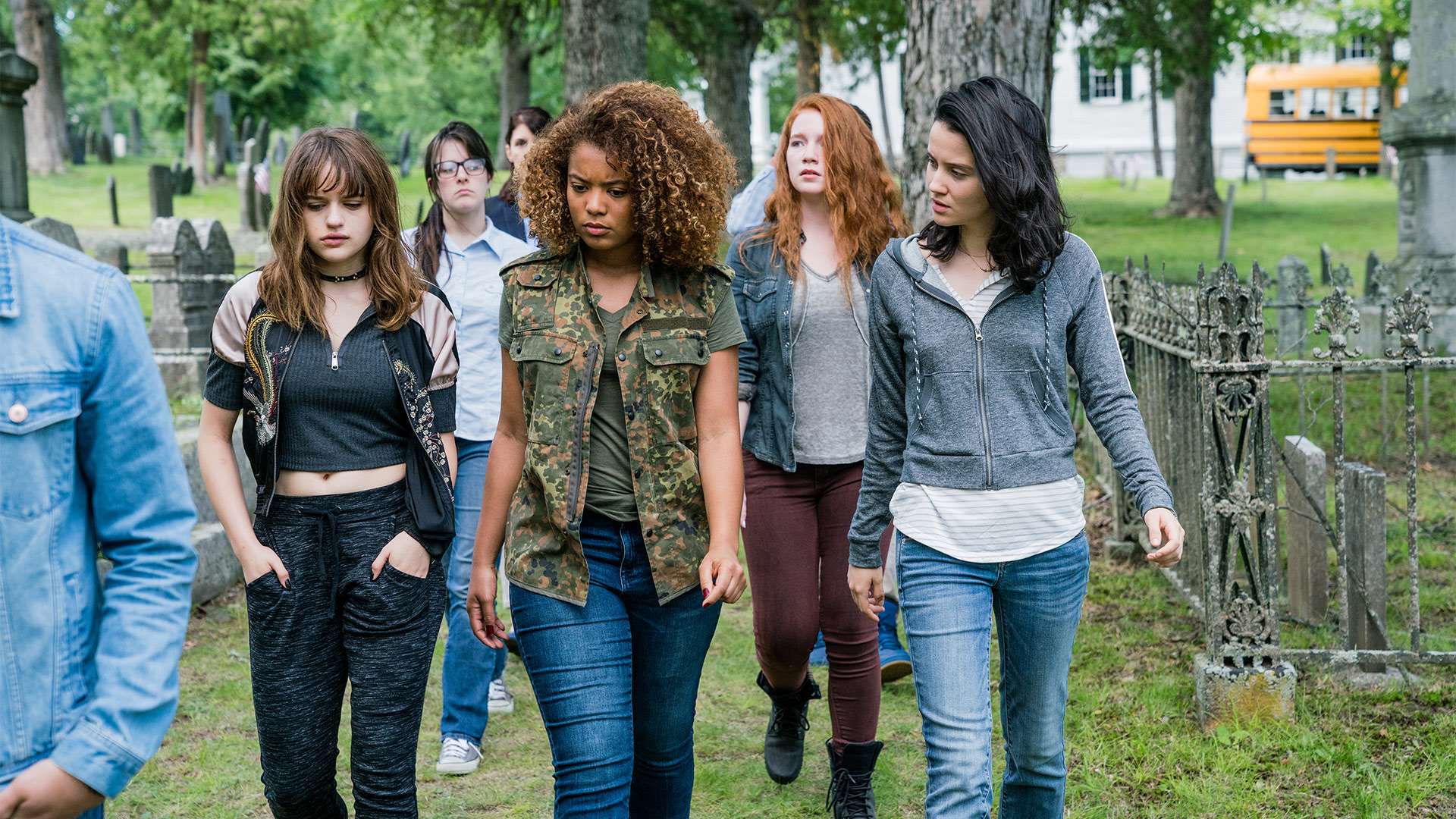 Slender Man was ranking on the Bottom 100 Films at the IMDB when I sat down to watch it. I didn't find the film that bad – in fact, I'd say it was about average of the types of horror films that I watch here on the site. It does however feel in many instances as though Sylvain White is creating a deliberately middle-of-the-road film that is safe and soft-pedalled in order to get a PG-13 rating for release (a kiss of death for a horror film as far as this author is concerned).
Indeed, the first half of the film goes by without Sylvain White doing anything to make you feel in the slightest as though your pulse might move above that of a calm stroll to the bathroom and back. An example of just how much White allows possibilities to slip through his fingers is the scene where the girls conduct the ceremony in the woods and put on blindfolds as they wait for Slender Man to come. The lead-in creates a great sense of dread anticipation about what is going to happen and one where the film finally seems about to come together – only for White to have Jaz Sinclair run away and the other girls follow her before anything happens. It is a scene where Sylvain White too seems to be joining the girls in running away from the potential that the film has to dig in scare.
In the second half, Sylvain White does find his feet and starts to do what he should have been doing all along. There are some effectively uncanny scenes – one where Joey King is at the library and reality starts to blur as the Slender Man appears to her. Another where Julia Goldani Telles receives a live video link and clicks on it to find it is coming from right outside the house and that the camera-holder is approaching the door of her room. (If nothing else, Slender Man is a horror film based around social media where almost all of the horrors come from phones, laptops, web links, text messages from the dead, chats from mystery figures, video feeds and spooky videos playing on websites).
These latter sections slide into a blur of shocks and jumps without any real effect. Eighteen months before Slender Man came out there was the Syfy Channel film Stickman (2017), which essentially steals the Slender Man concept, and is a far more spooky and eerie film that should have enjoyed this film's success.
---
---