---
Crew
Director/Screenplay – Rolfe Kanefsky, Producers – Esther Goodstein, Rolfe Kanefsky, Victor Kanefsky & Frederico Lapenda, Photography – Paul Deng, Music – Christopher Farrell, Visual Effects – Eye Candy (Supervisor – Al Migliocetti), Mask & Makeup Effects – Obscure Artifacts (Supervisor – Jeff Farley). Production Company – Valkhn Films/Paradigm Pictures.
Cast
Tiffany Shepis (Mia), Blythe Metz (Ellen), Hanna Putnam (Trinity), James Ferris (Jack), Luciano Szafir (William), Jack Sway (Ed), Aaron Sherry (Nightmare Man), Richard Moll (Captain McCormack), Robert Donavan (Dr Evans)
---
Plot
Ever since she purchased a hideous African fertility mask in the hopes of sparking up their sex life, Ellen has suffered from nightmares in which she is pursued by a demonic figure wearing the mask,. She calls the figure the Nightmare Man. Her husband William is driving her to a psychiatric institution for assessment when their car runs out of gas along a remote road. William walks to get more gas, leaving Ellen behind in the car, only for her to be attacked by the Nightmare Man. Fleeing through the woods, she comes to the home of Mia who is partying with her boyfriend Ed and another couple. They grant Ellen shelter but when they call William, he tells them that the Nightmare Man is all in Ellen's head. The Nightmare Man then appears and starts slaughtering members of the group. An hysterical and deranged Ellen believes that the figure that inhabits her nightmares has somehow managed to escape into the real world.
---
Nightmare Man is one of the films of Rolfe Kanefsfy. Kanefsky is usually a director of softcore erotica and his output in this field includes several genre-related works with the likes of You Only Live Until You Die (1997), Alien Files (1998), The Erotic Misadventures of the Invisible Man (2003), Jacqueline Hyde (2005), Pretty Cool (2006), Emmanuelle in Wonderland (2012) and Adventures Into the Woods: A Sexy Musical (2015). Outside of this, Kanefsky has also made several regular horror films with There's Nothing Out There (1998), Corpses (2004), The Hazing (2004), The Black Room (2016), Party Bus to Hell (2017), Sunset Society (2018), Art of the Dead (2019) and Pool Boy Nightmare (2020).
Nightmare Man has a set-up that feels as though it could easily have been an episode of one of the Amicus horror anthology of the 1960s/70s – see Dr Terror's House of Horrors (1965), Asylum (1972), Tales from the Crypt (1972) et al – woman gets a cursed African fertility mask and then finds a sinister boogieman figure from her nightmares is coming to life. It does feel like an ungainly premise for a full-length film though. That said, it does have a good many similarities to the forgotten 1980s horror Scared Stiff/The Masterson Curse (1987).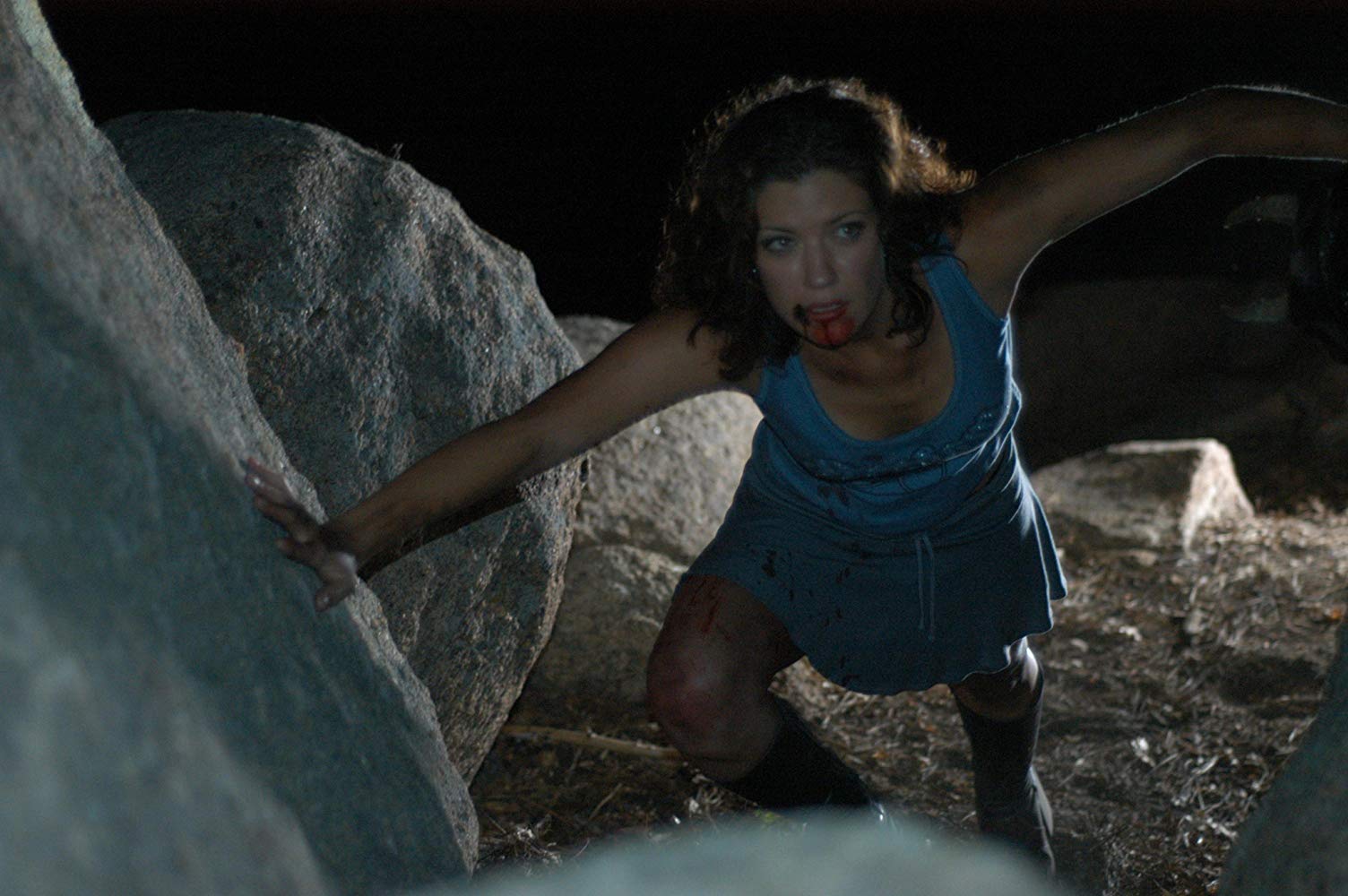 Rolfe Kanefsky directs the sections set in the cabin with occasional effect, vying between Blythe Metz believing the figure from her nightmares has come to life while everybody else wonders if she is delusional, at the same time as the Nightmare Man appears and starts eliminating people. There is the germ of an interesting idea here, although you never feel it gets adequate treatment. The film's budget seems too slender and Kanefsky's directorial set-ups either rushed or too unimaginative to give the film any kind of tension or to play the uncertainty about what is happening with an adeptness. There is a predictable twist revelation about the mundane nature of the Nightmare Man. After that, the film proceeds to get very silly with the emergence of the demon and Blythe Metz levitating in some very cheesy looking makeup.
It is also apparent that Rolfe Kanefsky has not entirely left his career in erotica behind. While Nightmare Man can not be considered an erotic film, he does contrive to get all three of the women in his cast either naked or down to their underwear. Kanefsky's single-track focus sort of becomes obvious whenever the girls begin stripping down – whereupon the camera goes into closeup focus on their chest area. Of the girls, Tiffany Shepis, an actress who has made a career out genre parts in which she plays substantially unclothed, gets into the spirit of the exercise and makes the show her own. At one point, for no real reason other than just because, Kanefsky has Shepis wandering out to confront the creature wearing nothing but her underwear and wielding a crossbow.
---
---