---
Crew
Director – B. Harrison Smith, Screenplay – James Newman & Mark Steensland, Producers – Alexander Bafer & Doug Henderson, Photography – Matt Nease, Music – John Avarese, Makeup Effects – "Monster Mark" Kosobucki & Sota F/X, Inc. (Supervisors – Roy Knyrim & Cindy Miller-Knyrim). Production Company – Brick Top Productions/Everything's Fire/The Special, LLC.
Cast
Davy Raphaely (Jerry Hartford/Evans), David Sheridan (Mike), Sarah French (Lisa Hartford), Doug Henderson (Ivan Marovich), Susan Moses (Madame Zhora/Anya Gribinski), Paul Cottman (Detective Barnes), Wayne Shearer (Mort), Tony Barber (Hotel Manager), Sheri Fairchild (Cleaning Woman), Janae Palmer (Syn)
---
Plot
In York, Pennsylvania, Jerry Hartford is upset after learning that his wife Lisa cheated on him. To cheer Jerry up, his friend Mike takes him to a secret location, a whorehouse run by the fortune-teller Madame Zhora where he asks her to introduce Jerry to The Special. Jerry is led into a room where The Special turns out to be a box with a hole for him to stick his penis into. Jerry does so and has the best sex of his life. He becomes obsessed with The Special and returns, killing Madame Zhora and taking the box. He signs into a fleapit hotel where he spends all his time satisfying himself with the box. This causes a rash to grow all over Jerry's body, while he kills those who threaten his obsession.
---
The Special was the fifth film as director for B. Harrison Smith. Smith had previously directed Camp Dread (2014), Zombie Killers: Elephant's Graveyard (2015), Death House (2017) and the non-genre comedy Garlic & Gunpowder (2017) and subsequently went on to make Where the Scary Things Are (2022), as well as written the interesting The Fields (2011) and the incoherent 6 Degrees of Hell (2012).
The Special comes with a premise that catches your interest – guy discovers forbidden pleasures and becomes addicted to them. The concept of 'forbidden pleasures' is one that has a certain hook in genre cinema. (See Sexual Fetishism in Fantastic Cinema). It was memorably used by Clive Barker in Hellraiser (1987), although watered down in the endless line of sequels. There was also the Alraune segment of German Angst (2015) where a patron discovers forbidden pleasures at a nightclub. The scenes of Davy Raphaely sticking his dick into a black box reminded me of the scenes where Sean McGrath gets sexual relief from a hole in the wall in Deep Dark (2015), although if anything the sinister black box reminded more of the gom jabbar scenes in Dune (1984) and Dune (2000).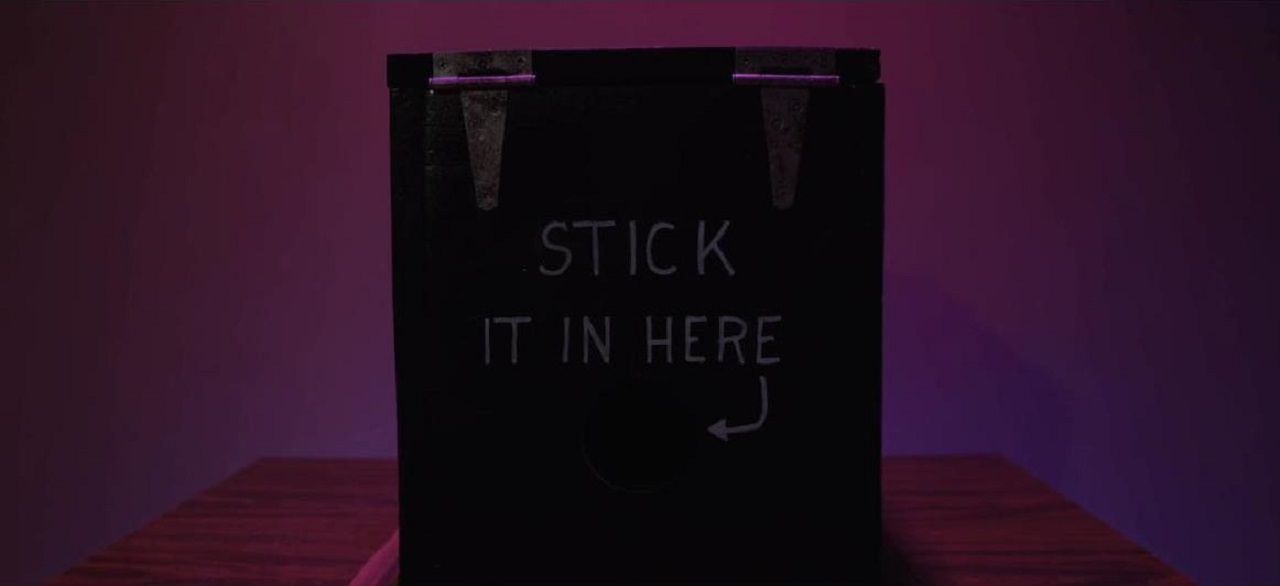 The main problem I had with The Special is that it delves into sexual fetish and addiction but the film itself never finds a particularly dark or obsessive headspace. Contrast this to Bliss (2019), which came out eighteen months before this, and dove into addiction and the central character's disturbed mindspace with a fearless abandon. By contrast, the scenes here with Davy Raphaely sticking his dick into a black wooden box in an anonymous room seem tame and lacking in any obsessiveness. It is a film where you feel like it would have worked a whole lot better if B. Harrison Smith had not opted for standard room lighting and reduced levels by 50%. Moreover, Davy Raphaely seems more like the actor you'd cast as a bully or a private school snob rather than an average guy caught in the grip of addiction.
The direction and murders feel bland and middle of the road. It is entirely possible that the filmmakers have never visited a fleapit hotel in their lives – I know, I used to manage one. The one here looks too clean. (Moreover, if as the manager says, the clientele are meth heads then you wouldn't place flat screen tv's in the rooms, it'd be the first thing the meth heads would flog off so they can buy more drugs). Smith uses drone photography as though he has just discovered the technique for the first time – there is zero reason why we need aerial shots every time the protagonist drives through the city. There's a moderately gooey meltdown at the end that leads to a clever explanation of what the creature is but that is about it.
---
Trailer here
---