---
Crew
Producer – Michael Kosakowski, Photography – Sven Jakob-Engelmann, Music – Musica Pesante, Theme and Additional Music – Schlafes Bruder, Visual Effects Supervisor – Holger Hummel, Visual Effects – Celluloid Visual Effects, Production Design – Jörg Möhring. Production Company – Kosakowski Films/La Polaca Productions/Celluloid VFX/Postperfect Vision & Sound.
Final Girl
Crew
Director/Screenplay – Jörg Buttgereit, Makeup Effects – Inga Ross.
Cast
Lola Gave (Girl), Axel Holst (Father)
Make a Wish
Crew
Director/Story – Michael Kosakowski, Screenplay – Goram Mimica, Makeup Effects – Michal Kacprzycki, Olivia Müller & Frank Schroter.
Cast
Andreas Pape (Jens), Matthan Harris (Jacek), Annika Straus (Kasia), Denis Lyons (Darren), Martina Schone-Radunski (Hilda), Daniel Faust (Gottfried), Lucy Lane (Ewa)
Alraune
Crew
Director/Screenplay – Andreas Marschall, Makeup Effects – Janine Kusche & Frank Schroter.
Cast
Milton Welsh (Eden), Kristina Kostiv (Kira), Desiree Giorgetti (Maya), Rudiger Kuhlbrodt (Petrus)
---
Plot
Final Girl;- A young girl has her father tied up a prisoner in his room where she proceeds to castrate and then kill him. Make a Wish:- Jens and Kasia, a deafmute Polish couple in Germany, explore an abandoned building. He tells her the story of a talisman he holds that was used in World War II when the Nazis invaded a Polish village. When the talisman is turned upside down, it causes the torturer and tortured to swap bodies. It was thus that one of the villagers was able to inhabit the SS officer's body and slaughter the rest of the Nazi troupe. The two of them now encounter local thugs who torment them because they cannot speak. Kasia uses the talisman to cause Jacek and the group's leader Jens to swap bodies. Alraune:- After breaking up with his girlfriend, the photographer Eden encounters Kira online. She draws him to a secret fetish club. Inside, Eden is blindfolded and experiences pleasures unlike he ever has before. Kira warns him away and then kills herself. In being drawn back to the club, Eden realises he is dealing with something not human.
---
The 2010s have seen a renewed return of the horror anthology. The horror anthology was at its heyday during the 1960s/early 70s in particular from Amicus films beginning with Dr Terror's House of Horrors (1965). The genre has made a comeback in the last few years with a series of horror anthologies in which each episode is made by a director of some genre association. See the likes of Chillerama (2011), The Theatre Bizarre (2011), The ABCs of Death (2012) and sequel, V/H/S (2012) and sequels, Southbound (2015), Tales of Halloween (2015), Holidays (2016), XX (2017), The Field Guide to Evil (2018), Nightmare Cinema (2018) and Isolation (2021). (For a more detailed listing see Anthology Films).
German Angst is another of these multi-director horror anthologies. Its major shortfall is that it lacks much in the way of name directors to call upon. (Clearly other German directors who have regularly made horror films were either unavailable or unwilling to work on what is clearly an economy budget the various segments are afforded). Michael Kosakowski who produces the film has not directed a full-length film before (although has made many shorts). Andreas Marschall has made a couple of horror films I have never heard of. And that leaves only the film's major showcase name of Jörg Buttgereit.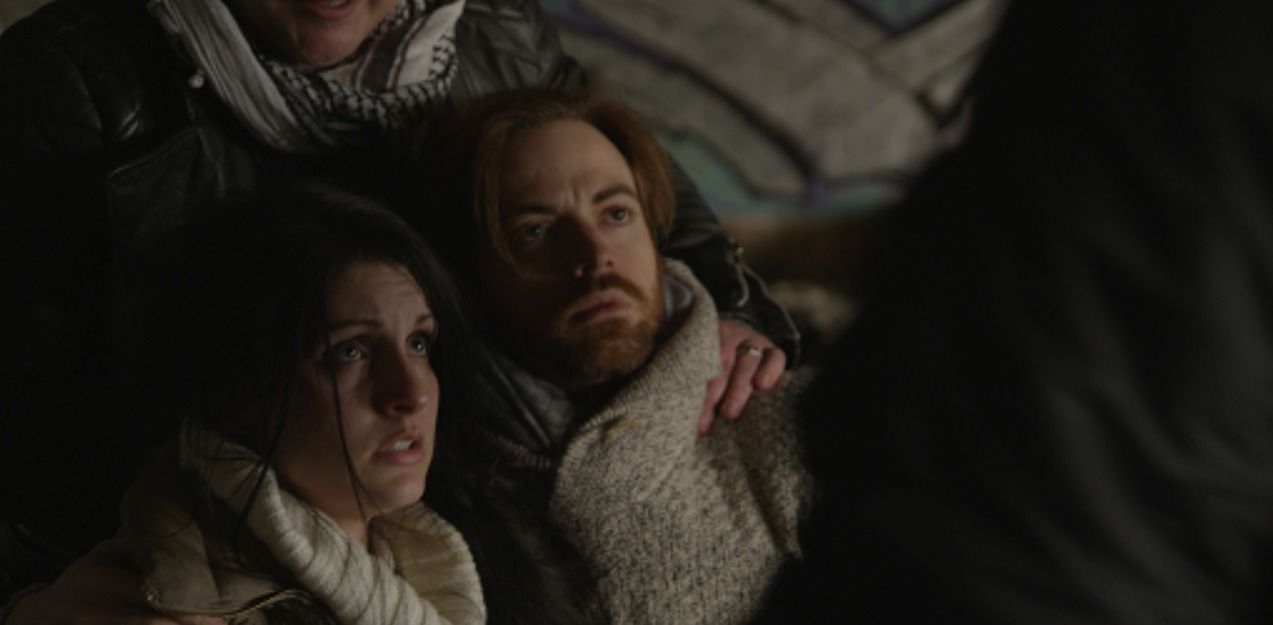 Jörg Buttgereit became a cult figure for his uncompromising films. He initially created an outrage with NEKRomantik (1987) and its sequel NEKRomantik 2 (1991), which featured no holds barred scenes of people having sex with corpses. Buttgereit has since made a number of other films, including Der Todesking (The Death King) (1990), an anthology of short pieces about death and suicide; Captain Berlin vs Hitler (2009); Schramm (1993) about the life of a serial killer, as well as Monsterland (2009), a documentary about genre cinema.
Buttgereit's segment Final Girl – not to be confused with the witty slasher parody/deconstruction Final Girl (2015) or the revenge film The Final Girls (2015) that were both released the same year as this – opens the film. Final Girl is the shortest of the episodes but it is not long before Buttgereit has us squirming. The segment starts as Lola Gave nonchalantly gets up and goes about her day, eating breakfast, before she enters the bedroom and there is a bound man on the bed. Buttgereit jolts us out of our comfort as she then proceeds to castrate the man. (To add further to the taboo-defying, the end credit tell us that the girl and the man she has imprisoned are father and daughter, although this is not spelt out in the actual episode). On the other hand, you do feel that Buttgereit in his heyday would have gone all the way, whereas here he seems to be holding his punches and not showing any actual castration. Later the girl slits the man's throat. However, as the end of the episode shows, this may well be an All a Dream Ending as she heads off down the path and the still-alive man looks on from out the window.
The second episode Make a Wish comes from Michael Kosakowski who also produces the show. (Incidentally, for a film where the selling point is that it is telling German horror tales, Kosakowski is actually Polish). Kosakowski's only prior film as director was the documentary Zero Killed (2012) in which people describe murder fantasies and they are then acted out. After Buttgereit's Final Girl, this seems a tamer episode that is given a far longer runtime than it needs. The bodyswap amulet is a gimmick that turns the episode into a heavy-handed diatribe about prejudice. Kosakowski gets some effect out of the scenes of the two deafmutes being persecuted but the most brutal scenes are the flashbacks to the Wartime occupation of Poland with the Nazis attacking a village in which we see a baby being bashed to death on a chopping block, a woman raped and a grandmother having her head battered in with a shovel.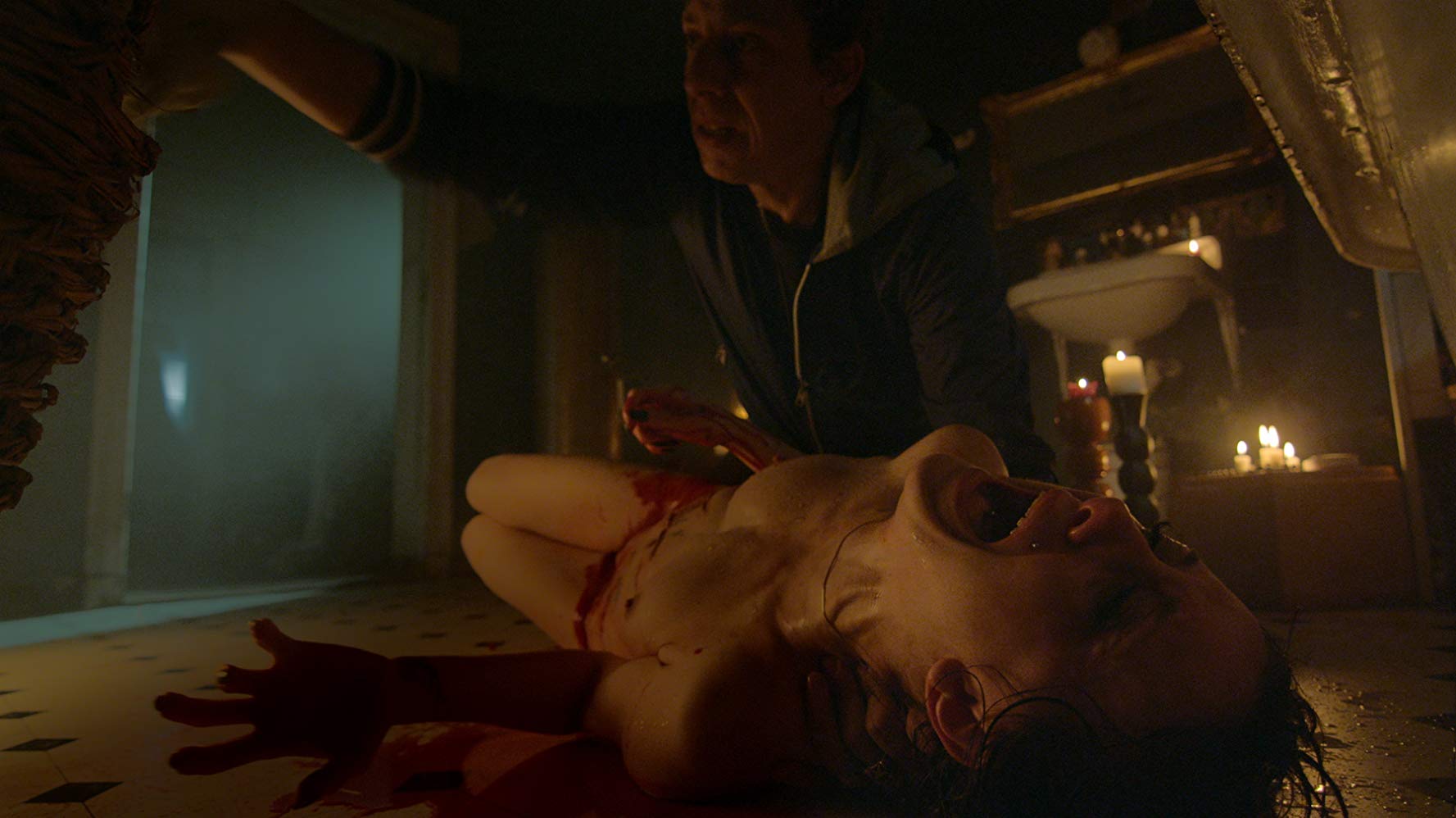 The final segment Alraune comes from Andreas Marschall who has made some 40 short films since the 1990s but only two feature films with Tears of Kali (2004) and Masks (2011). Incidentally, Alraune is the only episode in the film that is shot in English rather than in German. It is also the longest of the episodes. For some reason, Marschall pays homage to classic German Expressionist cinema – taking its title from the novel Alraune (1911) and its various film versions Alraune (1928), Alraune/Daughter of Evil (1930) and Unnatural (1952), while reference is also made to a Mabuse Club, named after Fritz Lang's famous super-villain in Dr Mabuse, The Gambler (1922) – even if the episode's visual look and themes are a far cry from anything that even remotely resembles German Expressionism.
The set-up of the regular guy drawn into the forbidden club is the only one of the episodes that feels like a proper anthology story – Final Girl has no real story, while Make a Wish feels more like fantasy than a horror story. It proves moderately absorbing as Milton Welsh ventures into the realm of forbidden desires and the episode ends on a decided Lovecraftian note. There is the feel in each of the stories that the director had to insert some way out shock effect to sell the story – the one effect we get here is the nastiness of the scene where Milton Welsh comes across Kristina Kostiv in the bath where she bites into her wineglass and then shoves the broken glass into her vagina and then swallows a shard and we see it come out her throat as she expires.
---
---