---
Crew
Director/Screenplay – B. Harrison Smith, Producers – Brian Gallagher & B. Harrison Smith, Photography – Charlie Anderson, Music – John Avarese, Visual Effects Supervisor – Chuck J. Stone, Makeup Effects – Cleve Hall. Production Company – Class of 85 LLC.
Cast
Eric Roberts (Julian Barratt), Felissa Rose (Rachel Steel), Joe Raffa (Christian Novak), Nicole Cinaglia (Adrienne Forez), Alexander Mandell (Matty Johnson), Davy Raphael (Vinny Santone), Gnomi Gre (Missy Childs), Ashley Summer (Sarah Viernay), Montana Marks (Katie McFarlane), Angel Valerio (Calvin Thompson), Kyle Patrick Brennan (Jerry), Danielle Harris (Donlyn), Angel Sanchez (Ming), Susan Moses (Myrna)
---
Plot
Julian Barratt, a filmmaker who had a string of successes in the 1980s with the 'Summer Camp' slasher films, is attempting to make a comeback. He brings a group of eight youths with troubled histories together at the summer camp location he used for his films. The place is wired with cameras and they are told that this is going to be a reality tv show about their rehabilitation and that the winner will receive a million dollars. Rachel Steel, the star of the 'Summer Camp' films, is now a counsellor and has been brought in to work with the kids. As the show gets underway, it appears that someone is killing people. However, the group are not sure if it is for real, if it is one of the more disturbed members of their number determined to win the prize, or is something being staged as part of the tv show.
---
Camp Dread was the directorial debut of B. Harrison Smith who was previously listed as "Head of Independent Genre Development for Carolco Pictures". During this time, Smith produced and wrote two minor horror films with the interesting The Fields (2011) and the terrible Halloween horror 6 Degrees of Hell (2012), which was directed by this film's co-star and editor Joe Raffa (he plays the deranged Novak who keeps being accused of being gay). Smith next went onto direct/write Zombie Killers: Elephant's Graveyard (2015), Death House (2017), The Special (2020) and Where the Scary Things Are (2022).
Camp Dread has been envisioned as a modern slasher film. This means that it comes steeped in modern homage, particularly when it comes to the casting. There is the presence of Danielle Harris, who has become regarded as a modern-day slasher heroine ever since appearing as Jamie-Lee Curtis's daughter in Halloween IV: The Curse of Michael Myers (1988) and Halloween 5 (1989), while as an grown-up has played regular roles in Rob Zombie's Halloween (2007) and Halloween II (2009) and became the lead in Hatchet II (2010) and Hatchet III (2013), along with appearing in a host of other horror films. She is second-billed despite being in only two scenes, both of which come with irony-conscious lines about how she "doesn't watch horror films". In addition, there is Felissa Rose, who also gets a producer credit on the film. Rose gained a certain fame after appearing as the gender-confused Angela in the slasher film Sleepaway Camp (1983). Since the 2000s, Rose appears to have discovered the convention circuit and has made appearances in some forty plus other horror films.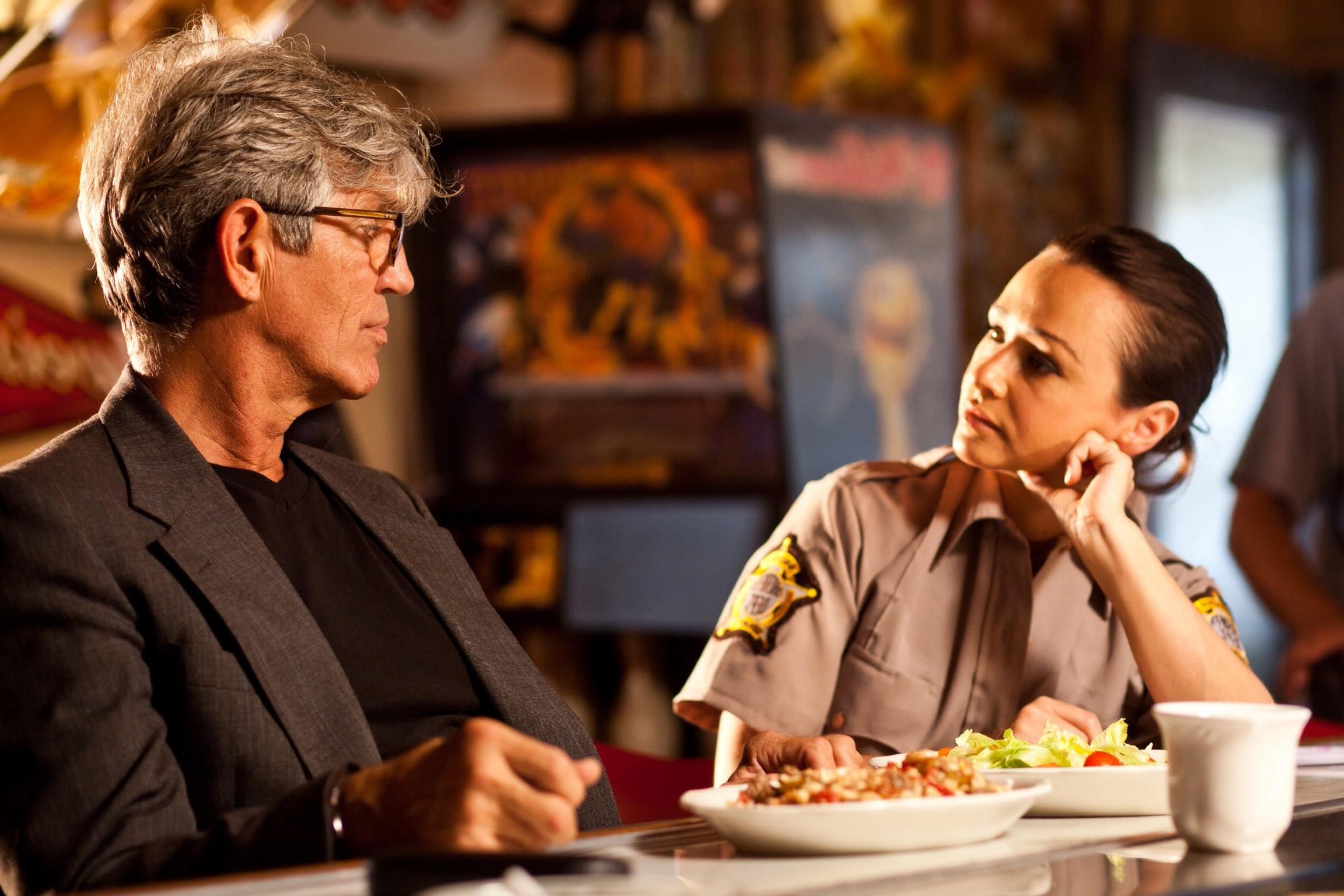 B. Harrison Smith is clearly a fan of genre cinema and Camp Dread has been produced with a love of 1980s slasher films in mind. The film sets up the archetypal summer camp setting, an array of victims and a series of moderately gory deaths for them. Smith never does anything particularly genre-bending with this, nothing to subvert or twist the cliches on their head. He delivers some okay despatches, although nothing that leaves you jumping out of your seat. The one area he does surprisingly well is giving the various teen victims well rounded characters – there is a quite well done a campfire scene where they sit around and all their various problems come to the fore at the same time as tensions play out. For a time, this seemed for be taking the film in a different direction, although the disappointment is that Smith never goes any further than that.
About the only major twist we get is that the slasher film has been conflated with the reality tv horror film. Alas, the reality tv horror is nothing particularly new and has been done by a number of other films over the last few years – see the likes of Slashers (2001), Halloween: Resurrection (2002), Hell Asylum (2002), My Little Eye (2002), Reality Check (2002), Cruel World (2005), Survive This (2005), Are You Scared? (2006), Wrong Turn 2: Dead End (2007) and Elimination (2010).
The main problem here is that B. Harrison Smith does a none particularly enervated job of rehashing the reality tv horror theme. The film seems vague about the explanations of what the group are doing there. They are told it has something to do with their going through a rehabilitation program – none of them seem to question the fact that a has-been slasher movie producer is allowed to produce the show and is doing so with no camera people or production crew present. Nor even for that matter does anybody raise any eyebrows when, as part of the rehabilitation program, Eric Roberts casually mentions that there might also be a killer running around pretending to eliminate people. The film sort of wavers as to whether the killings are real or staged but never seems particularly interested in any of the interplay between the two – you keep feeling that there is enormous potential to the idea of a horror movie producer making a reality tv program and seeming intent on turning it into one of his slasher movies. The final revelation of what is going on seems an improbably contrived one, at which point the film's credibility falls apart altogether.
---
---