aka Dead Kids
---
Australia/USA/New Zealand. 1981.
Crew
Director – Michael Laughlin, Screenplay – Michael Laughlin & Bill Condon, Producers – John Barnett & Antony I. Ginnane, Photography – Louis Horvath, Music – Tangerine Dream, Special Effects – Kevin Chisnall, Makeup Effects – Craig Reardon, Production Design – Susanna Moore. Production Company – Hemdale/Fay Richwhite/South Street Films.
Cast
Michael Murphy (John Brady), Dan Shor (Pete Brady), Fiona Lewis (Gwen Parkinson), Louise Fletcher (Barbara Moorhead), Dey Young (Caroline), Arthur Dignam (Le Sange), Marc McClure (Oliver Myerhoff), Beryl Te Wiata (Mrs Haskell)
---
Plot
John Brady, sheriff of the small town of Galseburg, investigates a series of incidents where teenagers have gone berserk and started killing people. At the same time, Brady's son Pete tries to earn money for university tuition by volunteering for a series of experiments being run by Dr Gwen Parkinson at the university psychology department. Brady believes that the source of the amok teenagers is the same psychology lab and that behind them is the late Dr Le Sange, who ran a series of unethical experiments in mind control and was responsible for the death of Brady's wife. As Brady investigates, it appears that Le Sange may not be dead.
---
When this film came out in 1981, Strange Behavior/Dead Kids was called a parody of mad scientist films. That is not quite what it is. Strange Behavior is more of a straight horror film using standard mad scientist themes that frequently comes with tongue planted in cheek – it never parodies its mad scientist elements and for the most part takes itself seriously. Certainly, Strange Behavior is nothing at all like the full-blooded tongue-in-cheek treatment of mad scientist cliches that came several years later in films like Re-Animator (1985).
Strange Behavior looks more low budgeted than it is – the entire production shifted to New Zealand when the filmmakers could not find enough authentic-looking American smalltown locations. (It should be added that New Zealand makes for a surprisingly convincing American small town too). Michael Laughlin's direction seems flat and uninvolved, the photography dull. This is something even further emphasised by the video transfer, (viewed here) which apparently has never heard of pan-and-scan, the transfer camera having been placed flat in the middle of the frame irrespective of whereabouts the characters are located. The plot is standard stuff and does misuse psychological terms such as operant conditioning and behavioural modification.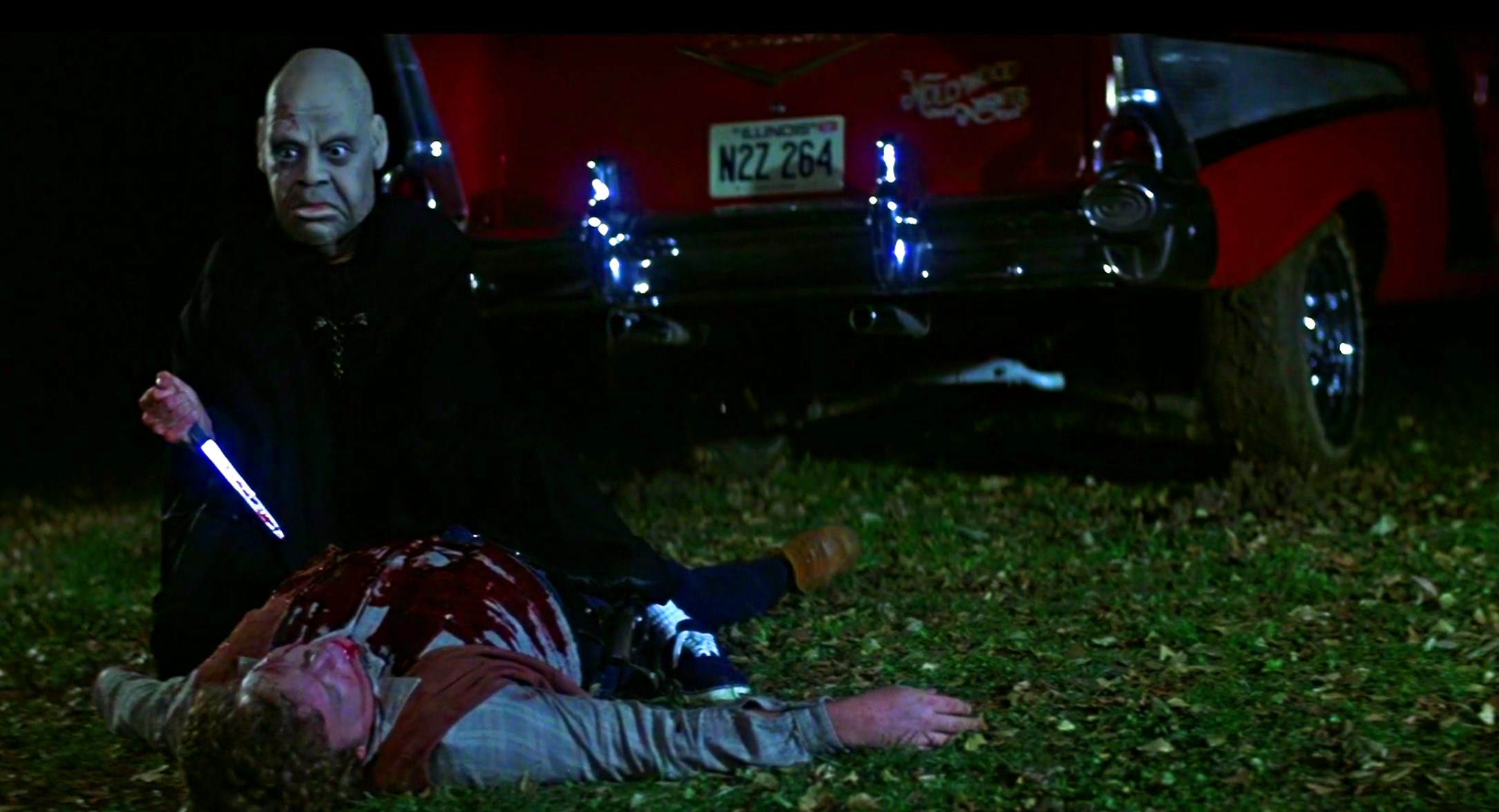 Despite this, the film comes to life in a number of its shock moments – like the eerie scene where scientist Arthur Dignam hypnotises a chicken and or where the killer at a party removes his mask to reveal the innocent-seeming face of Marc McClure. Fiona Lewis has a ball in her part – there is one wonderfully icchh moment where she jabs a syringe with an eight-inch needle into Dan Shor's eyeball. There is an atmospheric score from Tangerine Dream.
Director Michael Laughlin next went on to conduct a similar treatment of the alien invader genre with Strange Invaders (1983) and returned to New Zealand to make the Victorian Gothic drama Mesmerized (1986), his last film to date. Screenwriter Bill Condon debuted as director with the Southern Gothic Sister Sister (1987) and went on to make Candyman: Farewell to the Flesh (1995). These days Condon is known for critically acclaimed films like Gods and Monsters (1998), Kinsey (2004), Dreamgirls (2006) and Mr. Holmes (2015), as well as to return to genre material with Breaking Dawn Part 1 (2011) and Breaking Dawn Part Two (2012), as well as the live-action remake of Beauty and the Beast (2017).
Strange Behavior was the first horror film made in New Zealand – interestingly enough, New Zealand's second horror film, David Blyth's Death Warmed Up (1984), used virtually the same plot.
---
Trailer here
---