---
USA. 2005.
Crew
Director/Screenplay – David Lee Fisher, Based on the Film The Cabinet of Dr Caligari Written by Hans Janowitz & Carl Mayer, Producers – Paula Elins & Leonard C. McLeod, Photography (b&w) – Christopher Duddy, Music – Eban Schletter, Visual Effects Supervisor – Josiah Holmes Howison, Production Design – Kim Richey. Production Company – Highlander Films.
Cast
Judson Pearce Morgan (Francis Geist), Daamen J. Krall (Dr. Daamen Caligari), Doug Jones (Cesare), Lauren Birkell (Jane Stern), Neil Hopkins (Alan), Time Winters (Dr Gabriel Stern), Randy Mulkey (Inspector), Richard Herd (Commissioner Hans Raab), John Bigham (Asylum Doctor), Scott Lincoln (Criminal), Tim Russ (Queeg), William Gregory Lee (Joseph Stern)
---
Plot
In the German town of Holwenstall, Francis Geist is persuaded to visit the fair by his best friend, the poet Alan. They are intrigued by the strange showman Dr. Caligari. Caligari keeps Cesare the Somnambulist in a cabinet where he has slept for years but can be woken under Caligari's hypnotic command. Dr. Caligari also states that Cesare can predict the future. During the show, Alan asks how long he has to live, to which Cesare replies "until tomorrow's dawn." That night, Alan is killed in his sleep. Francis is certain that Dr. Caligari is responsible for this and other killings around town. He tries to convince the authorities but they arrest another man as the killer. Francis determines to prove Dr. Caligari's guilt as Caligari sends Cesare out to kill Francis's beloved Jane.
---
The German classic The Cabinet of Dr Caligari (1919) is one of the most astonishing films of the silent era. It is one of the few films that can be said to have created its own style – the entire film is set in a world of distorted sets and exaggerated lighting schemes, something that came to be known as German Expressionism. The Cabinet of Dr Caligari was also the first film that took cinema away from objective documentarism – ie. the pretence that what was taking place on screen was a record of the real world – and made what was happening a subjective experience (confirmed by the classic end revelation that everything was taking place in the mind of a madman).
The Cabinet of Dr Caligari's style has been borrowed and homaged countless times. There have been a couple of stabs at loosely remaking it with the Robert Bloch scripted The Cabinet of Caligari (1962), an imprisonment psycho-thriller that has little to do with the original; Dr. Caligari (1989) from Stephen Sayadian, which has nominal similarities and a surrealist style; the surrealist The Cabinet of Dr Ramirez (1991), which used a similar style in a different plot; and the short film Dead By Dawn (2004).
This low-budget, independently made feature from David Lee Fisher was the most direct of the remakes in that it closely follows the original almost scene for scene. Fisher shot the entire film on green screen and optically inserted the backgrounds afterwards, sometimes even copying scenery directly from the original film.
Perhaps the closest the result comes in its approach is to Psycho (1998) in which Gus Van Sant bizarrely remade Alfred Hitchcock's film shot for shot. David Lee Fisher never quite remakes the original shot for shot but does suborn the mood of the original and follows the plot very closely – the only major difference between the two is the substitution of intertitle cards with spoken dialogue, as well as a musical soundtrack. Of course, something different has happened between 1919 and 2005. One of these is that the surrealist film has become its own arthouse niche. Now The Cabinet of Dr. Caligari is less its own groundbreaking work than something feels like it has borrowed the surrealist look and disquiet of early David Lynch works such as Eraserhead (1977) or the Brothers Quay.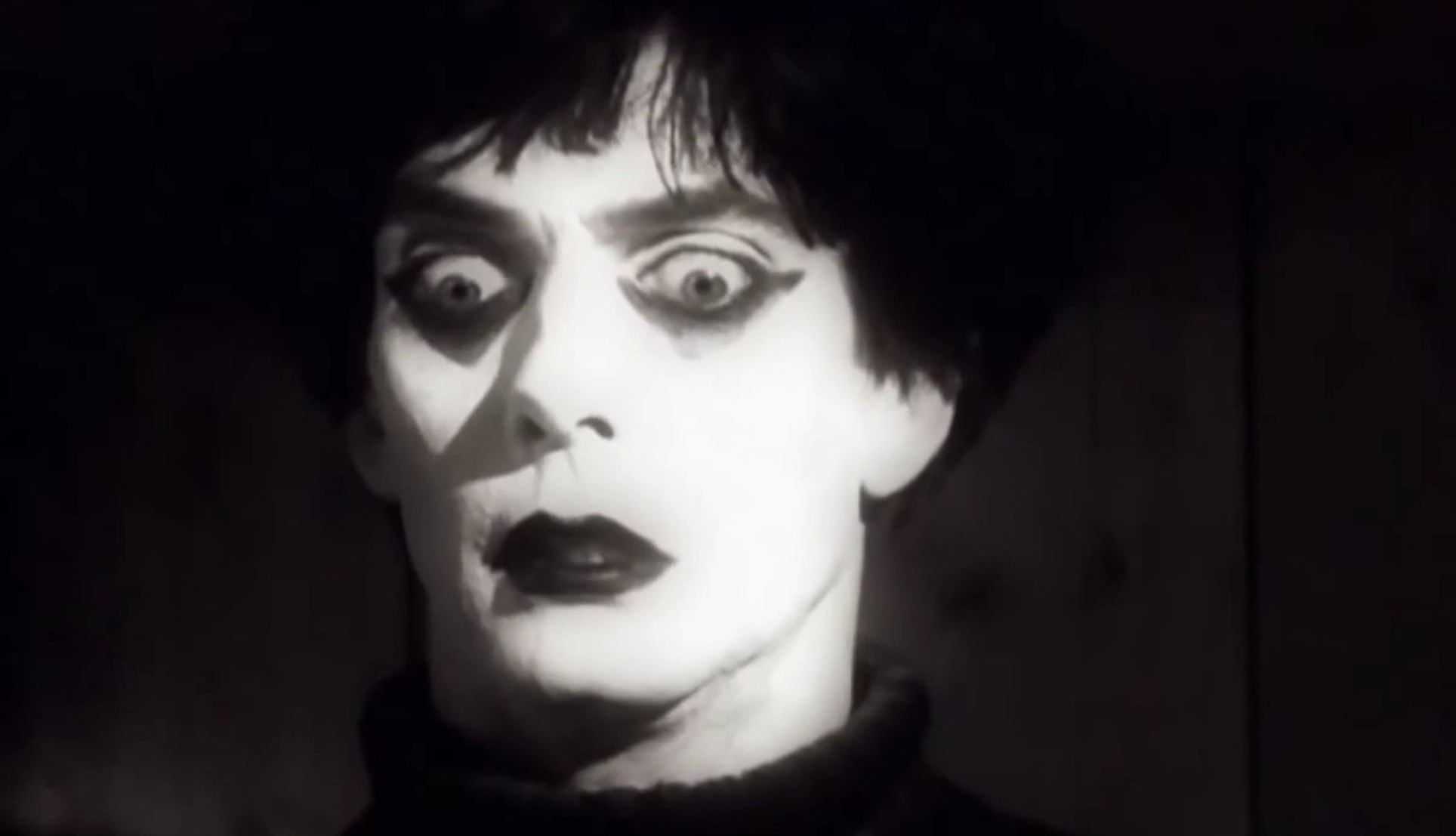 The ultimate failing of The Cabinet of Dr. Caligari 2005 is that David Lee Fisher is too schematic in what he does. He seeks to dutifully replicate the original film rather than go out on a limb and create something that has an original and unique look. As such, his The Cabinet of Dr. Caligari is at best an imitator rather than a leading edge avant garde work.
For all its replication of the German Expressionist sets of the original, The Cabinet of Dr. Caligari is otherwise ordinary in its happenings – David Lee Fisher even goes so far as to offer up flashback scenes briefly showing when Caligari first met Cesare and started his experiments, which is surely another example of the modern obsession with over-explanation and adding motivational backstory. In fact, what we have now feels more like a work of film noir with artistic pretensions than it does a surrealist horror film. Nevertheless, some scenes such as Cesare's answer to Alan "Until tomorrow's dawn," still hold a chill. David Lee Fisher does also get one fine piece of silent movie direction – the scene where the criminal sneaks up and attacks a girl, which is conducted as a wordless mime.
David Lee Fisher has yet to make another film. Most of the members of the cast are unknowns, although there are a couple of interesting names among them. One of these is Doug Jones, who plays the role of Cesare. Jones has just appeared as Abe Sapien in Hellboy (2004) and would gain a name for his mime work the following year with his role as the creature in Guillermo Del Toro's Pan's Labyrinth (2006), the Silver Surfer in Fantastic Four: Rise of the Silver Surfer (2007), the creature in The Shape of Water (2017), plus Saru in tv's Star Trek: Discovery (2017– ). The other name of interest is that of Tim Russ, best known as the Vulcan Tuvok in tv's Star Trek: Voyager (1995-2001) who plays the role of aging town clerk who is the first to be murdered.
---
---