aka The Blood of Dr Jekyll; Bloodbath of Dr Jekyll; Dr Jekyll's Women; The Strange Case of Dr Jekyll and Miss Osbourne
(Docteur Jekyll et les Femmes)
---
Crew
Director/Screenplay/Set Design – Walerian Borowczyk, Based on the Novel The Strange Case of Dr Jekyll and Mr Hyde by Robert Louis Stevenson, Producers – Robert Kuperberg & Jean-Pierre Labrande, Music – Bernard Parmegiani, Special Effects – Crescendo Productions. Production Company – Whodunit Productions/Allegro Productions Inc/Multimedia.
Cast
Udo Kier (Dr Henry Jekyll), Marina Pierro (Fanny Osbourne), Patrick Magee (General William Danvers Carew), Gerald Zalcberg (Edward Hyde), Howard Vernon (Dr Lanyon), Clement Harari (Reverend Guest)
---
Plot
Dr Henry Jekyll holds a dinner party to announce his engagement to Fanny Osbourne. Dr Jekyll has been spending much time involved in medical research and has published a book voicing his views on transcendental medicine. As the guests dine and settle in for the night, a fiend appears to have entered the house and is ravaging the women and men, killing others. Fanny sneaks into Jekyll's laboratory to observe him bathing in a bath of chemicals. These cause him to transform into an entirely different person. This person he calls Edward Hyde and is the bestial side of human nature that the chemicals have allowed to emerge and run free without restraint.
---
Walerian Borowczyk (1923-2006) was a cult director. The Polish-born Borowczyk started out as a painter, settling in France in the 1950s where he began to branch out making a series of stop-motion animated short films. It is however with his works of lush, dreamy artistic erotica that Borowczyk gained a name and appreciative audience. These include films like Goto, Island of Love (1968), Immoral Tales (1974), The Beast (1975), A Story of Sin (1975) and Behind Convent Walls (1977). Dr Jekyll and His Women (known under a variety of different names in English-language) was one of Borowczyk's last films. He would go onto make three other works after this before his death in 2006, including Emmanuelle V (1987), which he disowned. The other two films, The Art of Love (1983) and Love Rites/Queen of the Night (1987) are less well considered and Dr Jekyll and His Women should be regarded as the last film where Borowczyk still had his old magic.
The film is an adaptation of Robert Louis Stevenson's The Strange Case of Dr Jekyll and Mr Hyde (1886). The Stevenson book has been filmed multiple times – indeed, is one of the most adapted film works of all time. (A full listing of the other Dr Jekyll and Mr Hyde films is at the bottom of the page). There have been other erotic versions of the story with the likes of The Naughty Dr. Jekyll (1973), The Erotic Dr Jekyll (1976), Jekyll and Hyde (2000), Dr. Jekyll & Mistress Hyde (2003) and Jacqueline Hyde (2005) so this is nothing new. It is however a mistake to regard Dr Jekyll and His Women as an erotic telling; it should be considered more of a serious telling with occasional adult elements.
Borowczyk certainly takes his Robert Louis Stevenson with liberal regard and offers up one of the most variant tellings of the story. Perhaps the biggest change is that Dr Jekyll and Mr Hyde are played by two different actors. This is a new idea in cinema unless one wants to count the role being split between a man and a woman in Dr Jekyll and Sister Hyde (1971). (Actors usually like to get their teeth into the part because the delineation of the two roles offers a considerable acting challenge). In this case, the role of Dr Jekyll is played by an impossibly youthful and handsome Udo Kier (back in the heyday of the far-out Euro roles that gave him his cult name), while the role of Mr Hyde has been inherited by the unknown Dutch actor Gerald Zalcberg who has clearly been chosen because of his serial killer features.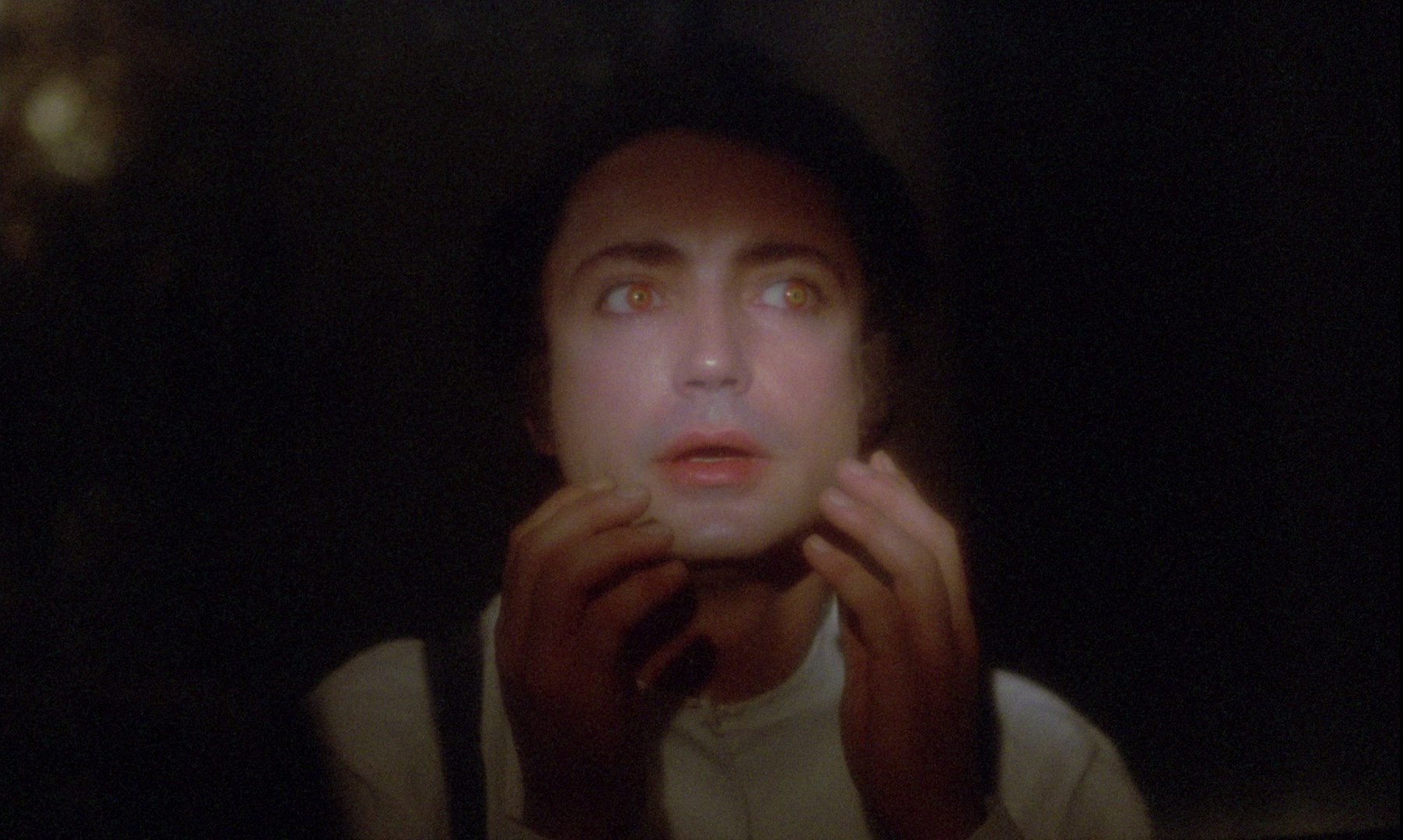 Borowzyk's other innovations include having Dr Jekyll enter a bath rather than drink a potion, which at least treats the transformation in a different way – although I am not sure if it is anything that necessarily adds or subtracts from any of the classic versions. The entirety of the Stevenson story has been stripped and condensed to take place in a single evening around the setting of a dinner party held by Dr Jekyll. Multiple transformations occur throughout the evening and the plot is akin to an Agatha Christie murder mystery where the guests are trying to deal with a mystery figure popping up to kill them. The other major change is the ending where Jekyll's fiancee Fanny Osbourne (a new character named after the married woman who became the love of Robert Louis Stevenson's life and he later married) who gets in the bath and transforms too. This gives a new quasi-feminist spin to the film, in essence giving equal time to the woman and her dark side. This leads to an openly anarchist ending where Borowczyk has them defying the cloying social conditions of Victorian England, burning his house to the ground (amid pointed shots of their engagement notice going up in flame) as they depart in a hansom cab while having sex.
As always, one of the virtues of a Walerian Borowczyk film is the lushness of the production design and set dressings. He incarnates Victorian England in the way that no other adapter of Dr Jekyll has ever done – not an old house filled with cliched deep wood and high ceilinged dining halls and studies but a cramped world of linoleum and glass porticoed doors, a look that is less a production designer showing off than a world that seems slightly shabby and lived in. Borowczyk loves antique bric-a-brac. He takes great delight in focusing in closeup on the old-fashioned toiletries, the equipment in the laboratory, the archaic print of Jekyll's pamphlet, the guests signing the register as they arrive. He even delights in shots of General Carew's daughter caressing the quasi-phallic shape of a gramophone horn, before being bent over it to be ravaged by Hyde.
The main problem with the film is that one is watching an incomplete version of it. The only version of it that I was able to download is an obscure English-language dub that comes with Dutch subtitles. The film was cut of some purported 26 minutes for British release. This version is more complete than that, although still reigns in 87 minutes and would appear to be missing at least five minutes of the original 92-minute running time. It is not certain what is missing from this, although one scene that does not appear is Mr Hyde's sexual assault of the male guest. An encounter between Udo Kier and Marina Pierro towards the start of the film also appears to abruptly end just as he starts undressing her. This should be taken into account before calling Dr Jekyll and His Women somewhat tame in regards to the eroticism one expects of Borowczyk. (The Dutch subbed version is also taken from a video copy, which comes with a number of audio glitches and film pauses – still, this is the only available version of the film and will have to do for now).
Certainly, as the work of erotica one has come to expect of Walerian Borowczyk's films, Dr Jekyll and His Women ranks as one of his tamer. The first half-hour of the film is very talky, centred around the dinner party with the lurking figure of Hyde in the background. There is the ravaging of the dancing girl but this remains chaste and only happens off-screen. Borowczyk does eventually kick into his old tricks in an outrageous scene where Patrick Magee's General is tied up in a chair and forced to watch as Hyde ravages his daughter with a giant silhouetted erection while she is bent over a gramophone (which she seems to welcome). There is the clear suggestion that Hyde swings both ways with him reported as having ravaged male guests as well. However, up until the end scene with Hyde and Marina Pierro copulating in the cab, that remains it. Did the film not come from the pedigree of Walerian Borowczyk, it would be a hard stretch to classify it as a work of erotica, rather than merely a Euro horror film made by someone like Jesus Franco (albeit with a better budget).
A full discussion of Jekyll and Hyde films is here under the Theme Essay Jekyll and Hyde Films. Other versions of Dr Jekyll and Mr Hyde are:– Dr Jekyll and Mr Hyde (1908); Dr Jekyll and Mr Hyde (1910) with Alvin Neuss; Dr Jekyll and Mr Hyde (1912) with James Cruze; Dr. Jekyll and Mr. Hyde (1913) with King Baggott; Dr. Jekyll and Mr. Hyde (1920) with John Barrymore; Dr Jekyll and Mr Hyde (1920) with Sheldon Lewis; Der Januskopf (1920), a lost German version with Conrad Veidt; the classic Dr. Jekyll and Mr. Hyde (1931) with Fredric March; Dr Jekyll and Mr Hyde (1941) with Spencer Tracy; Jean Renoir's The Testament of Dr Cordelier (1959) with Jean-Louis Barrault; The Two Faces of Dr Jekyll (1960), the Hammer version with Christopher Lee; Dr Jekyll and Mr Hyde (tv movie, 1968) with Jack Palance; I, Monster (1971) also with Christopher Lee; The Man with Two Heads (1972) with Denis DeMarne; Dr Jekyll and Mr Hyde (tv movie, 1973), a musical version with Kirk Douglas; Dr Jekyll and Mr Hyde (tv movie, 1981) with David Hemmings; a 1985 Russian adaptation starring Innokenti Smoktonovsky; Edge of Sanity (1989) with Anthony Perkins; The Strange Case of Dr Jekyll and Mr Hyde, an episode of the tv series Nightmare Classics (1989) with Anthony Andrews; Jekyll and Hyde (tv movie, 1990) with Michael Caine; My Name is Shadow (1996), a Spanish version starring Eric Gendron; a bizarre tv pilot Dr Jekyll and Mr Hyde (1999), which combined the story with Hong Kong martial arts and featured Adam Baldwin playing a Jekyll as a superhero in the Orient; Jekyll & Hyde: The Musical (2001) with David Hasselhoff; Dr Jekyll and Mr Hyde (2002) directed by and starring Mark Redfield; the excellent British tv reinterpretation Dr Jekyll & Mr Hyde (2002) with John Hannah; The Dr. Jekyll and Mr. Hyde Rock'n'Roll Musical (2003) with Alan Bernhoft; the modernised Jekyll + Hyde (2006) with Bryan Fisher; The Strange Case of Dr. Jekyll and Mr. Hyde (2006) with Tony Todd; the modernised BBC tv series Jekyll (2007) with James Nesbitt; Jekyll (2007) starring Matt Keeslar where Hyde becomes a virtual creation; and the modernised Dr. Jekyll and Mr Hyde (2008) starring Dougray Scott.
Other variations include the would-be sequels Son of Dr Jekyll (1951), Daughter of Dr Jekyll (1957) and Dr Jekyll and the Wolfman (1972); the comedy variations Abbott and Costello Meet Dr Jekyll and Mr Hyde (1953), The Ugly Duckling (1959), the Italian My Friend, Dr Jekyll (1960) and The Nutty Professor (1963) with Jerry Lewis and its remake The Nutty Professor (1996) with Eddie Murphy; versions where Dr Jekyll turns into a woman with Hammer's Dr Jekyll and Sister Hyde (1971), the Italian comedy Dr Jekyll and the Gentle Lady (1971) and Dr Jekyll and Ms Hyde (1995); the gender-reversed Madame Hyde (2017); a Looney Tunes cartoon Dr Jekyll's Hide (1954) where Sylvester the Cat transforms into a dog after taking the formula; the erotic/adult versions The Naughty Dr. Jekyll (1973), The Erotic Dr Jekyll (1976), Jekyll and Hyde (2000), Dr. Jekyll & Mistress Hyde (2003) and Jacqueline Hyde (2005); Dr Black and Mr Hyde (1976), a Blaxploitation version where Jekyll is a Black man who turns into a white-skinned monster; the amusing send-up Jekyll and Hyde … Together Again (1982); a wacky children's tv series Julia Jekyll and Harriet Hyde (1995); Killer Bash (1996) set in a frat house with an avenging female Jekyll; the excellent deconstruction Mary Reilly (1996), which tells the story from the point-of-view of Jekyll's maid; while the tv series Jekyll and Hyde (2015) concerns Jekyll's grandson (Tom Bateman) hunted by various parties during the 1930s. Dr Jekyll appears as a character in The League of Extraordinary Gentlemen (2003) played by Jason Flemyng, in the tv series Penny Dreadful (2014-6) played by Shazad Latif and in The Mummy (2017) played by Russell Crowe, which all feature team-ups between Famous Monsters, while the animated The Pagemaster (1994) features a Dr Jekyll voiced by Leonard Nimoy.
---
Trailer here
---