---
Crew
Director – Richard Franklin, Screenplay – Everett De Roche, Producers – Richard Franklin & Antony I. Ginnane, Photography – Don McAlpine, Music – Brian May, Special Effects – Conrad C. Rothman. Production Company – Australian International/Filmways Australasia.
Cast
Susan Penhaligon (Kathy Jaquard), Robert Helpmann (Dr Roget), Rod Mullnar (Ed Jaquard), Bruce Barry (Dr Brian Wright), Robert Thompson (Patrick), Julia Blake (Matron Cassidy)
---
Plot
After separating from her husband, Kathy Jaquard takes a nursing job at the Roget Clinic. There she is given the job of tending the comatose Patrick. She soon discovers that she is able to communicate with Patrick. She devises a code using his reflexive blinks and finds that he is sexually responsive to her touch. However, he will not demonstrate this in front of anybody else. Next, both the new man in Kathy's life and her husband, who comes trying to repatriate with her, suffer mysterious near-fatal accidents. Kathy comes to believe that Patrick has developed psychic powers and jealously regards her as his.
---
This stylishly directed Australian offering was one of the better films to jump in on the Carrie (1976) bandwagon. Everett De Roche's script concocts a number of sharp twists on the convention, mostly notably in making the title character comatose. De Roche never offers any satisfactory explanation as to why Patrick can do what he does, apart from some not-terribly-interesting lectures on the soul, but this is not particularly important to the film's overall effectiveness.
Patrick was directed by Richard Franklin. While a student at USC, Franklin struck up a friendship with Alfred Hitchcock. After making several softcore films in Australia, Franklin made his first genre foray here and went onto make a number of other films of interest (see below). Franklin has certainly learnt his master's trade well. There is a marvellously stylishly directed teaser where we see Patrick killing his mother and her lover. There are several scenes that produce calculated jolts – like the scene where Susan Penhaligon's typings are taken over by Patrick, or the moment a previously malfunctioning elevator door sinisterly opens.
On the minus side, the twist ending with its muscle motor response gag is silly. Early on, the pace occasionally flags and the scenes set around Susan Penhaligon's private life are not very interesting. Among the otherwise bland performers, it is Robert Helpmann – who in one gloriously yecchh moment gets to eat his own laboratory frogs – whose cuddly waspish playing rises to the notable. Susan Penhaligon gives a dutiful and neurotic performance, which is effective enough for what the story requires of her.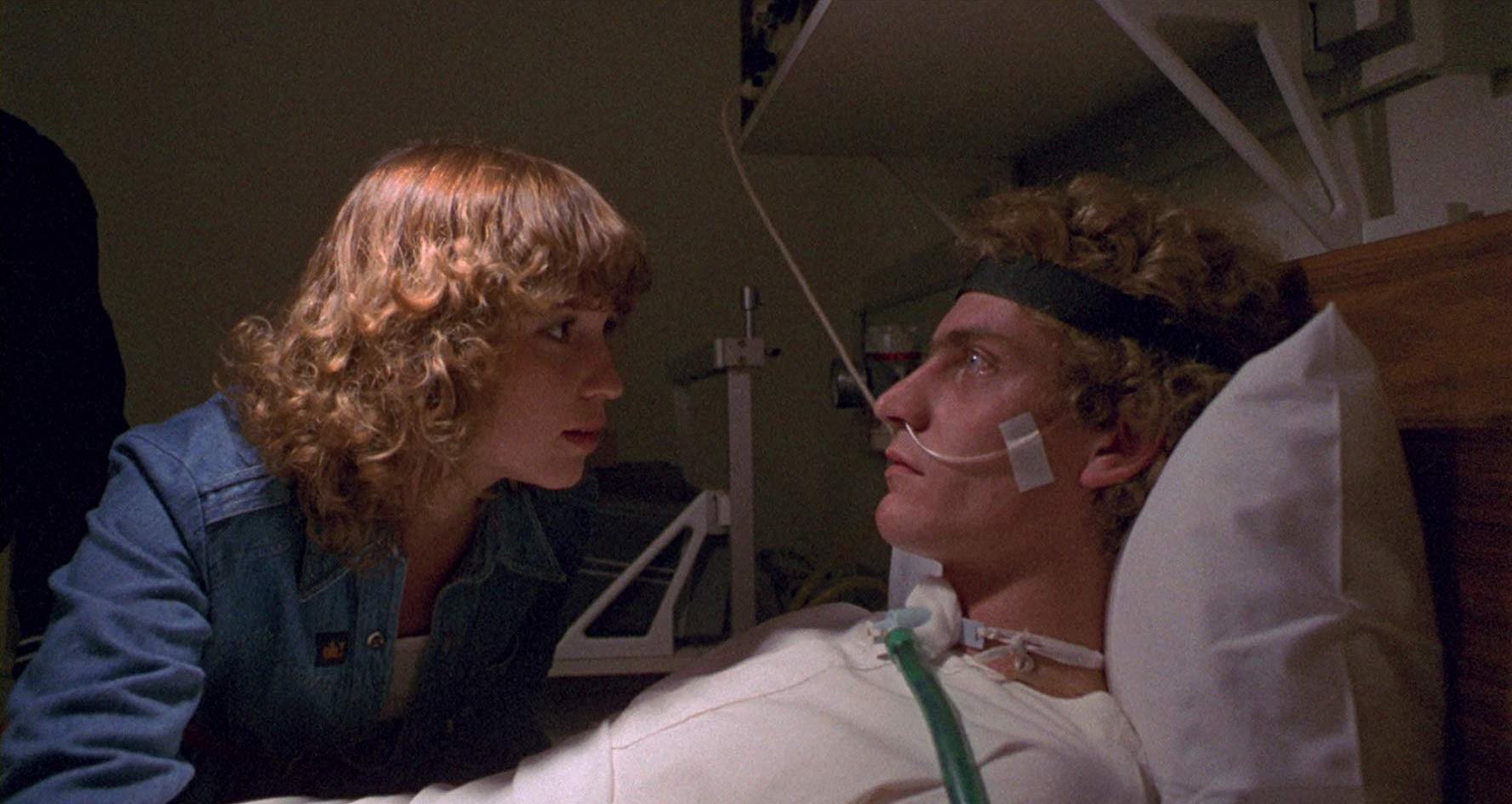 The mind-bogglingly trashy Italian-made Patrick Still Lives (1980) was an unofficial sequel. Patrick (2013) was a remake starring Shari Vinson as the nurse and Charles Dance as the head doctor. Patrick is discussed in the documentary Not Quite Hollywood: The Wild, Untold Story of Ozploitation! (2008).
Richard Franklin's other films of genre interest are the psycho-thriller Roadgames (1981), his Hollywood debut with the stylish Psycho II (1983), the children's spy film Cloak and Dagger (1984), the killer chimpanzee film Link (1986), the pilot for tv's Beauty and the Beast (1987), FX2 (1991) and the psychological ghost story Visitors (2003).
Screenwriter Everett de Roche has written a number of other Australian genre films including the excellent Nature's Revenge film Long Weekend (1978), the stalker psycho-thriller Snapshot/The Day After Halloween (1979), Harlequin (1980) about an enigmatic magician, Richard Franklin's Roadgames (1981), Russell Mulcahy's killer boar saga Razorback (1984), Franklin's Link (1986), the Aboriginal children's fantasy Frog Dreaming/The Quest (1986), the psycho-thriller Heart of Midnight (1988), Franklin's Visitors (2003), the Backwoods Brutality film Storm Warning (2007), the remake of Long Weekend (2008) and Nine Miles Down (2009).
---
---