---
Crew
Director/Screenplay/Visual Effects – Brandon Christensen, Producers – Osric Chau, Brandon Christensen & Kurtis David Harder, Photography – Clayton Moore, Music – Blitz//Berlin. Production Company – Superchill/First Look Pictures.
Cast
Osric Chau (Teddy), Sara Canning (Claire), Gracie Gillam (Rebecca), Barbara Crampton (Vera)
---
Plot
Teddy and Claire are a real-life couple that run Superhost, a vlog channel where they visit various vacation rental homes and review them. They obtain a booking for a weekend at a home that comes highly recommended. They sign in and meet the host Rebecca who they find oddly over-friendly. At the same time, they are stalked by Vera, a middle-aged woman who claims they wrecked her business after writing a bad review. In between this, Rebecca reveals increasingly psychopathic tendencies.
---
Superhost was the third film from Brandon Christensen. He had previously made the horror films Still-Born (2017) and Z (2019), co-written with Colin Minihan. Christensen had also acted as a producer on Minihan's It Stains the Sand Red (2016) and What Keeps You Alive (2018), as well as produced Spiral (2019) and the non-genre Summerland (2020) for other directors. He also has performed visual effects duties on assorted other films.
In the last few years, we have seen a number of films jump aboard the new trends in technological deployments. At the moment, there are a number of films made around the idea of psychopathic rideshare drivers doing the rounds, several others set around Zoom calls. Superhost is one several based around the idea of the AirBNB rental – thirteen months before there had been The Rental (2020) and such also forms part of the plots of Cats Kill (2017), Tone-Deaf (2019), H.P. Lovecraft's The Deep Ones (2020), Sacrilege (2020), Barbarian (2022) and Mid-Century (2022).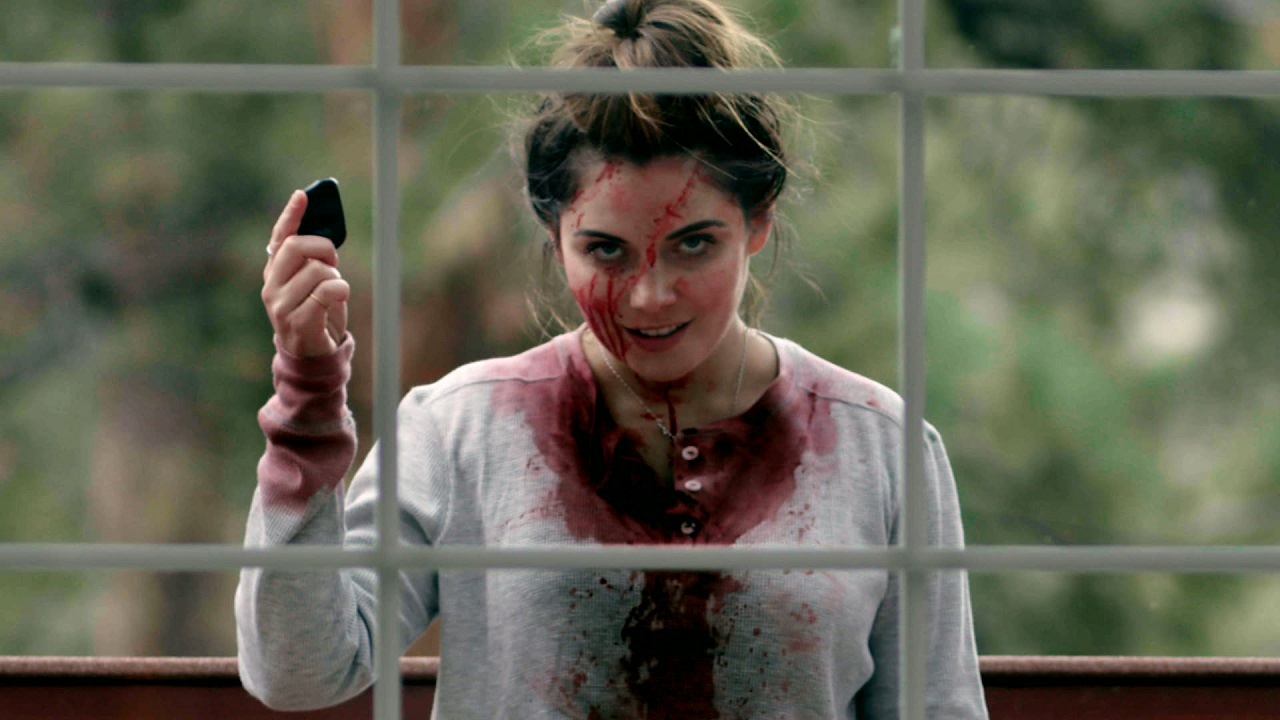 Superhost was shot during the Covid lockdown of 2020 meaning that the cast is limited to four and the entire shoot takes place at a large house of which the production crew have managed to obtain use. The idea of a horror film where the protagonists identify themselves as 'YouTube Influencers' – a term that seems to essentially mean that you run prank and gag channels pitched to 12 year olds or blatantly hawk product for companies – has you wanting to cheer on seeing them get horribly tortured within the opening moments. That said, the two characters imprint themselves on the film with a certain energy, Osric Chau (who also co-produces the film) in particular. This is a film where almost the entire first half is build-up. Unless you have done some reading on its prior to watching (which I make a point of not doing), you have no idea where the film is going.
It is not long after Gracie Gillam enters that the film takes a turn for the stranger. Gillam, also known as Grace Phipps, has had roles in films like Dark Summer (2015), Some Kind of Hate (2015), Tales of Halloween (2015) and tv's The Vampire Diaries (2009-17). I had never paid much attention to Gillam/Phipps before but here she memorably imprints herself on the film. She plays with a false upbeat cheer that keys you in that something is off from the point we first meet her. This runs from her fake over-friendly smile to her being wont to wander off into random blanks in the midst of interviews. Thereafter as she gets progressively more psycho and runs about wielding a knife, she gives a performance that goes splendidly nuts. It makes the film and turns Gillam/Phipps into a name definitely worth keeping an eye on in future.
---
Trailer here
---