---
Crew: Created by Axelle Carolyn, Producers – Shaked Berenson, Axelle Carolyn, Patrick Ewald & Mike Mendez, Main Theme – Lalo Schifrin, Visual Effects – Visual Affinity (Supervisor – Mike Ritchie), Additional Visual Effects – Ice Animations (Supervisor – Mohammed Bilal), Title Sequence Created by Ashley Thorpe, Production Design – Sara Millan & Anthony Pearce. Production Company – Epic Pictures Group.
Cast: Adrienne Barbeau (Radio DJ)
Sweet Tooth
Crew: Director/Screenplay – David Parker, Photography – David Tayar, Makeup Effects – SOTA F/X (Supervisor – Roy Knyrim).
Cast: Daniel DiMaggio (Mikey), Austin Falk (Kyle), Madison Iseman (Lizzy), Hunter Smit (Sweet Tooth), Cameron Easton (Timothy Blake), Caroline Wiliams (Mrs. Blake), Robert Rusler (Mr Blake), Greg Grunberg (Alex Mathis)
The Night Billy Raised Hell
Crew: Director – Darren Lynn Bousman, Screenplay – Clint Sears, Photography – Joseph White, Music – Bobby Johnston, Special Effects Supervisor – Josh Hakian, Makeup Effects – Immortal Masks Inc. (Supervisor – George Frangadakis), Production Design – Jennifer Spence.
Cast: Barry Bostwick (Mr Abbadon), Marcus Eckert (Billy), Ben Stillwell (Todd), Natalie Castillo (Britney), Adam Pascal (The Dentist), Adrianne Curry (Herself)
Trick
Crew: Director – Adam Gierasch, Screenplay – Greg Commons, Producer – Jace Anderson, Photography – Scott Winig, Music – Joseph Bishara, Makeup/Creature Effects – Jerami Cruise.
Cast: John F. Beach (James), Tiffany Shepis (Maria), Casey Elizabeth Ruggieri (Caitlyn), Trent Haaga (Nelson), Marnie MckEndry (Princess), Mia Page (Girl Witch), Kennedy Fuseller (Gypsy aka Cinderella)
The Weak and the Wicked
Crew: Director – Paul Solet, Screenplay – Molly Millions, Producer – Tada Chae, Photography – Zoran Popovic, Music – Austin Wintory, Makeup/Creature Effects – Jason Collins.
Cast: Keir Gilchrist (The Stranger), Grace Phipps (Alice), Booboo Stewart (Isaac), Noah Segan (Bart)
Grim Grinning Ghost
Crew: Director/Screenplay – Axelle Carolyn, Photography – Jan-Michael Losada, Music – Christian Henson, Makeup Effects – David Brooke & Illusion Industry.
Cast: Alex Essoe (Lynn), Lin Shaye (Lynn's Mother), V Nixie & Liesel Hanson (Mary Bailey)
Ding Dong
Crew: Director/Screenplay – Lucky McKee, Producer – Vanessa McKee, Photography – Alex Vendler, Music – Sean Spillane, Special Effects Supervisor – John Hakian, Production Design – Krista Gall.
Cast: Mack Senter (Jack), Pollyanna McIntosh (Bobbie), Lilly Von Woodenshoe (Gretel)
This Means War
Crew: Directors/Screenplay – Andrew Kasch & John Skipp, Photography – Jan-Michael Losada, Music – Michael Sean Collin, Makeup/Creature Effects – Jerami Cruise.
Cast: Dana Gould (Boris), James Duval (Dante)
Friday the 31st
Crew: Director – Mike Mendez, Screenplay – Mike Mendez & Dave Parker, Photography – Richard Vialet, Music – Joseph Bishara & Edwin Wendler, Stop Motion Animation – Michael Granberry, Special Effects Supervisor – Josh Hakian, Makeup/Creature Effects – Jerami Cruise, Eric Fox & Eric Porn.
Cast: Amanda Moyer (Dorothy), Jennifer Wenger (Possessed Dorothy), Nick Principe (Killer)
The Ransom of Rusty Rex
Crew: Director/Screenplay – Ryan Schifrin, Photography – Jan-Michael Losada, Music – Chris Drake, Special Effects Supervisor – Josh Hakian, Makeup/Creature Effects – Christien Tinsley.
Cast: Jose Pablo Cantillo (Dutch), Sam Witwer (Hank), Ben Woolf (Rusty Rex), John Landis (Jebediah Rex)
Bad Seed
Crew: Director/Screenplay – Neil Marshall, Photography – Richard Vialet, Music – Christian Henson, Visual Effects Supervisor – Ethan Chancer, Special Effects Supervisor – John Hakian, Makeup/Creature Effects – Jason Collins.
Cast: Kristina Klebe (McNally), Pat Healy (Forensic Bob), Greg McLean (Ray Bishop), Cerina Vincent (Ellen Bishop), John Savage (Captain Zimmerman), Joe Dante (Professor Milo Gottlieb)
---
Plot
Sweet Tooth:– As young Mikey eats all the Halloween candy, the babysitter's boyfriend taunts him with the legend of Timothy Blake, a child who was denied candy by his parents. One evening, Timothy came down to find them eating it in the middle of sex, tasted some and then became obsessed, slaughtering them to eat all they had and then going on around the neighbourhood and killing all who did not leave candy for him. The Night Billy Raised Hell:– Billy is taunted by his sister and her boyfriend into trick-or-treating the neighbour who never comes out. Instead, Billy is invited inside by Mr Abbadon who drags him off into playing a series of cruel and malicious pranks. Trick:– On Halloween Night, a group of partying friends have their home invaded by murderous trick or treating children. The Weak and the Wicked:– A young kid whose parents were burned alive by a teenage street gang summons a demonic entity to take revenge. Grim Grinning Ghost:– At a party, Lynn's mother tells the story of Mary Bailey who follows people claiming their lives if they turn around to look. On the way home, Lynn finds that a ghostly figure is tailing her. Ding Dong:– Last Halloween, Bobbie lost her mind. Her husband Jack becomes worried what will happen as she prepares for Halloween this year. This Means War:– Boris proudly sets up the front yard Halloween display he has had for years only to find he has been trumped by the louder and flashier display the neighbour across the street has put on. His attempts to get them to turn down the music result in all-out war between the two. Friday the 31st:– Dorothy is pursued and killed by a hulking maniac only for her body to be resurrected by a passing UFO. The Ransom of Rusty Rex:– On Halloween Night, two hoodlums abduct Rusty, the son of millionaire Jebediah Rex, intending to ask for a ransom, only to find that he doesn't want Rusty back and that when they remove the Halloween mask what they have snatched is not human. Bad Seed:– On Halloween Night, police officer McNally investigates reports of victims being devoured by a ferocious ambulatory pumpkin.
---
In recent years, the horror anthology has taken on a new life. In the past – most notably during the heyday of Amicus Films – the horror anthology would be a variety of tales set around a common theme or else adaptations of an author's work. Although they were by no means the first works to do so, more recently we have seen the rise of horror anthologies where each of the episodes have come from a different directorial hand with the likes of Chillerama (2011), The Theatre Bizarre (2011), The ABCs of Death (2012) and sequels, V/H/S (2012) and sequels, The Profane Exhibit (2013), Southbound (2015), Grindsploitation (2016), Holidays (2016), XX (2017), The Field Guide to Evil (2018), Nightmare Cinema (2018) and Isolation (2021). Tales of Halloween reminds of Trick'r'Treat (2008), another anthology set around Halloween (but with only one director), which also featured aspects of each story blending into the other (Ding Dong features characters from all the other episodes turning up at the door as trick-or-treaters, while characters from several other stories turn up at the police station in the last segment).
The first episode, Sweet Tooth, comes from David Parker who has made a number of horror films such as Kraa! The Sea Monster (1998), The Dead Hate the Living (2000), The Hills Run Red (2009), The Dead Reborn (2013) and It Watches (2016). It has the feel of an urban horror legend like The Tale of the Hook. Parker outfits it with some grisly effects such as the kid tearing open his parents and feasting on their intestines. However, aside from this, the segment, like most of the episodes, feels like it has been quickly shot and on a slim budget. Like several other segments, it arrives at a fairly obvious punchline that has been signposted from the outset.
The Night Billy Raised Hell comes from Darren Lynn Bousman, who emerged as director on several Saw sequels – Saw II (2005), Saw III (2006) and Saw IV (2007), and has also made the likes of Repo: The Genetic Opera (2008), Mother's Day (2010), 11-11-11 (2011), The Barrens (2012), The Devil's Carnival (2012), Alleluia! The Devil's Carnival (2016), Abattoir (2016), St Agatha (2018), Death of Me (2020) and Spiral: From the Book of Saw (2021). The episode comes with a certain maliciousness, all part and parcel of the directorial sadism familiar to Bousman's work. Beyond scenes of Billy causing mayhem, there is little else to the episode. Barry Bostwick, none other than Brad from The Rocky Horror Picture Show (1975), plays the devil figure Mr Abbandon whose presence is never explained. Here Bostwick gives a very over-the-top performance.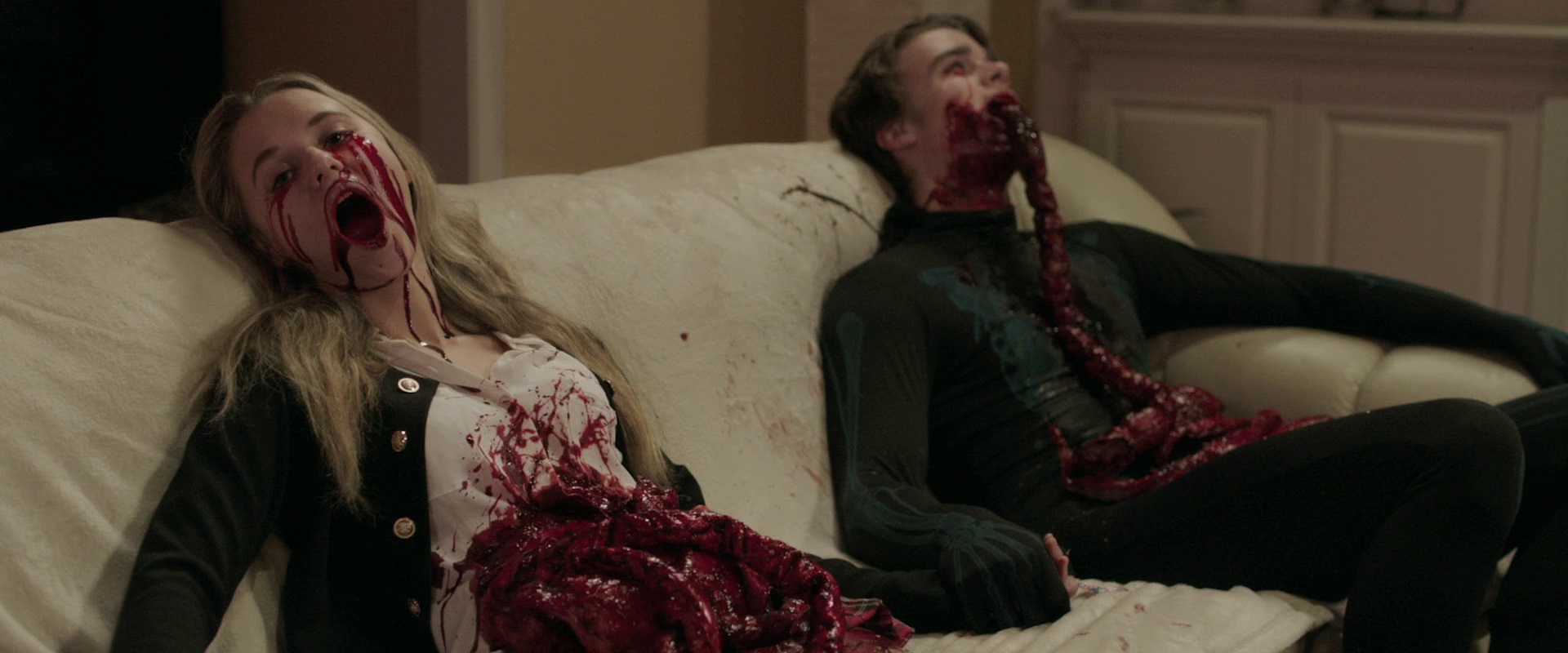 Trick comes from Adam Gierasch, a genre regular first as a screenwriter and then as director of the likes of Autopsy (2008), Night of the Demons (2009), Fertile Ground (2011), Fractured (2013) and House By the Lake (2017). The film gains some modest effect from children murderously disrupting a party and killing the adults – although this was much better done by the British The Children (2008) and Hellions (2015) – but suffers from a lack of explanatory rationale as to why this is happening.
The Weak and the Wicked comes from Paul Solet, who is not quite a recognised genre name yet but did make the excellent evil child horror Grace (2009) and the subsequent Dark Summer (2015) and Bullet Head (2017). This is an okay episode, nothing standout, before arriving at a passably effective twist ending.
Grim Grinning Ghost comes from Axelle Carolyn, a Belgian actress and director who had previously only made the feature-length horror film Soulmate (2013) and subsequently made The Manor (2021). Carolyn however appears to be the driving force behind Tales of Halloween and is listed as both its creator and a producer. (She was also at the time the wife of Neil Marshall, director of the last segment). The episode generates some reasonable atmosphere but is another that suffers from a punchline that you can see coming. In the party scene where Lin Shaye tells her story, Carolyn gets some cameos from well-known genre names including Stuart Gordon, the cult director of Re-Animator (1985), and Mick Garris, director of several Stephen King adaptations, as well as familiar actors like Barbara Crampton and Lisa Marie.
Ding Dong comes from Lucky McKee who made the decidedly off-of-centre May (2002), The Woods (2006) and the disturbing The Woman (2011), as well as co-directed All Cheerleaders Die (2001) and its remake All Cheerleaders Die (2013). This episode hits in at a demented fever pitch. You really have no idea what it is all about watching Pollyanna McIntosh with face painted red and manifesting several sets of arms but the effect – especially as you don't know what is about to happen as she greets people at the door – is unnerving. This is an episode that could well have done with a much longer running time.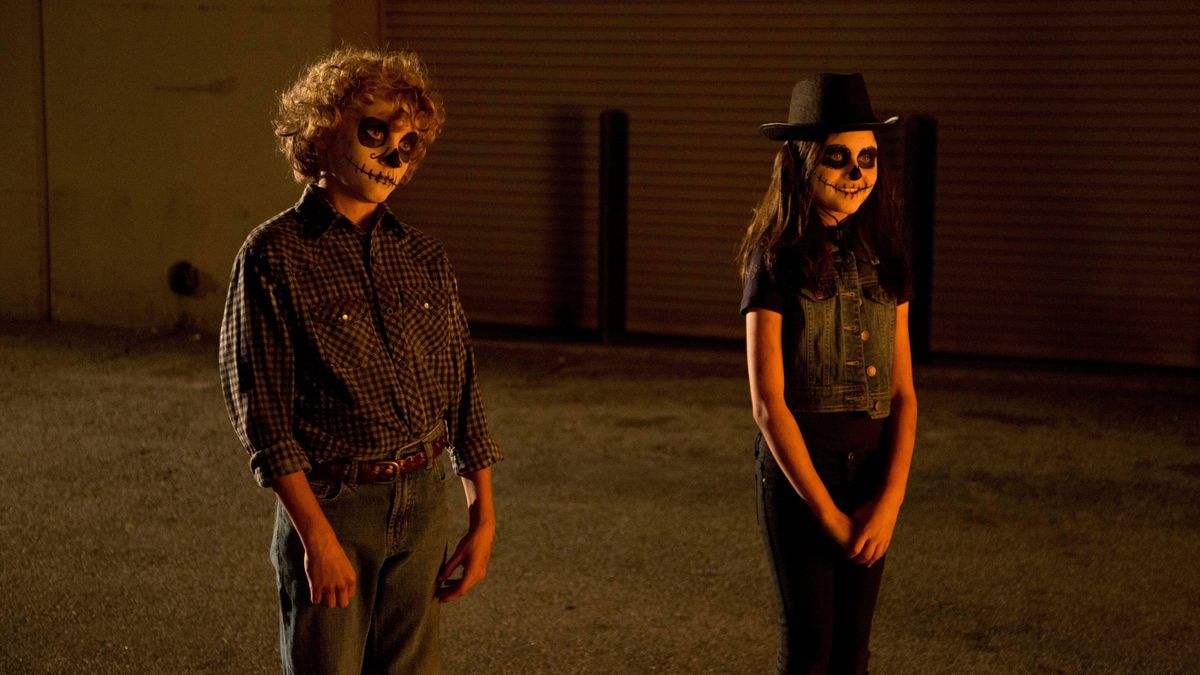 This Means War comes from John Skipp, a horror author who has published numerous works since the 1980s (although has not done much film work), and Andrew Kasch who has mostly specialised in making of dvd featurettes for the re-releases of various classic horror films. This is surprisingly the only of the episodes that is not a horror story but a comedy about two neighbours warring over Halloween displays. None of the episode is particularly funny. Certainly, the anticipation that you are watching a horror story leads you to expect a twist ending that never comes.
The best of the segments is Friday the 31st from Mike Mendez who also produces Tales of Halloween. Mendez has also made the likes of Killers (1996), The Convent (2000), Masters of Horror (2002), The Gravedancers (2006), Big Ass Spider! (2013), Lavalantula (2015) and Don't Kill It (2016). Mendez offers up an appealingly absurd mash-up of genre tropes – the slasher standard of a girl being pursued by a hulking disfigured maniac, the appearance of a UFO and a cute miniature stop-motion animated alien and the girl's resurrection as a zombie with glowing green eyes. The undead girl and the slasher maniac meet in an amusingly over-the-top bloodbath. The episode hits the stride and is perfectly succinct and amusing.
The Ransom of Rusty Rex comes from Ryan Schifrin who had previously only made the Bigfoot film Abominable (2006). The episode is an interestingly different take, although is another one that arrives at a denouement that can be seen coming from the outset. Director John Landis, the man responsible for The Blues Brothers (1980) and An American Werewolf in London (1981), makes a cameo as the goblin's adopted father.
The final segment Bad Seed comes from British director Neil Marshall who made Dog Soldiers (2002), The Descent (2005), Doomsday (2008) and Hellboy (2019). Marshall's take is to offer up the appealingly silly idea of a killer Halloween pumpkin and the film derives its amusement from the images of the pumpkin running around biting people's heads off. In another cameo, the male of the first couple who are the first to be killed is Australian director Greg Mclean who made Wolf Creek (2005) and Rogue (2007), while Joe Dante, director of a host of genre films including The Howling (1981), turns up as a scientist in the coda.
---
---