---
Crew
Director – Bert Dragin, Screenplay – Bert Dragin & Robert McDonnell, Producers – Guy J. Louthan & Robert McDonnell, Photography – Zoran Hochstatter, Music – David Bergeaud, Special Effects Supervisor – Steve Gulich, Makeup Effects – Michael Burnett, Production Design – Stephan Rice. Production Company – T.D. Productions.
Cast
Tom Breznahan (Scott Cates), Jill Whitlow (Robin Cates/Myrna Robbins), Christopher Burgard (Silk), Jonathan Chapin (Crip/Tyler Walker), Sam Melville (Harry Cates), Brooke Bundy (Sylvia Cates), Todd Bridges (Petie), Joleen Lutz (Candy), Travis McKenna (Melvin), Charlie Spradling (Tina), Raymond Garcia (Cheeta), Shawn Player (Stony), Lance Wilson-White (Pizza Boy)
---
Plot
In 1935, silent movie actor Tyler Walker hangs himself as police arrive to evict him from his L.A. home. In the present-day, Harry Cates has inherited the house from his grandfather who repossessed it from Walker. Suffering bankruptcy, Harry, his wife Sylvia and two teenage children Scott and Robin move from Cincinnati and take over the house. Scott has been accepted into a local university course in makeup effects. As they arrive, police have to evict a surly gang led by Silk. After they move in, Silk's gang continue to follow and harass Scott and Robin. Scott delves into the history of the house and believes it might be haunted by Tyler Walker's spirit. With their parents forced to return to Cincinnati, Scott and Robin are left on their own as Silk and the gang invade the house.
---
Twice Dead was one of only two films directed Bert Dragin. Dragin previously made the slasher film Summer Camp Nightmare (1987), followed it with Twice Dead and subsequently vanished from sight. The film was picked up for release through Roger Corman's Concorde-New Horizons company.
Twice Dead comes with an odd identity crisis. The prologue about the home's owner in the 1930s hanging himself seems the standard lead-in for a ghost story. However, the film itself never seems much interested in letting the ghost story element play out. This does emerge right towards the end but there it bizarrely seems that rather than haunting anybody the house is actually aiding the brother and sister in defeating the invading gang.
Most of the rest of the time, the film seems to want to be a home invasion film of sorts – not unakin to say Sean S. Cunningham's The New Kids/Striking Back (1985) – about a brother and sister harassed by a gang who finally break into the house to terrorise them. The home invasion plot takes centre stage. The haunting plot is vaguely connected to this but not nearly enough is made of it. One should also point out that the title is meaningless in the context of the film.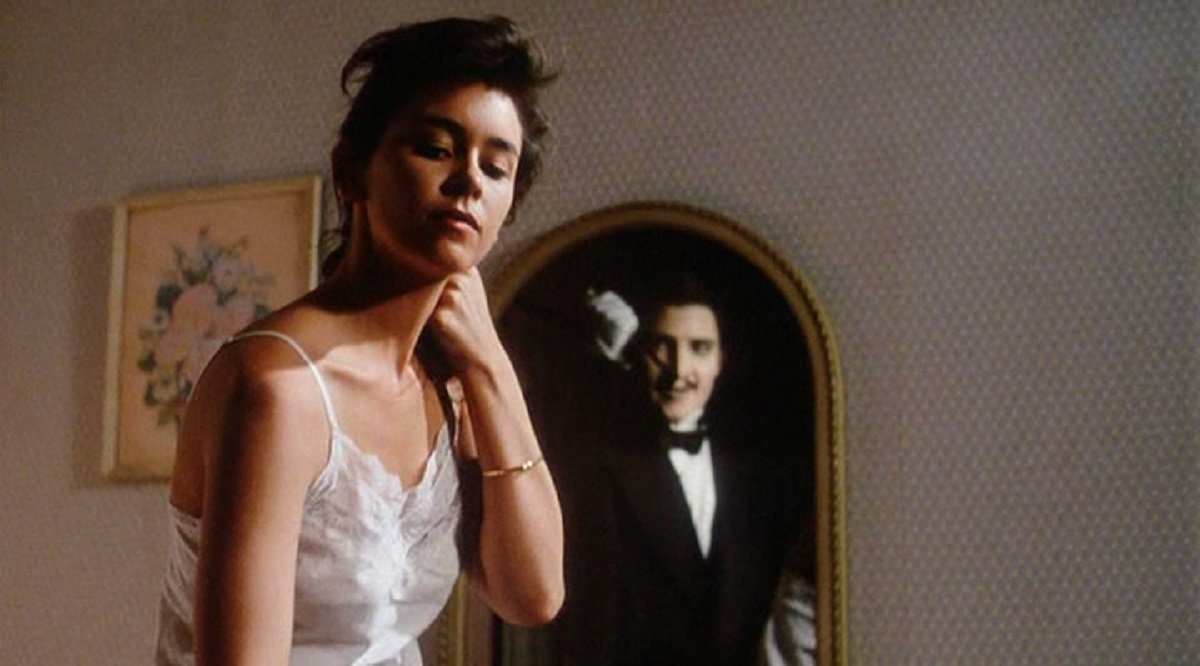 The other strange influence that warps Twice Dead out of shape is the inclusion of makeup effects. This was the 1980s where makeup effects artists like Tom Savini, Rick Baker, Rob Bottin and Stan Winston became superstars thanks to the promotion of magazines like Fangoria. There was even a film FX (1986) about a makeup effects artist who becomes involved in a caper scheme and uses his creations against his attackers. You suspect that FX had some influence here as there is a contrived middle section where student makeup effects artist Tom Breznahan fools the gang with various effects – making it appear that Joleen Lutz has been decapitated and her headless body is pumping jets of blood; the schlocky image of a severed head rotating on a record turntable; and the amusing image of gang leader Christopher Burgard wandering around with a chestburster coming out of his stomach (amid jibes comparing it to his dick).
The show comes together at the climax where the assorted gang members are killed as the house comes to life to despatch them. Travis McKenna has a demented scene where he brings a motorcycle into the house and seems determined to sexually molest a dummy with it before the bike is possessed and attacks him. Shawn Player is beheaded by the dumb waiter. And Raymond Garcia and Charlie Spradling are electrocuted by the electric blanket during sex.
---