---
USA. 1986.
Crew
Director – Steve Miner, Screenplay – Ethan Wiley, Story – Fred Dekker, Producer – Sean S. Cunningham, Photography – Mac Ahlberg, Music – Harry Manfredini, Makeup Effects – James Cummins, Production Design – Gregg Fonseca. Production Company – New World Pictures.
Cast
William Katt (Roger Cobb), George Wendt (Harold Burton), Richard Moll (Big Ben), Mary Stavin (Tanya), Kay Lenz (Susan Sinclair), Susan French (Elizabeth Parker)
---
Plot
After his aunt hangs herself, writer Roger Cobb moves into her house, hoping that the new environment will allow him to overcome his writer's block and be able to write a book about his Vietnam War experiences. Monsters then start to appear out of the closet, while various implements about the house come to life. His aunt, the best friend he left to die in Vietnam and missing son all reappear. However, when Roger tries to show other people what is happening, the apparitions vanish and he begins to wonder if he is not going mad.
---
This cheesy horror film was a modest success. It was put together at New World by former Friday the 13th (1980) director Sean S. Cunningham. As director, Cunningham brought on board his former assistant director Steve Miner, who had directed the first two Friday the 13th sequels, as well as Friday the 13th musician Harry Manfredini. On script there was Ethan Wiley and Fred Dekker, who would later become minor genre directors (see below).
House was one of several effects-driven haunted house tales that jumped on the tail end of the Steven Spielberg produced hit ghost story Poltergeist (1982). It feels exactly like a conceptual collision where Sean S. Cunningham is throwing together Poltergeist – or perhaps even more closely Stanley Kubrick's The Shining (1980) with its protagonist fighting ghosts that may well all be in his head – with the topical interest that emerged in the Vietnam War after the same year's big awards winner of Oliver Stone's Platoon (1986).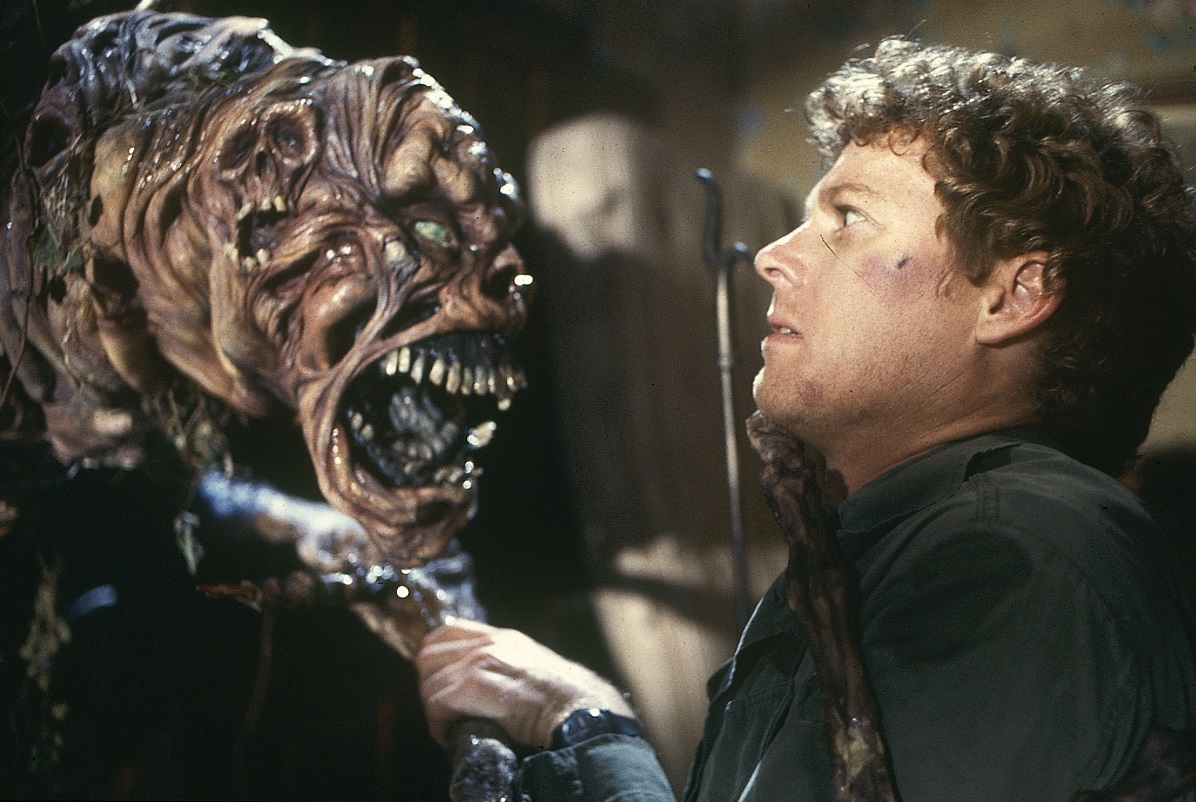 It is a mildly enjoyable, if silly, effort. The film is at its most amusing when Steve Miner plays the standard "Is it real or is he going mad?" games for deadpan amusement – like the scene where the monster refuses to stay dead while William Katt is trying to chat up a curvaceous bimbo, or when the cops come to visit as Katt is trying to deal with monsters.
However, reason is quickly sacrificed for one-shot gags – like the moment when William Katt turns from the tv set with a remote to similarly blank out his son's ghost in a haze of static, which is a scene that has clearly been inserted for the purpose of a quick laugh but contradicts the rules the film establishes elsewhere. The connecting logic behind the story is shaky – it is never clear whether the house is haunted or it is Ben using it for purposes of revenge. The monsters look like cheap carnival masks and the scenes where a mounted fish and various garden tools come to life are extremely silly. The various cast members seem to be struggling to take proceedings seriously.
The film inspired three sequels but these are of loose to the point of non-existent connection. House II: The Second Story (1987) is not related in any way beyond the sharing of some of the crew – Cunningham as producer, Ethan Wiley as director and another star recruited from tv's Cheers (1982-93) – although is a slightly better film. House IV (1991) is however a direct sequel and features a return performance from William Katt. Interestingly, there is no House III in the USA – however, the Cunningham-produced The Horror Show (1989) about an executed killer returned from the dead was retitled House 3: You're Better Off on Elm Street internationally.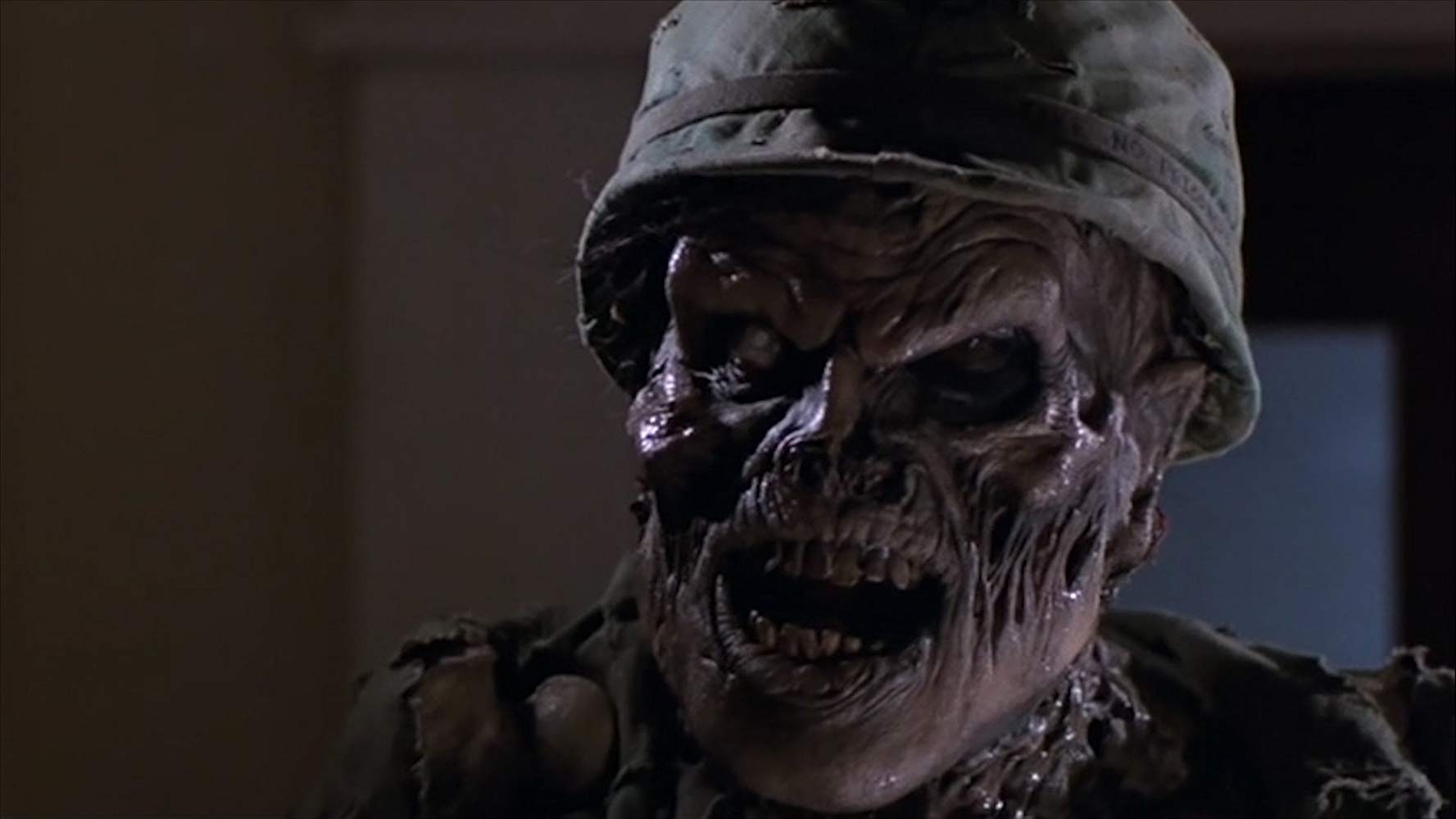 Director Steve Miner began working as a production assistant for Wes Craven on The Last House on the Left (1972) and then went onto produce Sean S. Cunningham's Friday the 13th. He made his directorial debut with Friday the 13th Part 2 (1981) and went onto helm the genre likes of Friday the 13th Part III in 3D (1982); his one standout, Warlock (1989); the Mel Gibson cryogenic sleeper awakes romance Forever Young (1992); Halloween H20: Twenty Years Later (1998), Lake Placid (1999) and the remake of Day of the Dead (2008).
Screenwriter Fred Dekker later went on to become a director with the genre homages Night of the Creeps (1986) and The Monster Squad (1987), and then Robocop 3 (1993). Dekker has also written the James Bond spoof If Looks Could Kill/Teen Agent (1991), Russell Mulcahy's revenge drama Ricochet (1991) and The Predator (2018), as well as served as a consulting producer on Enterprise (2001-5). Ethan Wiley went onto direct the horror films House II, Children of the Corn V: Fields of Terror (1998), Blackwater Valley Exorcism (2006), Brutal (2007), Elf Man (2012) and Journey to the Forbidden Valley (2016). He has also produced the likes of A Dead Calling (2006), Drifter (2007), Deadwater (2008), Bear (2010), The Butterfly Room (2012) and Dead Again in Tombstone (2017).
---
---