aka Dial 976-Evil
---
Crew
Director – Robert Englund, Screenplay – Brian Helgeland & Rhet Topham, Producer – Lisa M. Hansen, Photography – Paul Elliot, Music – Thomas Chase & Steve Rucker, Special Effects – Kevin & Sandra McCarthy, Makeup Effects – Kevin Yagher Productions, Art Direction – David Brian Miller. Production Company – Cinetel Films Inc/Horroscope Inc.
Cast
Stephen Geoffreys (Hoax Wilmoth), Patrick O'Bryan (Leonard 'Spike' Johnson), Jim Metzler (Marty Palmer), Sandy Dennis (Lucy Wilmoth), Lezlie Deane (Suzie Walker), Maria Rubell (Angela Martinez), J.J. Cohen (Marcus), Robert Picardo (Mark Dark)
---
Plot
Leonard 'Spike' Johnson lives with his aunt Lucy Wilmoth who is a domineering religious fanatic. He discovers a card with a 976 horoscope number. After he calls it, the line gives him advice that prevents him from being run down while crossing the street. The card is then picked up by Lucy's wimpish son Hoax who receives advice from the line on how to win the girl he desires. When this goes wrong, the 976 line then tells him occult rituals to conjure spiders that kill the girl. However, increased use of the 976 line causes Hoax to become a demon. He kills the bullies who torment him and then transforms the house into a frozen sector of Hell.
---
Robert Englund became a cult figure as Freddy Krueger in A Nightmare on Elm Street (1984) and sequels. As an actor, Robert Englund lacks any substantial skill and in person appears a pseudo-intellectual airhead – he is like a Billy Idol of the horror genre. Nevertheless, Englund parlayed his popularity with the Elm Street films into making his debut as a director with 976-Evil. Genre critics immediately slammed the result, condemning Robert Englund for trying to rise above his level of competence.
976-Evil is lumbered with a ludicrous concept – the idea of a demonic 976 number. When it boils down to it, the film is only a variant on the standard Faustian pact story. However, the film never finds a way of making the idea work and most of it instead is spent in a series of choppy and not particularly coherent scenes with Steven Geoffreys as a demon and the house transformed into a zone of Hell.
What must be said is that Robert Englund does a halfway okay job. He captures the sense of aimless youths in a deadbeat town well. Here Patrick O'Bryan and Lezlie Deane give two reasonable performances – he providing a moody rebellious handsomeness (imagine a more heroic James Dean) and she allowing her punkette character an inviting warmth. Even a usually terrible over-actor like Stephen Geoffreys, previously Evil Ed in Fright Night (1985) and later a gay porn actor, manages to play his wimp role believably. Although there are times when the balance of seriousness does topple over – Sandy Dennis's over-the-top performance being one of them.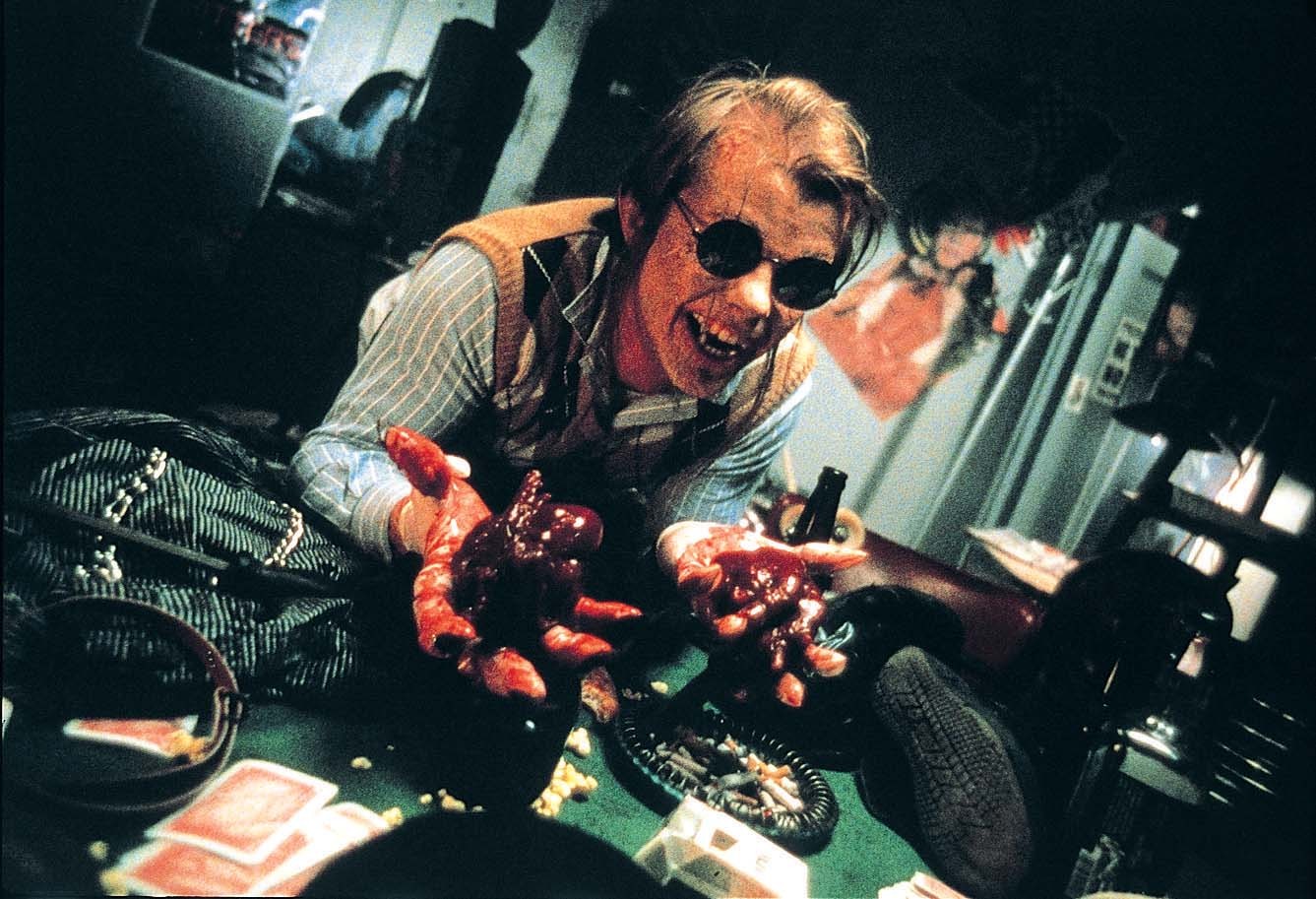 Reportedly some sections of the film were touched up by another uncredited director so it is hard to know what is and is not Robert Englund's work. Expectedly the film is outfitted with various excruciating Freddy Krueger-styled one-liners – Steven Geoffreys comes into a poker game, "Can I enter the game with two hearts?" and throws two bleeding hearts onto the table and then chops off a player's hand, "Now that's a real dead man's hand." The film is low on actual scares, although there is one good scene with Sandy Dennis's cats feeding on her dead body. However, passable moments fail to save 976-Evil from the essentially ridiculous concept it is lumbered with.
The sequel was 976-Evil II (1991), whose only point of connection with this was actor Patrick O'Bryan. The sequel was directed by hack Jim Wynorski and featured a high school principal killing people via astral projection.
It took Robert Englund nearly two decades before he went on to direct another film with the sinister house film Killer Pad (2008), which was not widely seen. Co-writer Brian Helgeland however did recover and go onto write a number of high-profile films including Assassins (1995), L.A. Confidential (1997), The Postman (1997), Mystic River (2003), The Taking of Pelham 1 2 3 (2009), Cirque du Freak: The Vampire's Assistant (2009) and Robin Hood (2010), as well as directing Payback (1999), A Knight's Tale (2001), the intelligently effective horror film The Sin Eater/The Order (2003), the true-life 42 (2013) about the first Black baseball player and Legend (2015) about the Kray Twins.
---
---