aka Bad Day on the Block
---
Crew
Director – Craig R. Baxley, Screenplay – Betsy Giffen Nowrasteh, Producers – Alan Beattie & Chris Chesser, Photography – David Connell, Music – Gary Chang, Special Effects – Warren Appleby, Tim Benibell, Michael Kavanagh, John McGillivray, Jeff Skotchko & Danny White, Prosthetic Makeup – Paul Jones, Production Design – Phillip M. Leonard. Production Company – Beattie-Chesser.
Cast
Charlie Sheen (Lyle Wilder), Mare Winningham (Catherine Braverton), David Andrews (Reese Braverton), Noah Fleiss (Zach Braverton), Chelsea Russo (Marcie Braverton), John Ratzenberger (Al Calavito), Dawnn Lewis (Sandy Tierra), Keone Young (Ron)
---
Plot
Lyle Wilder is a decorated L.A. firefighter, having been voted Fireman of the Year for saving a baby from a burning building. However, Lyle is falling apart after his wife and son have left and she has issued a restraining order against him. He is constantly being woken by the noise made by the neighbouring Braverton children. When Zach Braverton's model plane crashes through his bedroom window, Lyle erupts, terrorising mother Catherine and later vandalising the Braverton house. Catherine makes a complaint to the police. However, when the police come to investigate they regard Lyle as a hero and he is able to charm and convince them that not only did nothing happen but that Catherine's husband Reese is also a wife beater.
---
Under Pressure/Bad Day on the Block is a modestly effective psycho-thriller. It comes from Craig R. Baxley, a former stuntman who graduated to director. made his directorial debut with Action Jackson (1988) and then made the enjoyable sf/action film Dark Angel/I Come in Peace (1990). (See bottom of page for Baxley's other genre films)  Under Pressure features Charlie Sheen who seems surprisingly well suited to the part in his first psycho role.
Under Pressure makes fascinating comparison to Falling Down (1993), which similarly dealt with the psychopathology of everyday frustration and concerned a man who suddenly snaps and takes armed vengeance against those who fail to adhere to his strict code of expectations. Where Falling Down didn't consciously construe itself as a psycho film but rather expected audiences to take sympathy with its redneck frustrations, Under Pressure however does.
Indeed, Under Pressure could almost have been construed as a liberal rejoinder to Falling Down. Contrast, for example, two remarkably similar scenes in both films – one in Falling Down where Michael Douglas beats up a Korean shopkeeper, all the while ranting about minorities, versus the scene here where Charlie Sheen murders an Asian refrigerator repairman where the inherent racism is given a blatantly nasty kick. Under Pressure is so liberal in its outlook that it even has Mare Winningham questioning the wisdom of husband David Andrews' immediate response to go out and arm themselves when Charlie Sheen starts acting threatening.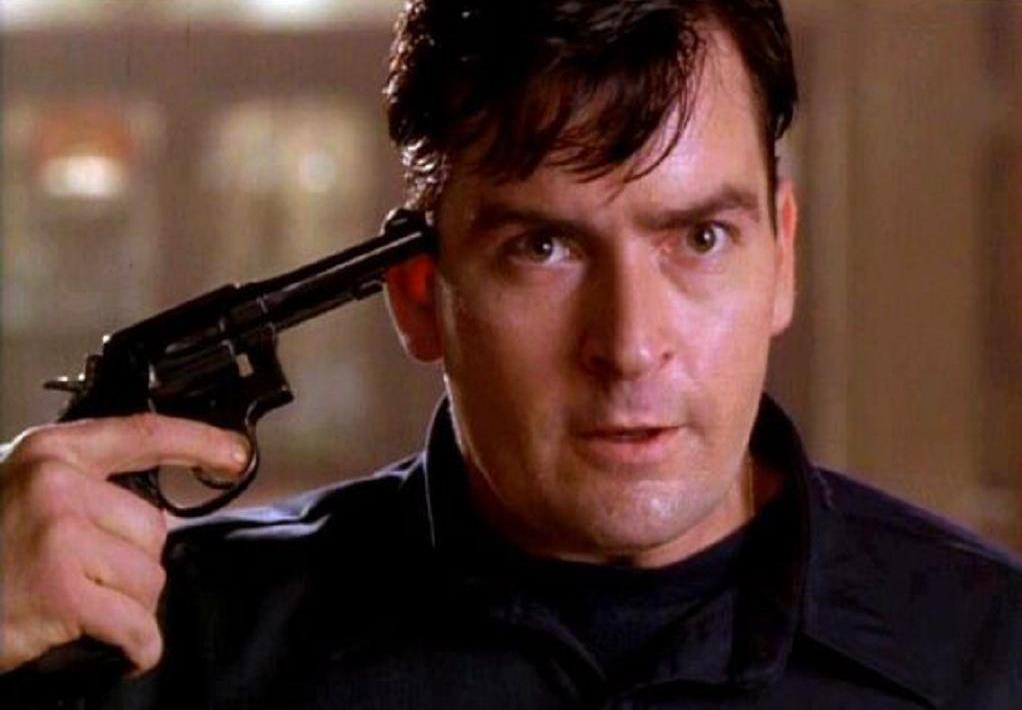 Although Under Pressure adheres to genre formula, it is well written within that. It does a number of parts of the formula rather well – especially the scenes with the police investigating the complaint against Charlie Sheen and not only dismissing it, saying they haven't the power to do anything in the situation, but being charmed by Charlie's presence and going away convinced that David Andrews is a wife beater. There is some particularly good tension generated by Craig R. Baxley in the scenes with the cops entering Charlie's house and during the climactic game of Russian Roulette.
Craig R. Baxley has made a number of genre films, including the decent little sf/action crosshatch Dark Angel/I Come in Peace (1990), the incomprehensible immortality virus thriller Deep Red (1994), the Christian Anti-Christ film Left Behind: World at War (2005) and a host of Stephen King tv productions Storm of the Century (1999), Rose Red (2002), The Diary of Ellen Rimbauer (2003) and Kingdom Hospital (2004), as well as original genre works like the rejuvenation film The Glow (2002), the Bermuda Triangle mini-series The Triangle (2005), and the remarkable The Lost Room (2006).
---
---