---
Crew
Director – Craig R. Baxley, Teleplay – Gary Sherman, Based on the Novel by Brooks Stanwood, Producer – Iain Paterson, Photography – Joao Fernandes, Music – Gary Chang, Special Effects Supervisor – John McGillivray, Prosthetics – Paul Jones, Production Design – Alicia Keywan. Production Company – New Line Television.
Cast
Portia De Rossi (Jackie Lawrence), Dean Cain (Matt Lawrence), Hal Linden (Arnold Janusz), Dina Merrill (Phoebe Janusz), Grace Zabriskie (Sylvia Goldstein), Ian Downie (Alan Kramer), Sabrina Grdevich (Trish Kramer), Joseph Campanella (Benjamin Goldstein), Kari Matchett (Allison), Jonas Chernick (Buddy Watts), Yanna McIntosh (Catherine Rogers), Jack Jessop (Dr Conicker), Joan Gregson (Dr Simon Friedlander), Phoenix Gonzalez (Kim Barnett), Nelson Tynes (David Barnett)
---
Plot
Matt Lawrence is attacked by a mugger while jogging in Central Park and has his wallet stolen. A group of elderly joggers come to his aid and take him to their nearby apartment building to recover. The group of elderly prove incredibly friendly. They own the building and offer Matt and his wife Jackie an apartment at very cheap rates. Matt and Jackie decide to accept the offer. After moving in, Jackie starts to find the seniors' obsession with health unnerving. Matt begins to bond with the seniors but at the same time appears to lose interest in having sex with Jackie. When the younger neighbours they befriended abruptly move out, Jackie finds evidence that something sinister happened. She believes the elderly people in the apartment are responsible. When she then becomes pregnant, she believes that the elderly have set out to cause her to miscarry and are now trying to kill her and Matt.
---
The Glow was a tv movie that comes some interesting names on the credits. The director is Craig R. Baxley who has a number of genre associations with the likes of Dark Angel/I Come in Peace (1990) and several Stephen King tv works. (See below for a full list of Craig R. Baxley's other genre works). The script comes from Gary Sherman who has a minor reputation as a horror director with films such as Death Line/Raw Meat (1972), Dead and Buried (1981), Poltergeist III (1988) and Lisa (1990).
The Glow is clearly setting out to copy Rosemary's Baby (1968), although has the amusing idea of conducting a Rosemary's Baby with a conspiracy of aging health junkies instead of a coven of aging Satanists. The script follows a near-identical plot path to Rosemary's Baby – the young couple who move into an apartment going at bargain rates; the husband who is seduced away by overly friendly senior neighbours; the neighbours who keep popping over to offer health remedies and have a heightened concern with the wife's pregnancy.
The story follows easy and well-worn paths – the husband doesn't believe the wife's suspicions, which are put down to mental imbalance; the disappearance of others who offer clues about what is going on; that there is no evidence about anything sinister when the wife returns with the authorities; how everyone involved seems to be part of a big conspiracy and so on.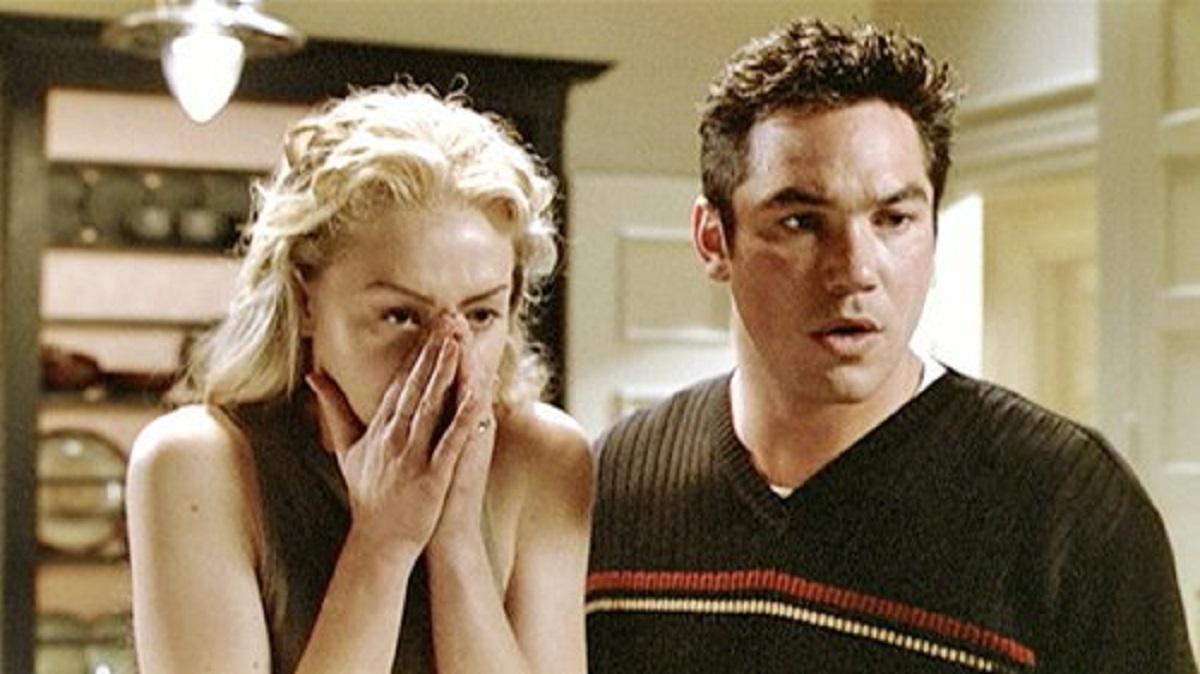 Craig R. Baxley's direction is average and nothing remarkable. The set-up does hold one to it for a time trying to work out what is going on. There are some unusual twists – like when Dean Cain befriends a jogger (Kari Matchett) and she invites him to her apartment after he is injured and then when his wife calls on the phone the woman suddenly asks "Who is it, honey?" in the background, or when he returns and finds her apartment has been rented and there is no-one there now.
We are familiar enough with Rosemary's Baby and other films influenced by it to know from the outset that the overly friendly geriatric neighbours are up to no good but working out exactly what becomes the central mystery. The eventual revelation does hold an amusing satiric jab at the health-fad Nazis – here they are old people trying to steal life away from the youthful.
Crag R. Baxley is a former stuntman who started directing with Action Jackson (1988) and went onto the generally modest and effective likes of the action film Dark Angel/I Come in Peace (1990) with Dolph Lundgren against an intergalactic drug dealer; Deep Red (1994) about the search for a child carrying an alien virus; the psycho-thriller Under Pressure (1997); and the Christian End Times film Left Behind: World at War (2005). Baxley has made a host of Stephen King tv mini-series' including Storm of the Century (1999), Rose Red (2002), The Diary of Ellen Rimbauer (2003) and Kingdom Hospital (2004), and other works for tv such as the alien abduction mini-series The Triangle (2005) and the amazing The Lost Room (2006).
---
---