---
Crew
Director – Penelope Spheeris, Screenplay – Glen Morgan & James Wong, Producers – Sandy Howard & Keith Rubinstein, Photography – Arthur Albert, Music – Geo, Special Effects Supervisor – Joe Quinlivan, Makeup Effects – Mark Shostrom. Production Company – New World Pictures/Republic Entertainment International.
Cast
Maxwell Caulfield (Roy Alston), Charlie Sheen (Bo Richards), Christopher McDonald (Detective Mark Woods), Hank Garrett (Detective Ed Hanley), Patti D'Arbanville (Angie), Paul C. Dancer (Chris), Dawn Schneider (Bonnie Roberts), Kurt Christian (Amir Akbah Shakir), Grant Heslov (Joe Gonzales), Moon Zappa (Nancy)
---
Plot
Teenage best friends Roy Alston and Bo Richards graduate high school. They invade a graduation party they weren't invited to and cause upset. Bo does not want to settle for the dreary life working in a factory that is all he can see in his future, while Roy has anger issues. On inspiration, they decide to drive to Los Angeles. When a gas station attendant cheats them of money, Roy erupts and beats him with a tire iron, hospitalising him. Roy's rage grows and he begins shooting and physically brutalising people they encounter, including killing a gay man who takes them home and a woman with whom Bo has sex. Meanwhile, their spree of crimes has brought the police on their tail.
---
Penelope Spheeris gained a cult name at a time when women directors were a distinct minority. She made the documentary The Decline of Western Civilisation (1981) about the L.A. punk scene and two later follow-ups. Roger Corman gave her her breaks in dramatic film with Suburbia (1984) about disaffected L.A. punks. She next went on to make The Boys Next Door, which gained some controversy. She followed this with more regular films like Hollywood Vice Squad (1986) and Dudes (1987), before the big hit of Wayne's World (1992) whereupon she turned to making mainstream comedies with the likes of The Beverly Hillbillies (1993), The Little Rascals (1994), Black Sheep (1996), Senseless (1998), The Kid & I (2005) and Balls to the Wall (2011).
The Boys Next Door comes with an amazing cast of before they were famous faces. The most obvious of these is Charlie Sheen in only his third film role and a year before he broke out in Platoon (1986). There is a young and handsome Christopher McDonald as one of the investigating detectives. Also present is George Clooney's best friend and regular producer, sometimes actor Grant Heslov, also the director of the wacko The Men Who Stare at Goats (2009), who plays Joe Gonzales whose party Charlie Sheen and Maxwell Caulfield invade.
Also present are Glen Morgan and James Wong, the duo who emerged to attention a few years later as scriptwriters of some of the best episodes of tv's The X Files (1993-2002, 2016-8) and Millennium (1996-9), then as creators of tv series Space: Above and Beyond (1995-6). They emerged onto movie screens as directors/writers of films such as Final Destination (2000), The One (2001), Willard (2003), Final Destination 3 (2006) and Black Christmas (2006). They appeared to part ways after this with James Wong going on to direct Dragonball: Evolution (2009), followed by either working as producers on assorted tv series.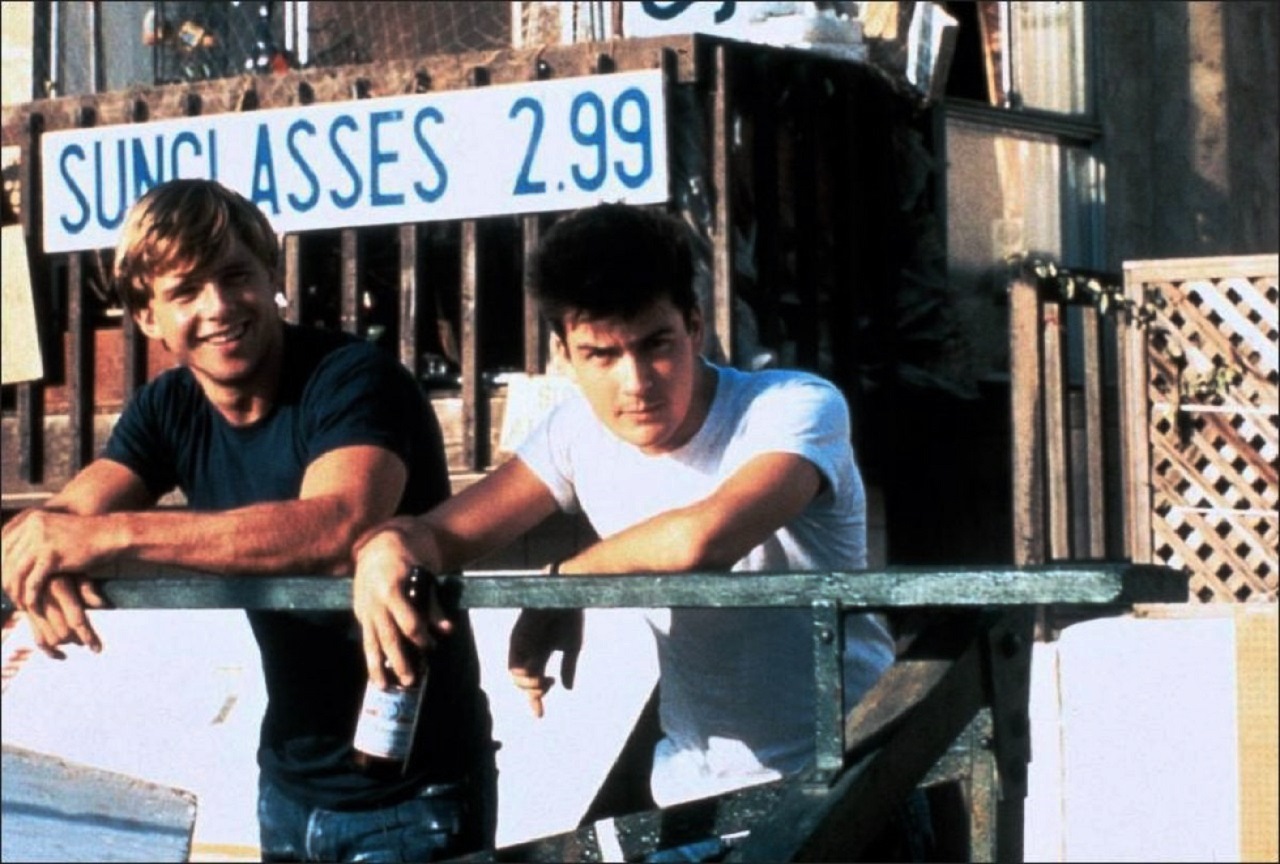 The Boys Next Door would make a great companion piece on a double-bill with River's Edge (1986), another 80s work featuring Before They Were Famous actors, but crucially both also being works of sociological horror. Both are films about teens railing against their future in a world that sees them as having no prospect – the image here of Charlie Sheen standing outlined against the chain link fence of a factory refusing to accept that as his future – and act(s) of violence considered as a defiance against being ignored by society.
The opening scenes scathingly go from the teacher bidding the class good luck and trying to inspire them by telling how his mother was both able to see the Wright Brothers and the Moon Landing in her lifetime and that should act as belief they can do anything, to Maxwell Caulfield and Charlie Sheen creating mischief. Their arrival in Los Angeles becomes something that is almost a love poem to the city (it is never specified where they come from) – Spheeris seems at her most lyrical with the two cruising the streets, greeting the marvels of the city and the oddity of its denizens.
Given his subsequent reputation as a hellraiser, it is some surprise to find that Charlie Sheen plays the straight guy in the relationship. By contrast, it is Maxwell Caulfield who gives a performance of coldly seething rage that drives the film. There is never any particular explanation given for his doing so – at most all we get is Charlie Sheen's defiant railing against his nowhere future.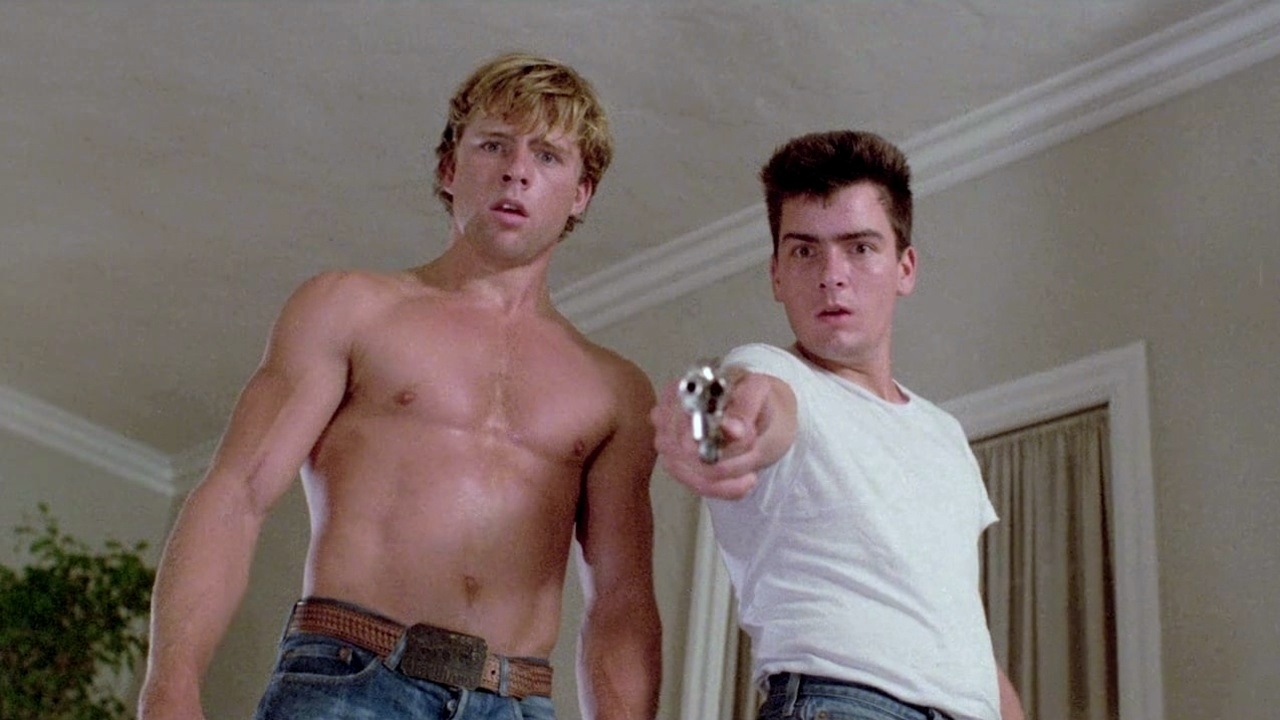 The film opens on a montage of pictures of killers like David Berkowitz, Kenneth Bianchi, Ted Bundy, Edward Kemper, Elmer Wayne Henley, Henry Lee Lucas, Charles Starkweather and Wayne Williams, alongside a voiceover speculating about their motivations. It makes for a stark opening to the film. Although it should be noted that this throws in killers irrespective of whom – spree killers like Starkweather are listed alongside serial killers like Bianchi and Bundy, while Lucas was later revealed as a fraud.
In comparison to the serial killers listed on the opening credits, what seems to be missing here is the element of sexual violence that drove most of them. Caulfield just gives into bursts of rage, at most attacks Patti D'Arbanville when he sees her having sex with Charlie Sheen. The various attacks are directed with a reasonable level of raw shock value – which caused some upset back in the era the film was made.
---
Trailer here
---