---
Crew
Director – Jon Hess, Screenplay – Bill Freed & Damian Lee, Based on the Novel by Dean R. Koontz, Producers – Damian Lee & David Mitchell, Photography – Richard Leiterman, Additional Photography – Curtis Petersen, Music – Joel Goldsmith, Special Effects – Dean Lockwood & David Miller, Art Direction – Tony Duquette. Production Company – Concorde/Centaur Film/Rose and Ruby/Canadian Entertainment Investors.
Cast
Corey Haim (Travis Cornell), Michael Ironside (Lemuel Johnson), Barbara Williams (Nora Cornell), Lala [Sloatman] (Tracy Keeshan), Blu Mankuma (Cliff Soames), Duncan Fraser (Sheriff Gaines), Colleen Winton (Deputy Porter)
---
Plot
Following an explosion at Panadyne Laboratories, two experimental animals make an escape – one a dog that has been created with heightened intelligence and the other Oxcom, a creature created as the ultimate killing machine, that is designed to telepathically hone in on the dog, killing everything in its path. Teenager Travis Cornell finds the dog and takes it in. He comes to marvel at its displays of intelligence, unaware of its true nature. Soon the Oxcom comes, killing people in the area. At the same time, National Security Organization agent Lemuel Jackson arrives with orders to eliminate all evidence.
---
This adaptation of Dean R. Koontz's novel Watchers (1987) was completely pilloried by the genre press upon its release. The film changes many details in the book – most notably recasting the lead hero from someone who was in their mid-30s with teenager Corey Haim in order to make it a boy and his dog story. In the film's favour, Jon Hess directs competently and gorily and the action moves well enough.
Where the film falls down is in fact in the original concept as laid down by Dean R. Koontz. Koontz has a bad tendency to write books that are constructed for their effect rather than their credibility. The concept of the dog and the Oxcom monster is an improbable deus ex machina that has been set up solely to contrast a heart-tugging boy-and-his-dog piece against the idea of a vicious monster coming closer. However, in terms of credibility, the Oxcom falls well of short of the ultimate killing machine it is called – two to three people a day is hardly efficient slaughter in military terms.
The scenes of the dog demonstrating its intelligence start out well but by the time we get to a dog typing with a pencil in its mouth and using Scrabble letters and a dictionary, the concept descends into the laughably preposterous. Corey Haim gives an annoyingly geeky performance playing to the dog.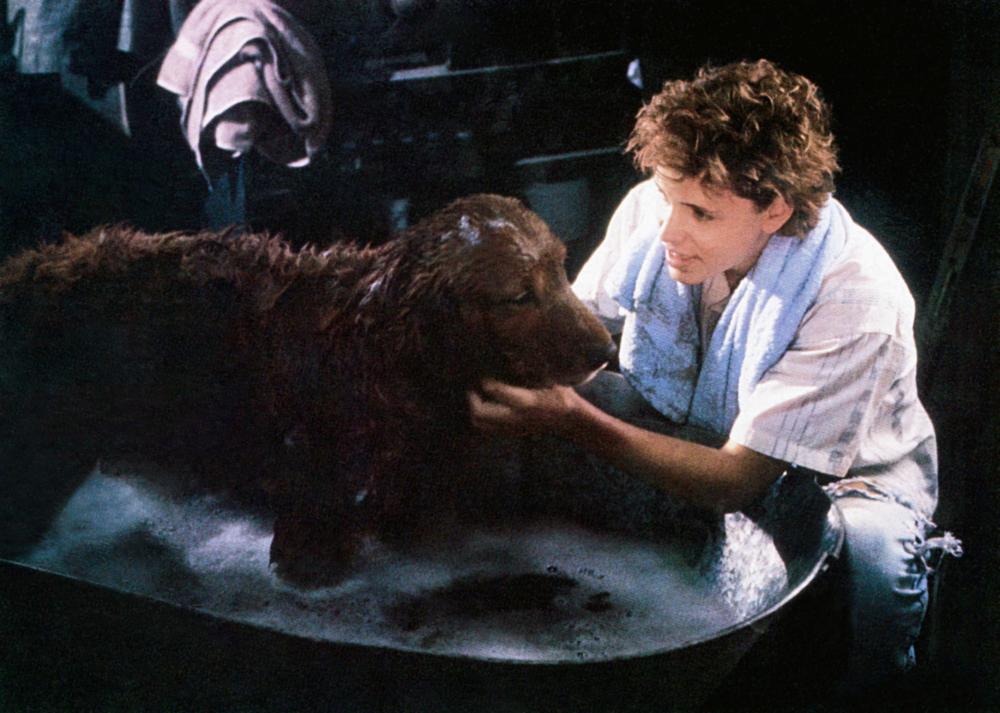 Roger Corman's Concorde Productions produced three sequels, which use the same basic idea. These are Watchers II (1990), Watchers III (1994) and Watchers Reborn (1998).
Other Dean R. Koontz adaptations are:– Demon Seed (1977), The Face of Fear (1990), Whispers (1990), Servants of Twilight (1991), Hideaway (1995), Phantoms (1998), Intensity (tv mini-series, 1997), Mr. Murder (tv mini-series, 1998), Sole Survivor (tv mini-series, 2000), Black River (tv movie, 2001), Frankenstein (tv mini-series, 2004) and Odd Thomas (2013).
Director Jon Hess later went onto genre films such as Alligator II: The Mutation (1991), Mars (1996) and Legion (1998).
---
---