---
Crew
Director/Screenplay – Jeffrey A. Brown, Producers – Andrew D. Corkin, Tyler Davidson & Sophia Lin, Photography – Owen Levelle, Music – Roly Porter, Visual Effects – Mechanism Digital Ltd (Supervisor – Lucien Harriot), Makeup Effects – Jennifer Suarez, Prosthetic Effects – Peter Gerner & Brian Spears, Production Design/Creature Design – Paul Rice. Production Company – Uncorked/Marquee Player/Low Spark Films.
Cast
Liana Liberato (Emily), Noah Le Gros (Randall), Jake Weber (Mitch Turner), Maryann Nagel (Jane Turner)
---
Plot
Randall and his girlfriend Emily sneak away to his father's beach house to spend some time together. She discovers that he has dropped out of university and wants her to abandon her astrobiology degree and stay there with him. They then discover that middle-aged Mitch Turner and his wife Jane, long-time friends of the family, are also staying in the house at Randall's father's invitation. That night, all four of them drink and dine and then consume edible marijuana. At the same time, they notice a fog coming off the ocean, which brings a bad smell and starts to affect them. In the morning, Jane appears very ill. Relaxing on the beach, Emily watches as Mitch walks out into the ocean until he disappears. As she watches, a parasite from the surf digs into her foot. She returns to the house to cut it out just as a gasping and ill Randall emerges from checking on Jane, while Jane crawls out, her eyes gone blank. They flee the house but everywhere the fog has risen, bringing something toxic that is affecting and transforming the people it touches.
---
The Beach House was a directorial debut for Jeffrey A. Brown who had previously worked in the industry as a location manager with credits on films such as Spider-Man 3 (2007) and The Dead Don't Die (2019) to tv series such as Fringe (2008-13) and The OA (2016-9), among others.
The Beach House starts calm and innocuous. The title 'The Beach House' doesn't suggest a horror or science-fiction film but more some kind of romantic film or relationship drama. We are introduced to Liana Liberato and Noah Le Gros, a beautiful teen/early twenties couple who have escaped to the idyllic title locale. Things start to get interesting with the introduction of the other couple Jake Weber and Maryann Nagel. The scenes with all four dining, drinking and getting high contain some fine writing and playing by all four actors. Particularly good are the scenes where Liana Liberato talks about her fascination with astrobiology and the origins of life on Earth, which adds a cosmic perspective that underlies the events to come.
There is a sense of something ominous about to happen as the house is surrounded by fog, which causes them to cough and brings a bad smell, even as they stand marvelling at the pretty glowing colours. There is an unnervingly placid disquiet in the scene where Liana Liberato is relaxing on the beach the morning after and is joined by Jake Weber who then matter-of-factly says "I think I'll go for a swim" and then takes his shirt off and walks off into the surf and keeps walking until he is a tiny dot far away and then disappears altogether. (Quite why he does so is never fully explained but you are left with the impression that it was because wife Maryann Nagel had some terminal condition).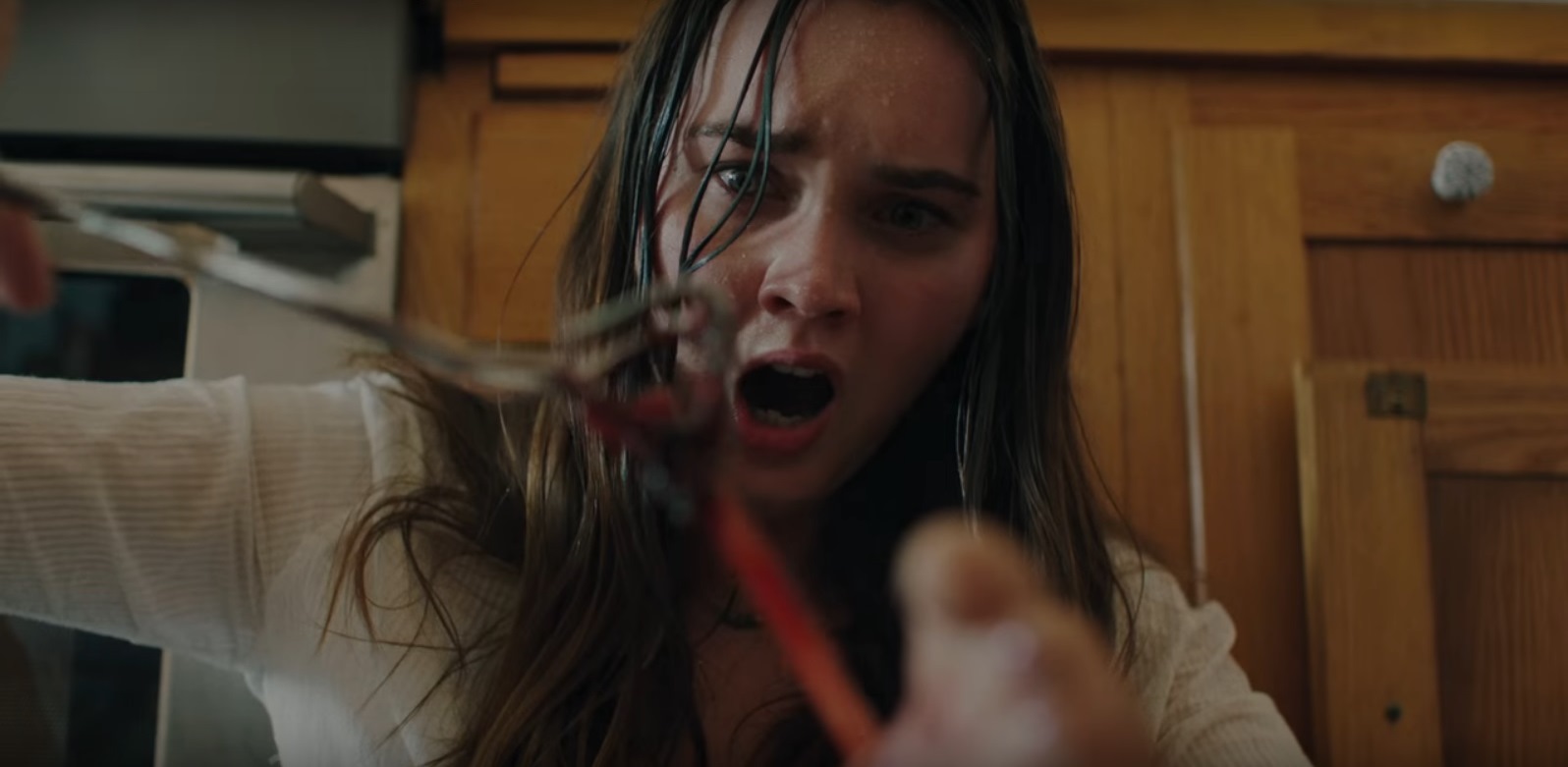 This is abruptly propelled into horror as Liana Liberato, while watching him disappear, finds a parasitic worm has dug into her foot. At the same time, a row of molluscs has emerged and ominously sits along the line of the surf. The scenes with her having to tear the parasite out with a pair of kitchen tongs have something quite ick to them. This is compounded as we see Noah Le Gros staggering through the background behind her gasping, followed by Maryann Nagel crawling out with her eyes turned milky white. From there The Beach House becomes a full nightmare as the two seek to escape to somewhere safe only to find the fog is transforming everyone and everything around them. There is a particularly monstrous mutations glimpsed in the cellar later in the show.
Other than the environmental SF film Io (2019), this is maybe first film – certainly the first horror film – one has seen that plays on the nightmare where the characters are struggling simply to be able to breathe unaffected air. The film is a little vague about what is causing all of this but the opening scenes that play against on the ocean burbling with microbial life, Liana Liberato's dialogue about origins of life and the fragility with which it hangs, and mentions of an extinction level event by the indistinct voice on the police radio suggest some massive catastrophic change in atmospheric composition. The film goes out on an interestingly enigmatic coda.
---
---