---
Crew
Director/Screenplay – Billy O'Brien, Producers – Bertrand Faivre, Ed Guiney & Ruth Kenley-Letts, Photography – Robbie Ryan, Music – Adrian Johnston, Visual Effects – The Moving Picture Company (Supervisor – Rudi Holzapfel), Special Effects Design – Bob Keen, Special Effects/Animatronics – Image FX, Special Effects Supervisor – Kevin Nelson, Makeup Design – Jennifer Hegarty, Production Design – Paul Inglis. Production Company – The Bureau/Blue Orange Films/Element Films/Frog Films/Castle Films.
Cast
John Lynch (Dan Reilly), Ruth Negga (Mary), Sean Harris (Jamie), Essie Davis (Orla), Marcel Iures (John), Stanley Townsend (Garda Hourigan)
---
Plot
In rural Ireland, Dan has leased his farm out to be used as part of a scientific research program into genetically modifying his cows. He tells Jamie and Mary, a couple who have parked in a caravan on the verge of the property, that they have to leave. He then returns at night and begs Jamie's help in delivering a pregnant cow. Examining the dead and deformed foetus afterwards, the project's veterinarian Orla discovers that it is infected with parasites. The parasites come to life and start attacking them. The head scientist John has them all destroyed then orders the farm quarantined after it is discovered that one remaining parasite has escaped. It is then discovered that the bites the humans received from the parasites have infected them too.
---
Isolation was an Irish-shot horror film. It was the first feature-length film for director Billy O'Brien and gained some good word of mouth after its premiere at the Toronto International Film Festival. After gaining a name here, Billy O'Brien subsequently went onto make other genre films such as Ferocious Planet (2011), Scintilla/The Hybrid (2014) and I Am Not a Serial Killer (2016).
You are immediately reminded of something like the gory New Zealand horror comedy Black Sheep (2006) concerning mutant sheep amok on a farm. Isolation has a fairly similar plot set-up with cows instead of sheep, although abandons the splatter comedy angle. Instead, Billy O'Brien places the emphasis on something dark and oppressive, giving us a visual look that is all dirty muddy realism – there are no bright colours anywhere throughout. In the opening few scenes alone, with John Lynch and Sean Harris trying to deliver a calf, you end up learning more about the grimy, gore-soaked business of animal husbandry than you probably ever wanted to.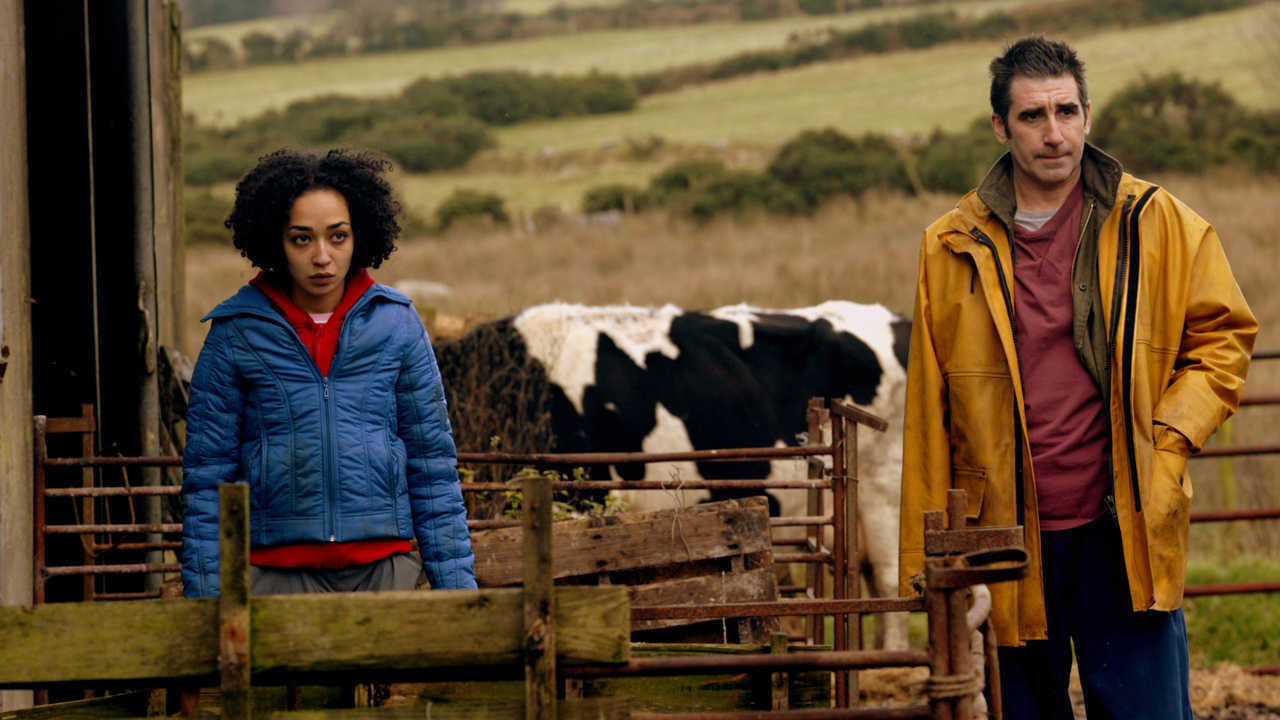 Things start to get creepy from about the time that Ruth Negga goes to sleep in the caravan and then something crawls into the bed and rustles under the quilt up towards her. Billy O'Brien sets up a fine suspense scene with John Lynch driving a tractor into a muck-filled pool after the last parasite only for the tractor to stall and burn out and he left wading through chest-high fluid – it is a scene where you fully expect to see Lynch being pursued by the parasite but O'Brien surprisingly lets this dissipate.
Nevertheless, the scenes that finally do start to work are the climactic ones where Ruth Negga venturing through the crawlspace and their finally facing off against a giant-sized creature. It is here that Billy O'Brien finally delivers the goods we expect of him and turns out not too bad a film at all.
---
---