---
Ireland/Sweden/Belgium/UK. 2019.
Crew
Director/Screenplay – Neasa Hardiman, Producers – Brendan McCarthy & John McDonnell, Photography – Ruairi O'Brien, Music – Christoffer Franzen, Visual Effects Supervisor – Alex Hansson, Visual Effects – Benuts (Supervisor – Tristan Lilien), Egg Post Production (Supervisor – Dan Cullen) & Haymaker, Special Effects Supervisor – Brendan Byrne, Production Design – Ray Ball. Production Company – Fis Eirann/Epic Pictures Group/Film i Vast/Swedish Film Institute/Wallimage (Wallonia)/The Tax Shelter of the Belgian Federal Government/Casa Kafka Pictures/VOO/Be tv/Creative Scotland/Broadcasting Authority of Ireland/RTE/Creativity Capital/Flexibon Films/Fantastic Films/Bright Pictures/Frakas Productions/Makar Productions.
Cast
Hermione Corfield (Siobhan), Dougray Scott (Gerard), Connie Nielsen (Freya), Jack Hickey (Johnny), Ardalan Esmaili (Omid), Olwen Fouere (Clara), Elie Bouakaze (Sudi), Dag Malmberg (Professor)
---
Plot
Siobhan, an oceanography student, joins the fishing boat Niamh Cinn Dir on an assignment to catalogue the variety of fish that are caught. The captain Gerard is under financial pressure and makes the risky decision to enter into an exclusion zone where commercial fishing is forbidden. The crew soon find that something is eating through the wood of the hull and leaving a blue-green substance. Siobhan goes diving and discovers that this is caused by tendrils from a sea creature. Parasites spawned by the creature then get into the ship's water supply and start to infect and kill the crew. Siobhan tries to warn the crew that they cannot return to land without being sure that none of them are still contaminated lest they infect the entire population.
---
Sea Fever is a film from Irish director Neasa Hardiman. Hardiman comes from a documentary background and from there expanded to directing for British tv series like Holby City (1999- ), Happy Valley (2014- ) and then international work with episodes shows like Jessica Jones (2015-9) and Inhumans (2017).
There have only been sporadic films about sea monsters, unless you want to count something like The Shape of Water (2017). There were several entries from the heyday of the atomic monster movie fad with the likes of Monster from the Ocean Floor (1954), It Came from Beneath the Sea (1955), Creature from the Haunted Sea (1961), The Horror of Party Beach (1964), plus the odd dinosaur like Gorgo (1961), while you'd probably have to add most of the Godzilla films, and the octopus in 20,000 Leagues Under the Sea (1954). More recent efforts would include Tentacles (1977), Deep Rising (1998), Bering Sea Beast (2013) and the Peter Benchley adapted mini-series' The Beast (1996) and Creature (1998). The late 1980s gave us a spate of monster films set underwater with the likes of Deepstar Six (1989), Leviathan (1989) and The Rift (1990), while this mini-genre was recently revived with the big-budget Underwater (2020).
The title Sea Fever doesn't suggest a monster movie – you immediately think of something more like one of the books of naval writers like Nicholas Monsarrat or Clive Cussler. Nevertheless, Neasa Hardiman passes through all the tropes of the genre – she gives us creatures from the deep, glowing tentacles attacking the ship, parasites in the water supply, infections and gory meltdowns, even a low-tech equivalent of The Thing (1982) blood test scene conducted with a flashlight.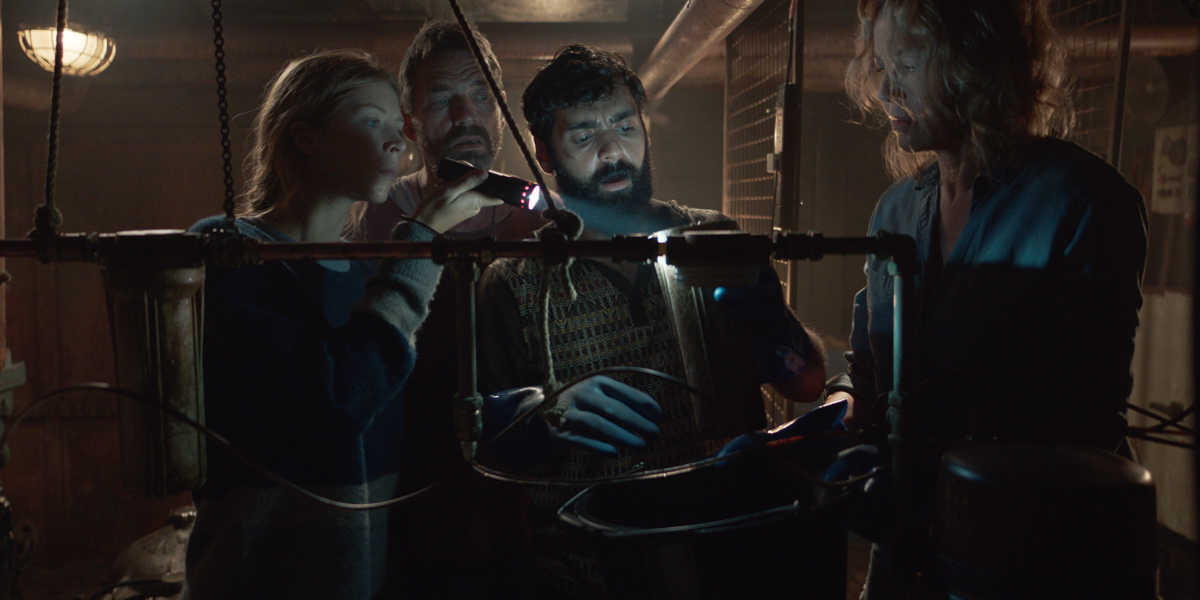 On the other hand, you have only to compare Sea Fever to something like Deep Rising or almost any of the abovementioned titles and the difference becomes immediately apparent. This is not a big flashy monster movie – there are some effects scenes but the film is low key, never much more than glowing goo or fishing nets and valves shown eaten through. In other words, it is the creation of the presence of a monster via suggestion rather than depiction. Some of the infection scenes – in particular when Jack Hickey unexpectedly explodes in gouts of blood from his eyes – are undeniably effective.
Neasa Hardiman spends time building up the characters. You get the impression that Hardiman had spent some time on a fishing vessel in real-life as this is credibly portrayed. Both the most well-known names in the cast, Dougray Scott and Connie Nielsen, give solid and credible performances (Nielsen, being a Danish actress, also adopts a Irish accent for the occasion). Point-of-view character Hermione Corfield seems the essence of blushing innocence and yet she becomes the only sensible character on board. I predict hers is a name that will very shortly be gaining international attention.
What one also celebrates is that this is a monster movie where, unlike Deep Rising, the emphasis is not on a he-man hero fighting the monster with guns but rather on a modest and unprepossessing heroine who seems determined to examine the phenomenon and propose scientific solutions. It is also a surprise watching the film in May 2020 seven months after it premiered at TIFF where it feels as though it has become even more relevant in the interim. All the scenes with Hermione Corfield urging the crew to stay on board until the period of infection has died down instead of returning to the mainland and going into hospital in order to prevent the spread have gained a whole lot more resonance since then. It could easily be talking about Corona Virus and the worldwide lockdown currently in place.
---
---