---
Crew
Directors – Stephen Cedars & Benji Kleiman, Screenplay – Stephen Cedars, Benji Kleiman & Scott Yacyshyn, Producers – Eric Fisher, Scott Himckley, Elli Legerski & Paul Young, Photography – Nate Hurtsellers, Music – Christopher Doucet, Visual Effects Supervisor – Marc Steinberg, Special Effects – Chuck Johnson & Ryan Roundy, Makeup Effects – Katie Machaick, Production Design – Ying-Te Jlie Chen & Rocky Jackson. Production Company – Make Good Content/The Olde Money Boyz.
Cast
Mary Nepi (Sara Steinberg), Gabrielle Elyse (Hayley Chamberlain), Austin Fryberger (Skyler Cole), JJ Nolan (Kate Steinberg), Nick Gomez (Officer Oscar Ruiz), Rick Fulcher (Dave), Ashley Argota (Kiana), Logan Rogan (Mr Robin), Alex Skinner (Jerome Chamberlain), Amy Landecker (Nurse Cheryl), Amy Arburn (Blair), Gabriella Gourdin (Tegan), David H. Stevens (Protester), Mark Sande (Dr Richard Friedman), David Christian Welborn (Skyler's Dad)
---
Plot
Madre Vista, Arizona. Sara Steinberg, a nerdy teenager in high school, decides to lose her virginity to her boyfriend Skyler Cole. The following morning, Sara wakes up to find herself several months pregnant. She begs help of her friend Hayley Chamberlain who takes her to a medical clinic. As she is being examined, a creature bursts out of Sara's vagina, splatters the doctor's head, kills the nurse and flees. Sara and Hayley flee the scene. Sara then realises that she is still pregnant and there is another creature inside her. The creature she gave birth to is a parasite that attaches itself to the backs of people's heads. It passes through a series of host bodies as it pursues Sara, wanting to mate with the creature still inside her. Sara and Hayley realise it is heading to a big party that evening in order to spawn among the teens there.
---
Snatchers is a re-edited feature-length version of the web series Snatchers (2017-8). The web series ran for three seasons, a total of 25 episodes of around eight minutes apiece airing on the Warner Brothers' Go90 network. Prior to that, the series' creators Stephen Cedars and Benji Kleiman had made the basics as a six-minute short film Snatchers (2015) also featuring the same two lead actresses Mary Nepi and Gabrielle Elyse. Some new material was shot to bring the film version together.
Irrespective of where it comes from, Snatchers proves hilarious presented as a 96-minute feature film. One is immediately amused by its sharp and sarcastically appealing snapshot of a quartet of high school teenagers. Some of the bitchy dialogue comes with a good deal of amusement. One commentator I read aptly described it as Mean Girls (2004) meets Alien (1979), which seems a perfectly on the ball description.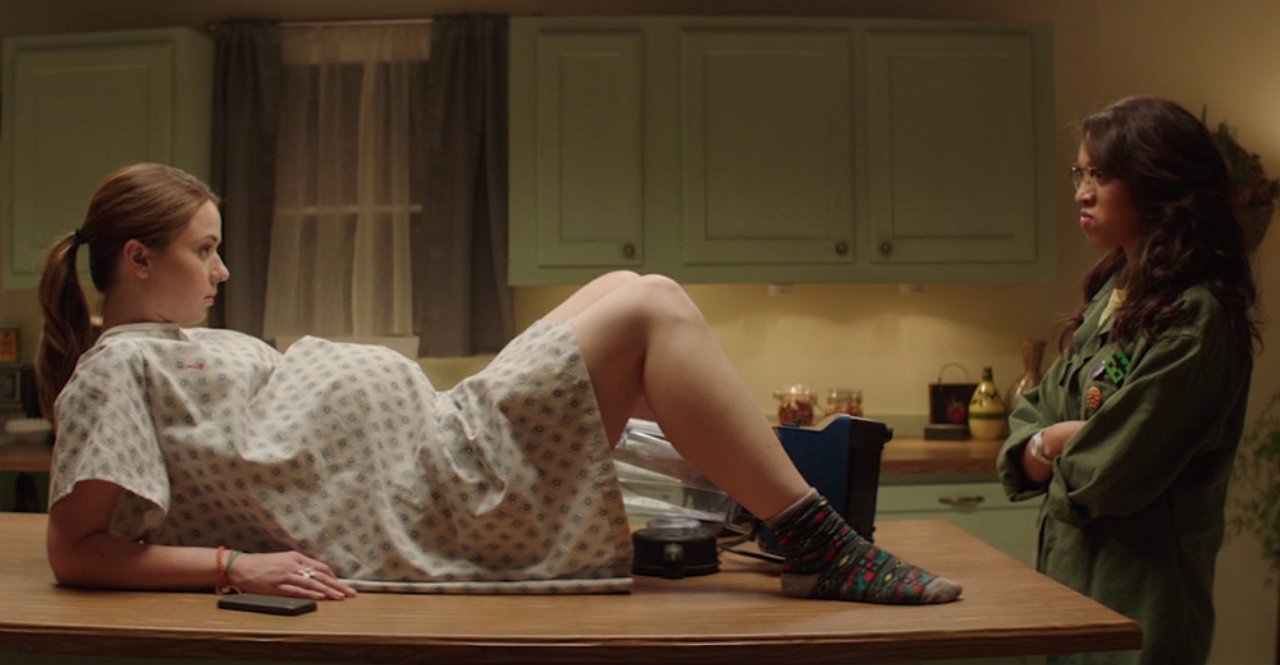 The Alien analogy works in terms of the chestburster scene comparison but you could draw a number of other analogies. The scenes with the parasites hopping between bodies remind of the highly entertaining The Hidden (1987) or Don't Kill It (2016), while the parasites who sit on a person's drooped-over head make one think of the aliens in The Puppet Masters (1994). Mary Nepi's comical pregnancy has something of Antibirth (2016) in which Natasha Lyonne undergoes a mutant pregnancy as a result of untested pharmaceuticals dispensed by her drug dealer. The scene where the parasite emerges, splattering the head of the examining doctor and slaughtering the nurse makes one think of a comedy take on the delivery room scenes in It's Alive (1974).
Snatchers has an incredibly snappy pace, which seems all the more commendable when one remembers that the original aired as a series of web episodes. Stephen Cedars and Benji Kleiman have great comedy timing and get good performances from all involved, in particular the two lead actresses Mary Nepi and Gabrielle Elyse. The comical scenes as the two of them try to work out what to do in their own inept way is particularly hilarious.
---
Trailer here
---