---
Spain/Ethiopia/Finland. 2015.
Crew
Director/Screenplay/Production Design – Miguel Llanso, Producers – Meseret Argaw, Miguel Llanso & Daniel Taye Workou, Photography – Israel Seoane, Music – Atomizador, Visual Effects Supervisor – Joaqu'n Jordan. Production Company – Lanzadera Films/Birabiro Films.
Cast
Daniel Tadesse (Birdy), Selam Tesfaye (Candy), Mengistu Berhanu (Shop Owner), Tsegaye Abegaz (Santa Claus), Shitay Abreh (The Witch), Quino Pinero (Nazi), Girma Gebrehiwot (The Man Who Listens)
---
Plot
It is in Ethiopia after civilisation has collapsed. The junk of the present world has become valued and people have developed a mythology of its own about what it represents. The dwarf Birdy lives with his girlfriend Candy in the ruins of a bowling alley. When one of the balls emerges out of the return slot of its own accord, she believes they are receiving messages from the spaceship that hovers in the sky overhead. Birdy becomes even more disturbed when he hears voices coming out of the return slot. He sets forth on a journey to consult a witch as to what this means, hoping that it means he will be able to return to the planet he was born on via the spaceship. The witch directs him to take a journey and follow the train line. Meanwhile, Candy starts to listen to the voices from below the bowling ball return slot and hears Santa Claus asking her what she wants.
---
Crumbs was the feature-film debut for Miguel Llanso. Llanso is a Spanish-born director who prefers to live and work in Ethiopia. Llanso has previously made several short films, which gained reasonable acclaim, all of which were shot in parts of Ethiopia and feature dwarf actor Daniel Tadesse.
In finding something to aliken Crumbs to, there are no easy comparisons. It is a post-apocalyptic film and yet there is nothing of Mad Max 2 (1981) and its ilk and their crazed demolition derbies among the ruins. Nor is there anything of the grim battle to just stay alive that we get in The Road (2009) and the films that have followed its lead. (For a more detailed overview of the genre see After the Holocaust Films) By contrast, Crumbs is not interested in action, nor in survivalism – life after the collapse of civilisation seems fairly laidback and does not involve parties engaged in conflict or much in the way of the daily struggle for survival. Perhaps the nearest equivalent you might find is the fascinating hippie film Glen and Randa (1971), which concerned two innocents on a journey through the ruins and trying to make sense of the detritus of contemporary culture they find.
If anything, the overriding theme of Crumbs seems to be of how the world of the future will repurpose and mythologise the pop culture ephemera of the present-day. This leads to some highly original touches – like where Selam Tesfaye has a shrine with a picture of Michael Jordan at the centre of it as though it were the icon of a saint; where she gives a Max Steel plastic sword to Daniel Tadesse as an artifact of power before he starts out on his journey; where a Teenage Mutant Ninja Turtle toy is seen as the emblem of a great warrior; where Mengistu Berhanu has a store where he buys and trades such junk, citing made-up stories as to who it was made or used by; where Justin Bieber and Stephen Hawking are listed as akin to a series of Old Testament lineages; and where Daniel Tadesse unveils a Superman t-shirt as he fights Santa in the belief that it will grant him powers.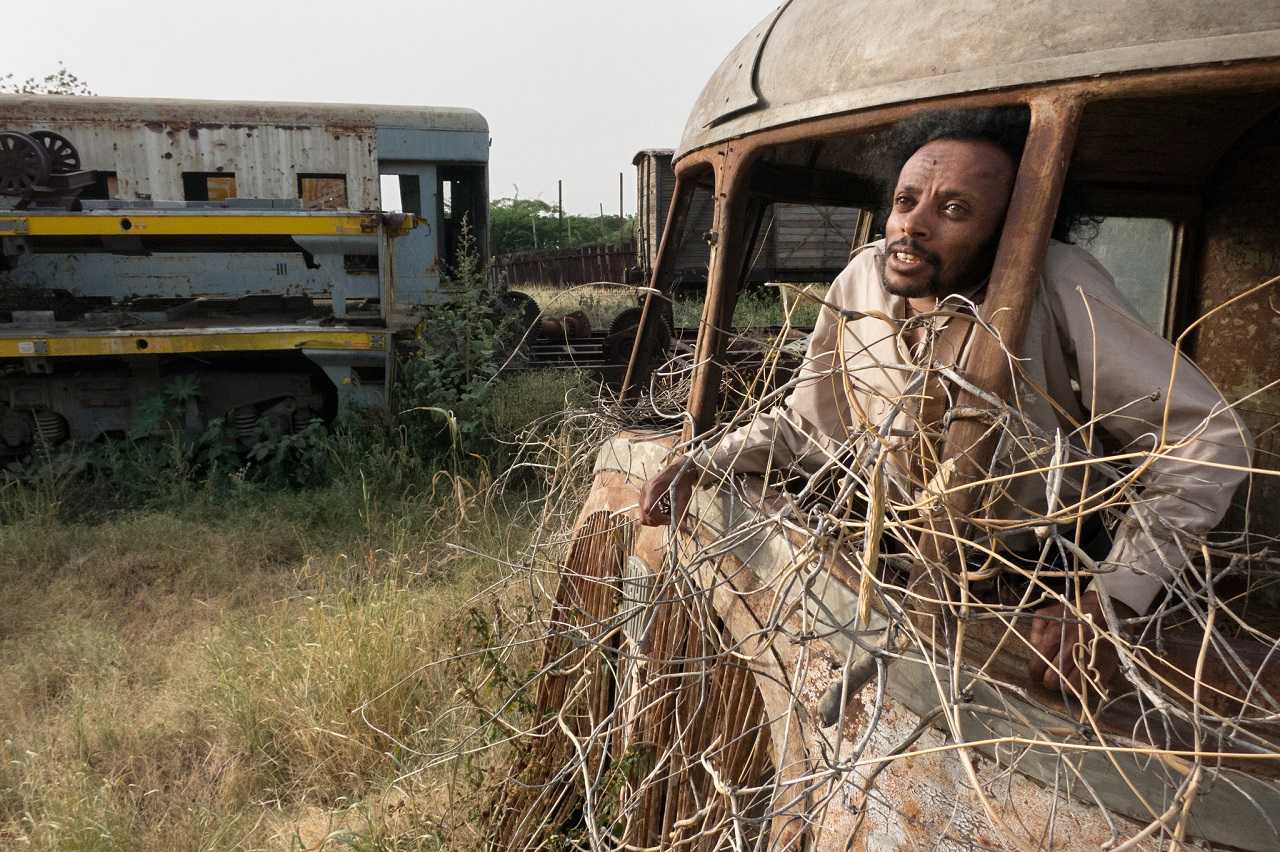 And then there is the downright weird – like having a Santa Claus figure who communicates from beneath the bowling alley, although is later encountered as a very real and somewhat mentally deranged figure. There is a spaceship that drifts overhead – where it comes from and what it is doing we are never told, although Daniel Tadesse believes that it is coming to take him home. The pace in the film is meandering, there is no real plot to it, just a vague quest that passes through several episodes and winds up without any real conclusion. Nevertheless, it has imagery and a weirdness factor that is undeniably appealing.
The one thing you have to commend Miguel Llanso for is the astonishing location shots he has managed to achieve. As far as one is able to tell, these don't seem to be achieved by visual trickery. The location that Llanso chose was Dallol in northern Ethiopia, a former mining town that has been largely abandoned and is listed as one of the most remote human settlements on Earth. Here Llanso manages to film some incredibly rich and verdant landscapes, alongside the stunningly pretty colours of the volcanic crater. These are contrasted with desolate and empty landscapes where it really look like people are living among the ruins of buildings that have been abandoned, walking along overgrown train tracks and the like. It is for once a post-holocaust landscape that does a superb job in convincing us it is post-civilised world.
Miguel Llanso subsequently went on to make the equally surreal spy/Virtual Reality film Jesus Shows You the Way to the Highway (2019) also starring Daniel Tadesse.
---
---